3 Ascent UX Designers Share How They Went From Interns to Full Time Employees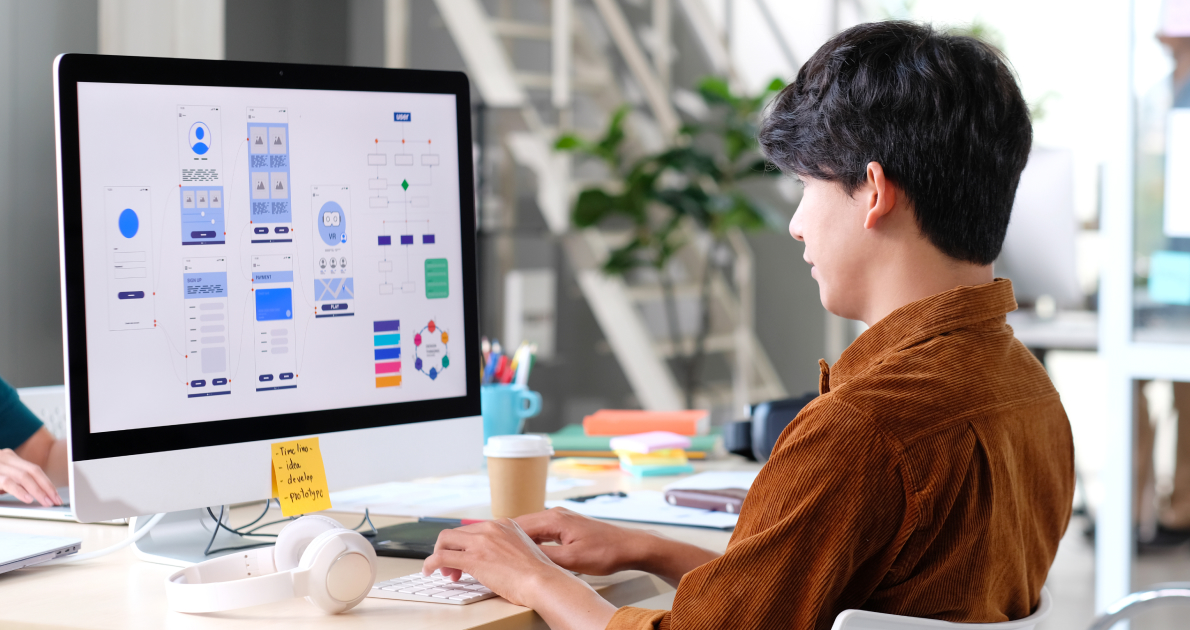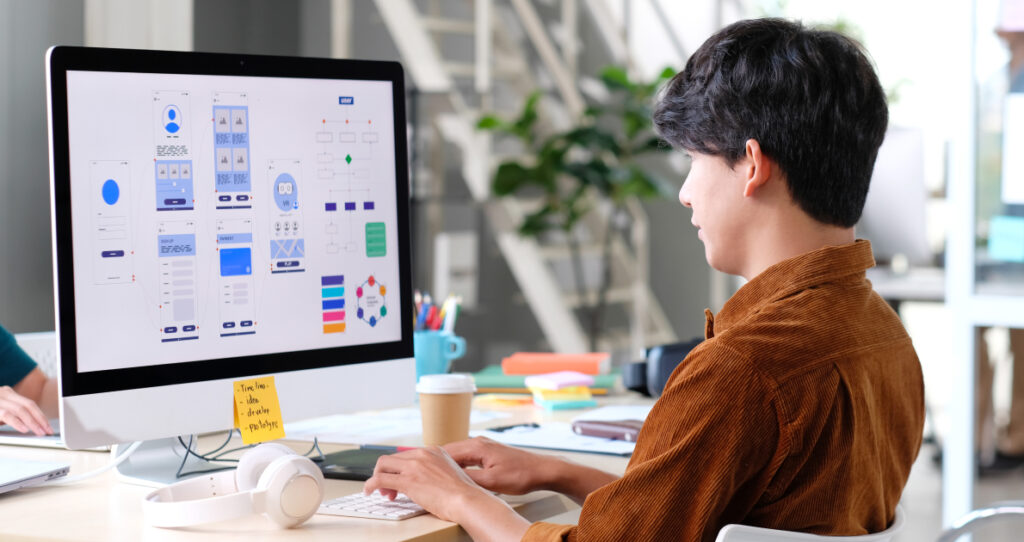 Internships are one of the most common topics during college. It feels as if everyone either has one or wants one. Internships can provide a way for you to break into the field or industry you're interested in, helping you gain new skills and more experience. Some internships even end with full-time offers! 
If you're wondering what it's like to land an internship and a full-time job offer after, Ascent's UX Designers (who started as interns themselves)  share their experience.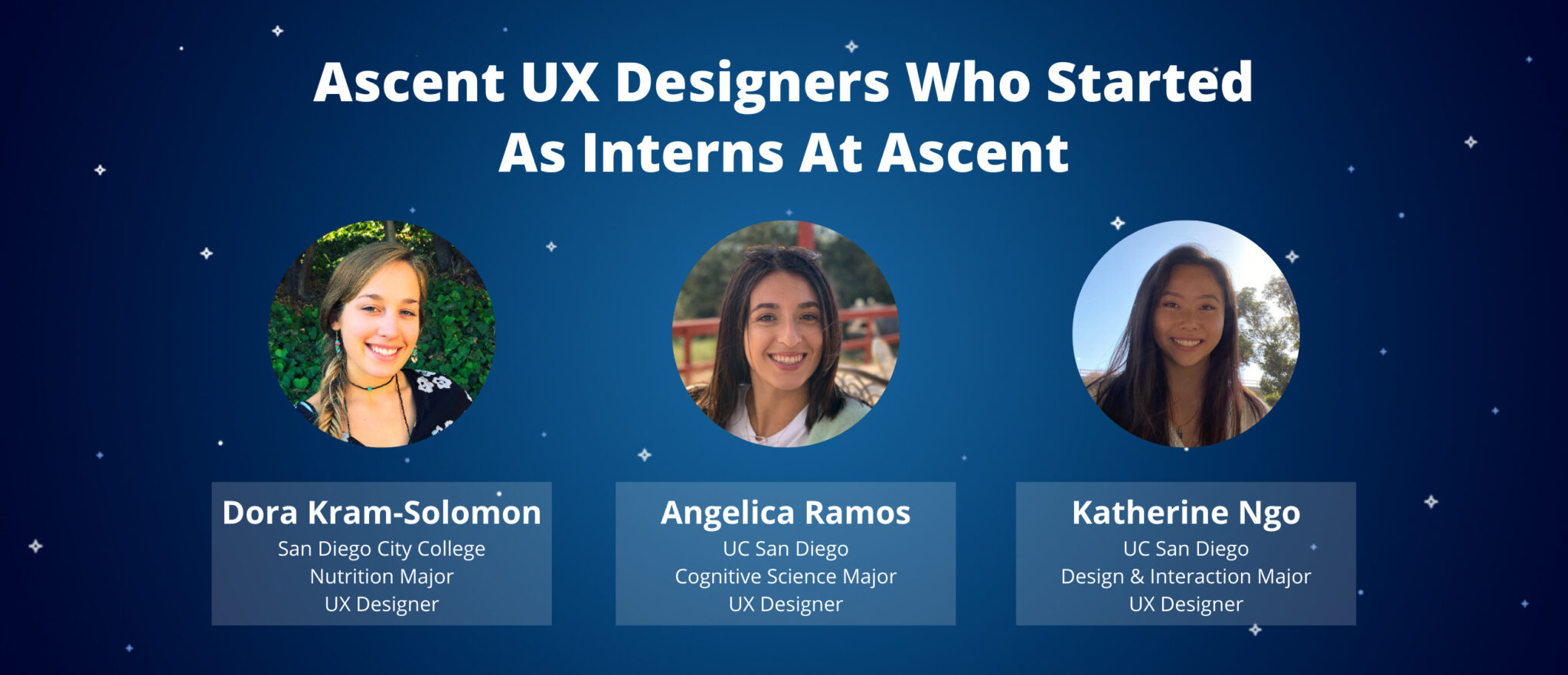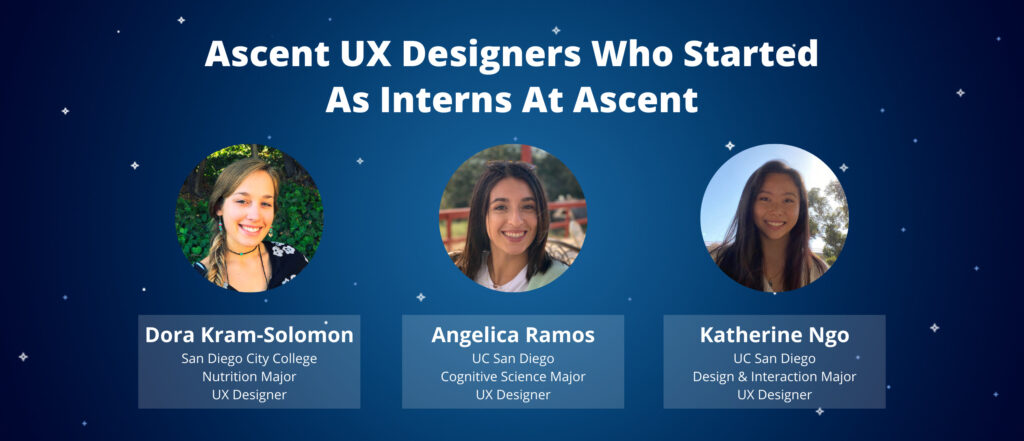 Why were you searching for an internship and how did you find Ascent? 
Dora – When I applied to Ascent for a UX Design internship, I was pretty new to the field and was looking for some real-world experience to help me in my career change. At the time, I had just quit my job as a dietitian and started my master's program in UX Design a few months prior. I thought an internship would be a great way to complement the full-time program I was in and provide me with the skills you don't necessarily get in a classroom setting. When I came across Ascent's internship posting and did some research about the company, I applied immediately. I remember watching a video on LinkedIn with Ascent's CMO discussing how important interns are to Ascent and how much the company has improved from their interns. I also read some articles about the incredible strides Ascent was making in the student loan and success space. I thought these were really good signs to apply.
Angelica – I was searching for an internship with the goal of trying to get more experience in a field I was interested in. I found the Ascent internship on a job board online.
Katherine – I was searching for an internship because I was looking for more experience in UX Design. I found Ascent through a job board when I was searching for internships to apply for.
What were you able to gain out of your experience as an intern at Ascent? 
Dora – So much! No class or lesson I have taken can compare to what I have gained from this internship. As an intern, I got to work on a range of different projects, from creating marketing images to bigger projects in the bootcamp and tech space. It was so cool getting to help design important projects and watching these designs come to life on staging. Because Ascent is growing so fast, I have been able to get a really valuable experience working on a multitude of projects that I wouldn't have been able to experience at a bigger company elsewhere. It has also been so beneficial to learn from everyone on the UX/design and marketing team.
Angelica – As an intern, I was really able to improve my visual design skills and work on projects that made an impact which was super exciting! Additionally seeing how quickly Ascent was growing and getting to learn how important it is for UX to communicate with many different teams was awesome.
Katherine – Even though I was just an intern, I was able to take ownership of a lot of projects and was given a lot of opportunities to improve any skill I wanted. I appreciated the flexibility and trust Ascent gave me as an intern. I was able to learn so many useful skills outside of just UX design – visual design, project management, communications, social media, etc.
What did you do to get an offer for a full-time position and what made you want to accept the offer?
Dora – I asked if there was a full-time position still available when the end of my internship was approaching, so it always helps to ask! But, I also think it helped to show that I was willing to learn and passionate about the job. Being that I left my previous career to pursue UX Design, I have been very committed to becoming a UX designer since day one of the internship. What made me want to work at Ascent was the company's mission, values, and team. To not only enjoy working with the people on your team but also to feel good about what you're doing is so important to me.
Angelica – I just approached the internship with the mentality of learning as much as I could! I wanted to ask tons of questions and learn how to improve my UX design skills as much as possible. I think that mentality helped me earn the offer. Additionally, I accepted the role because I was excited by how quickly Ascent was growing and saw a lot of opportunities to grow with it.
Katherine – I made sure to always ask a lot of questions and give meaningful feedback in meetings. I think what helped the most was that I would create my own projects outside of the ones I was assigned to. If I felt like something about our design process or meetings could be improved, I took the opportunity to improve it and discuss it with my manager.
I accepted the offer because, with so many projects and fun opportunities, I wanted to work at Ascent full-time so that I could dedicate more time to a company with exciting growth. I wanted to continue to work at a startup because of the fast-growth and tight-knit community.
How has it been transitioning from an intern to a full-time employee?
Dora – It's been great! Everyone has been so welcoming throughout my internship and again as I transitioned into full-time. It has been a little challenging balancing school with it all, but the finish line for my Master's program is in sight. I really can't complain, it has all been great.
Angelica – The transition from a work perspective was pretty seamless, instead of only having three days a week to work on my projects I was able to have all five. I transitioned to a full-time employee during COVID and I would say getting used to the lifestyle of being inside working all week during a pandemic was a tougher transition.
Katherine – It went smoothly! It didn't feel much different from being an intern other than working more hours. It was really exciting to start working full-time because that would mean I could take on bigger projects and have more ownership.
What advice do you have for those looking for an internship with the intent of it turning into a full-time role?
Dora – Show that you are passionate about the role, have a growth mindset, be a supportive and helpful team member, and stay positive.
Angelica – I would say an internship is a great opportunity to not only show the company you would be a great fit, but also for you to make sure the team and role are a good fit for you. But in the end, just focus on doing your best work and learning as much as possible because even if it doesn't turn into a full-time role, it's still a good experience.
Katherine – Your main goal should be to improve your skills and learn more about the career you are exploring. I wouldn't recommend doing everything with the intention to get hired full-time.  Use the internship as an opportunity to learn about the career and industry you are working in and develop useful skills. Just continue to be curious about everything!
For more tips on landing a job or internship, explore our Career Advice Hub: