Congratulations Class of 2021! – Here's Your Virtual Graduation Party Guide 🎉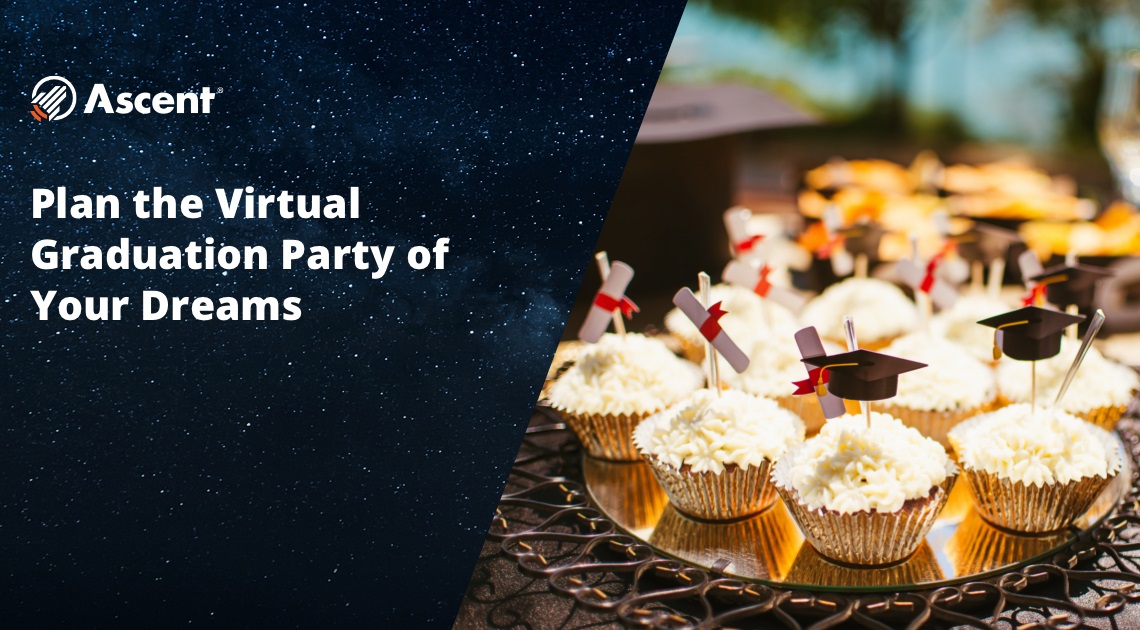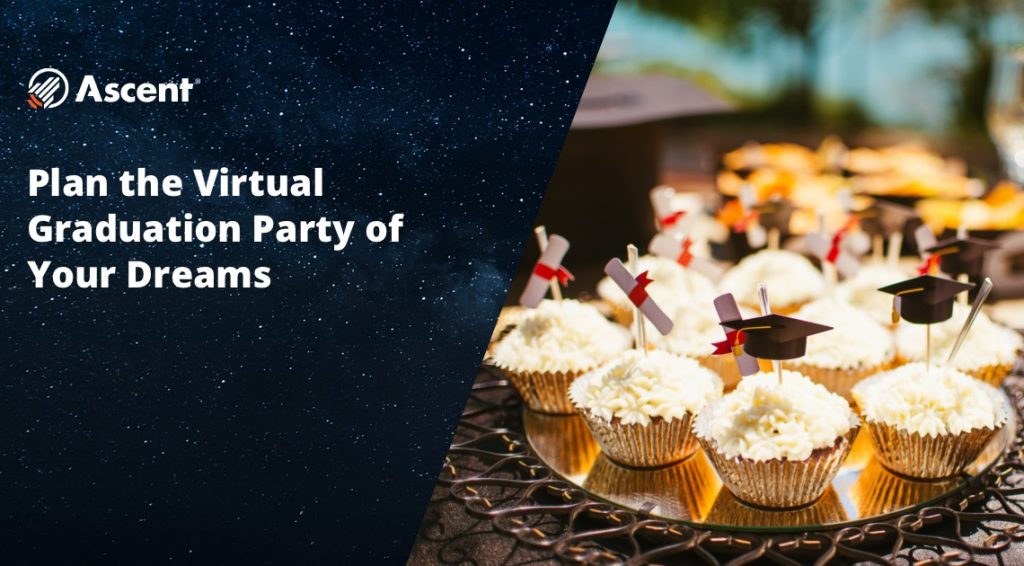 Graduation is a huge milestone! It's an emotional culmination of all the classes, tests, clubs, sports, and events you succeeded at, all the while maintaining a social life and fostering close friendships.
For the graduation Class of 2021, it is understandable that those emotions may include feelings of disappointment. The effect of the health crisis has been felt across campuses everywhere as 14 million students and 1,102 colleges were impacted by school closures. We understand how disappointed you may feel about celebrating your monumental accomplishment in this new reality.
From all of us here at Ascent, first and foremost- our hearts go out to you and the entire graduating Class of 2021! We commend you for all your hard work and resilience as you finish the semester while making the best of this challenging year. It may feel like you're missing out on an important life experience, but graduating is an incredible achievement that deserves to be celebrated even in these circumstances.
To congratulate all the graduates, we want to join in on your celebrations by being your virtual graduation 2021 party event planner! Follow our Virtual Graduation Party Guide to get some creative ideas on how to make your celebration memorable!
Step #1: Send a Virtual Party Invitation
Calling all party people! Start your virtual party by spreading the word about your special day. There are many fun ways for you to reach out to your friends and family to tell them all about your virtual graduation 2021 party.
Create a Group Page on Facebook
In just a few clicks, you can quickly send an invite to all of your loved ones. To start, log in to Facebook. Click 'Create' on the top right, then select 'Group.' The next step is to create a group name. It could be a simple name like "Haley's Virtual Graduation Party." Or you can put your own fun little twist like "A Can't-Miss-Super-Fun Virtual Graduation 2021 Party for Haley!" Then, invite all of your friends and family. You can personalize your group page by uploading a photo of yourself and details of the party.
Make your party official by customizing your very own graduation 2021 invitation. There are over 4,000 invitation designs for you to choose from so you can be sure to find one that best fits you and your special occasion. You can even send a digital announcement card with a video message.
In 3 easy steps, you'll have your invitation ready in minutes. First, choose which format and design catch your eye. Then, personalize your invitation to match your personality using your own pictures, colors, captions, and even music. Go ahead, have fun with it! Lastly, share your beautiful creation via email or social media.
Step #2: Transform Your Home into a Remote Graduation Venue
With strict social distancing measures in place, you're likely staying at home during this time. But that shouldn't stop you from decorating your room to make it feel like an in-person party.
Graduation is truly a special milestone, so make it one to remember. Even if your friends and family can't physically make it to your home, you can still decorate to give your space more of a graduation vibe. What are your school colors? You can incorporate those colors as you shop online for streamers, balloons, table covers, etc. Get creative and turn your room into an Instagram-worthy graduation party.
Step #3: Host Your Zoom Party
Zoom is an easy-to-use software that allows you to stay connected with your loved ones through video chat. And guess what? You can video chat with up to 100 people for free!
It's important to let your guests know they will need to set up a Zoom account, which they can easily do on their phone or laptop. You should also let your friends and family know the date, time, and send a meeting invite to your virtual graduation party in advance to avoid confusion on your special day.
Set Up Themed Virtual Backgrounds
Did you know you could set up special backgrounds on Zoom? Your guests can change their background wallpaper to make things more entertaining (or to hide the unfolded laundry on their bed). To do this, just click the 'Stop Video' option on the bottom left corner and select 'Choose Virtual Background.' Now everyone can upload a picture or video from their computer! You can even download free virtual background templates. Check out some of these graduation 2021 themed ones below!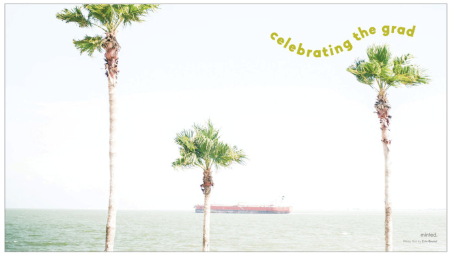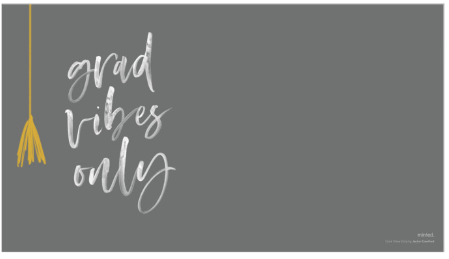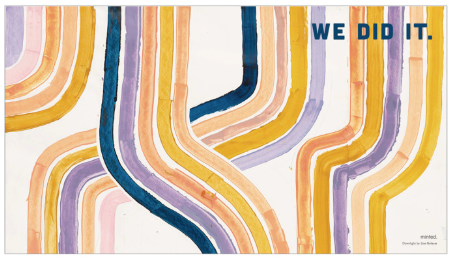 Step #4: Create a Virtual Party Agenda
Music
Get your party started with some of your favorite music. You could even play the traditional graduation song *cue Pomp and Circumstance* and transform your backyard into a graduation stage! Music can set the tone for a great party so go ahead and play all of your favorite songs. Try having a virtual dance off with your friends and family! It'll be entertaining watching Aunt Linda and Grandpa Joe movin' and groovin'!
Menu
Good food, better mood! To add to your virtual graduation party experience, you could incorporate some food and drinks. There are a few ways to do this. You could send a small meal or dessert to your party guests through a food app such as UberEats or Postmates. Another way to get some yummy in everyone's tummy is to send out your favorite recipe for all your guests to cook or bake before your graduation celebration. It could be anything from spaghetti to tacos and even your favorite red velvet cupcakes! Then, everyone can enjoy that dish at the same time over video chat. Or your friends and family could simply raise their glasses. Here's a toast to you, the outstanding graduate!
Games
Let's keep this party rolling with some party games. Yes, you can still play games with everyone online! We'll show you how! How about we start with everyone sharing their funniest moment with the graduate? It's a great way to remember all the fun times you had with your loved ones over the years. Or how about "Two Truths and One Lie" focusing on memories with you? You could even ask your guests questions about yourself such as: What is my dream job? What was my favorite class? What clubs and sports did I join during school? First person to get your questions right wins!
Step #5: Create a Graduation Slideshow
Graduation is an achievement that should be remembered forever. A graduation slideshow is a perfect way to gather all your fun school life memories in one place for you and your loved ones to enjoy. Those special pictures, video clips, and songs will help to capture feelings of achievement, fulfillment, and nostalgia. You don't even need video editing experience to create a beautiful slideshow. Websites like Animoto, Adobe Express, and Kizoa have user-friendly tools for you to easily design an amazing slideshow. Get started by finding all your favorite pictures. Oh! And those cute baby pictures are a must to include.
Step #6: Capture this Moment in Time
Last but not least, remember to capture this moment in time so you can remember it years from now. Despite the impact the recent health crisis may have had on your big graduation party dreams, don't let this take away from all the emotions you may be feeling about reaching this huge milestone in your life (and those who supported you every step of the way).
No, this doesn't mean crafting the perfect Instagram post (although, that's equally important too). Bring out your composite journal one last time to write a personal letter to yourself. What are you feeling at this moment? Who has helped you get to where you are today? What are you excited about next?
As quick as your graduation arrived, the celebration will soon be over too. Make time to stop and capture this moment to remind your future self how far you've come.
Your graduation is a special milestone that took years to accomplish. You shouldn't miss celebrating this momentous occasion for any reason. We hope that we sparked some inspiration for you to create the virtual graduation party of your dreams.
Here at Ascent, we want to congratulate you and the entire graduating Class of 2021! We know you'll do amazing things!
Now that you've graduated, it's time to land your dream internship or job. For more tips on how to set up your LinkedIn or resume, head over to our Career Advice resource center.