Coronavirus Pandemic – Ascent is Here to Help Students During the Current Health Crisis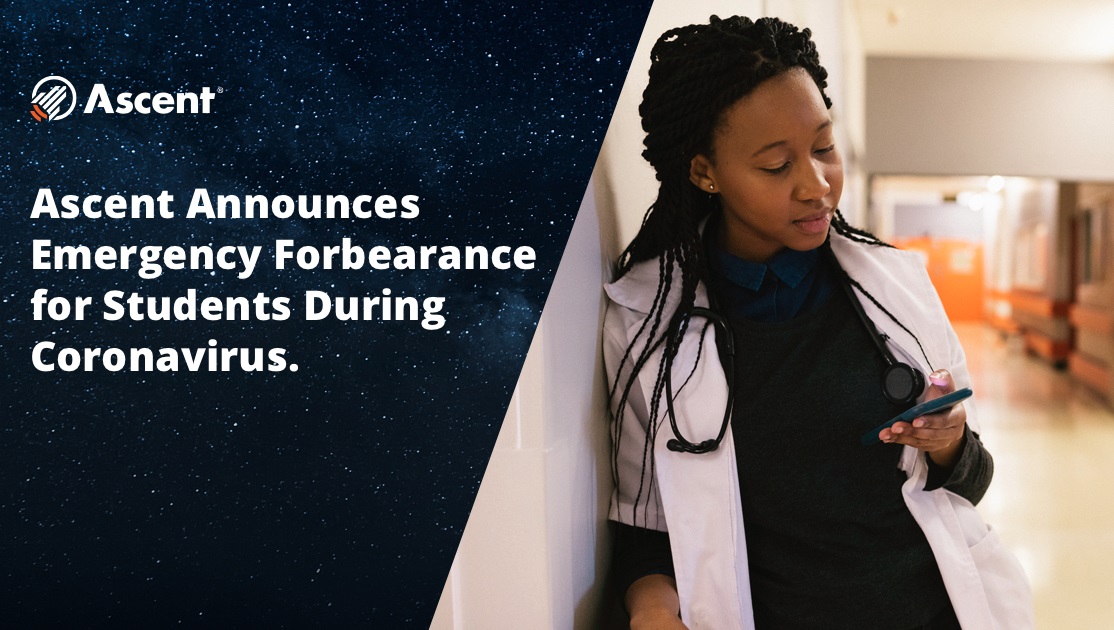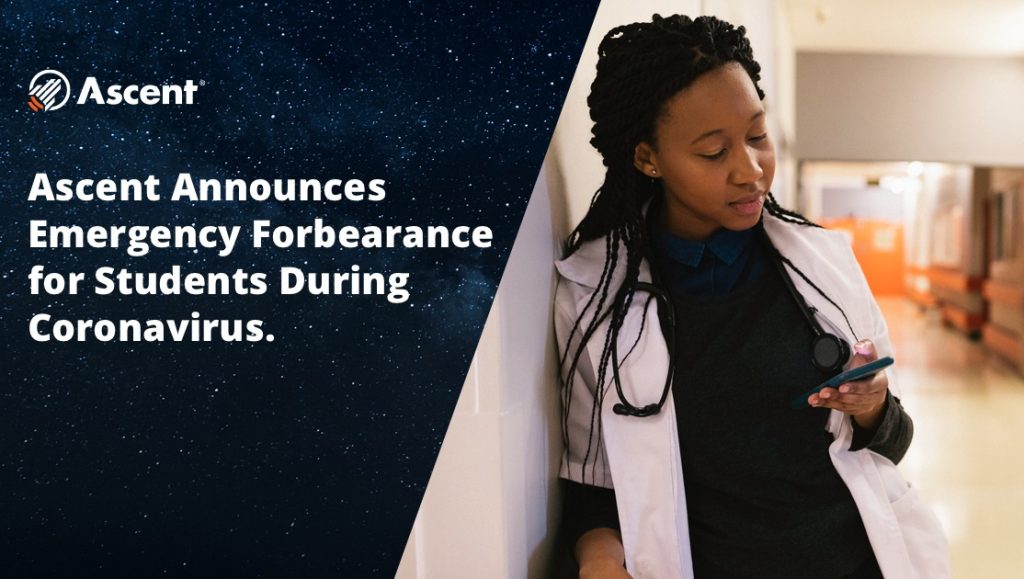 Just a few weeks ago, you were probably planning an epic spring break trip. Fast-forward and now you've probably moved back home, cut back on hours at your job and wondering how your college professor is going to continue their lecture from a virtual classroom when they could barely get the projector to work.
We understand your daily life (and budget) is changing by the minute and you're probably thinking to yourself, "how am I going to make payments on my student loans?". You may have recently seen the CARES Act (aka "Coronavirus Aid, Relief, and Economic Security Act") and want to know how it's going to benefit you.
Ascent is here to help and break it all down for you with…
Options to Pause Payments with Ascent
Ascent is protecting you and your family from the economic impact of the coronavirus (COVID-19) pandemic by offering a new forbearance option that allows you to temporarily pause payments on your student loans in times of disasters and global pandemics like we're experiencing today.
This forbearance option, otherwise known as Ascent's Natural Disaster/Declared Emergency Forbearance option, allows you to postpone payments on your Ascent loans for up to 3 months in the event a natural disaster, local or national emergency, or military mobilization is declared by the appropriate governing agency.
Beginning April 1, 2020, you can contact Launch Servicing to request the Emergency Forbearance option or ask about our other forbearance options, such as:
Temporary Hardship: You can request to stop payments for up to 4 consecutive periods if you are experiencing periods of financial difficulty.
Military Deferment: If you are active military, or become active, you can pause payments on your student loans for up to 36 months.
Graduate/Internship/Residency: You can elect to suspend payments for up to 48 months if you are enrolled in a Graduate or Residency/Internship program.
You should know Ascent's Disaster/Declared Emergency Forbearance option is not mandatory, so if you feel you can continue to make your monthly payments on time, you can choose to waive this forbearance option. In addition, once you enter any forbearance options with Ascent, your repayment term is extended and any unpaid interest on your loan is capitalized when the forbearance period ends.

What's the CARES Act and why should I care?
On Friday, March 27, 2020 the CARES Act was signed into law to meet the growing public health and economic challenges in the wake of coronavirus.
Included in the act is legislation that allows student loan borrowers, like you, to suspend all payments on certain federal loans until September 30, 2020. More closely, this applies only to Direct Loans and Federal Family Education Loans (FFEL) currently owned by the U.S. Department of Education and those in which have not entered default.
Although it is unclear when the suspension will effectively take place for your federal loans, you can elect Ascent's Disaster/Declared Emergency Forbearance option beginning April 1, 2020 by contacting Launch Servicing.
Call: Contact your lending specialist at Launch Servicing at 877-354-2629 toll-free Monday through Friday between the hours of 8 AM and 5 PM central time.
Email:

[email protected]

Online Portal: Log into the repayment portal at LaunchServicing.com.
Mobile App: Manage your account from anywhere – download from the App Store or on Google Play and login with your existing user credentials.
More Ways Ascent is Helping Student Earn Money During Coronavirus
To support you further during the current health crisis, Ascent is also launching more ways to help you pay for college and college-related expenses.
Tips to Stay Mentally Well and Motivated During Coronavirus
As you adjust to working from home (for work or for school) it's important to keep your mental health thriving. Here are 4 tips that may help.
TIP #1: Create a comfortable work space. Avoid setting up on your bed or room and dedicate one space in your home to work. Try adding some plants or photos to increase productivity and use noise cancelling headphones if you have noisy roommates.
TIP #2: Create a consistent schedule. Remember to wake up at the same time every day, workout at home, carve out time to eat lunch, go about your usual routine. It will help you adjust once things go back to normal.
TIP #3: Check up on friends. Social distancing might impact the time you spend with friends, but don't forget to check on them routinely. Now more than ever it's important to keep your friends close (figuratively speaking, of course).
TIP #4: Take a breather. Since your time outside of the home is limited, spend the time you would normally to commute to school or work to go on a walk, catch up on sleep or cook healthy meals from scratch.
For more tips on how to stay safe and well during coronavirus and more updates on Ascent's loan options, please check back on our blog for new posts.