4 Safety Tips for Traveling This Holiday Season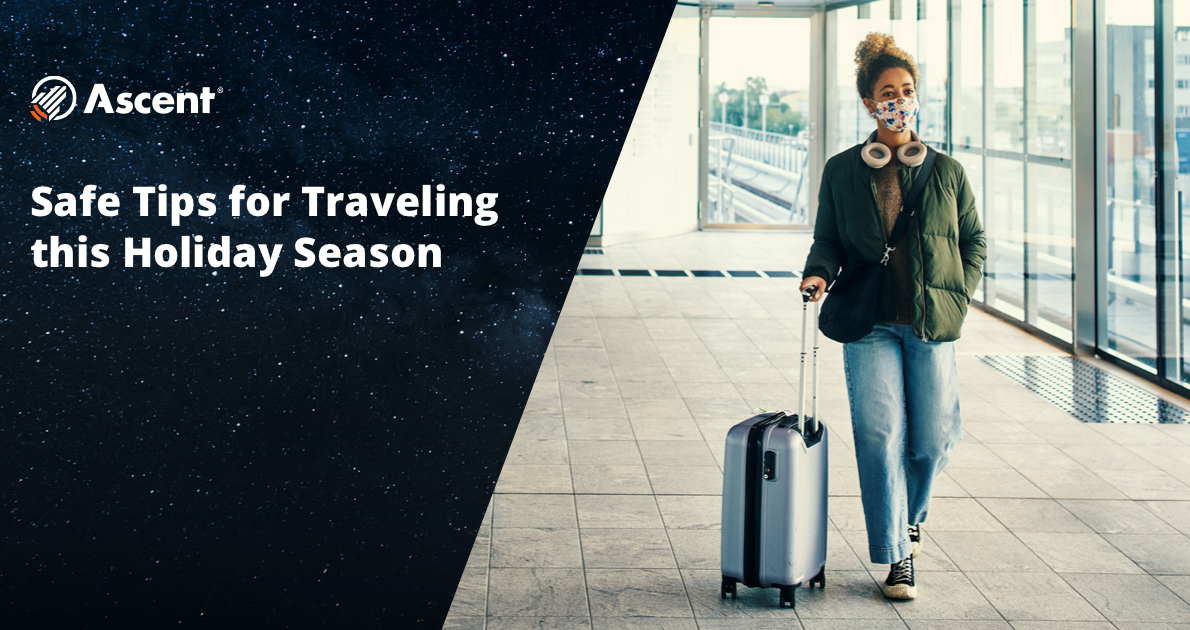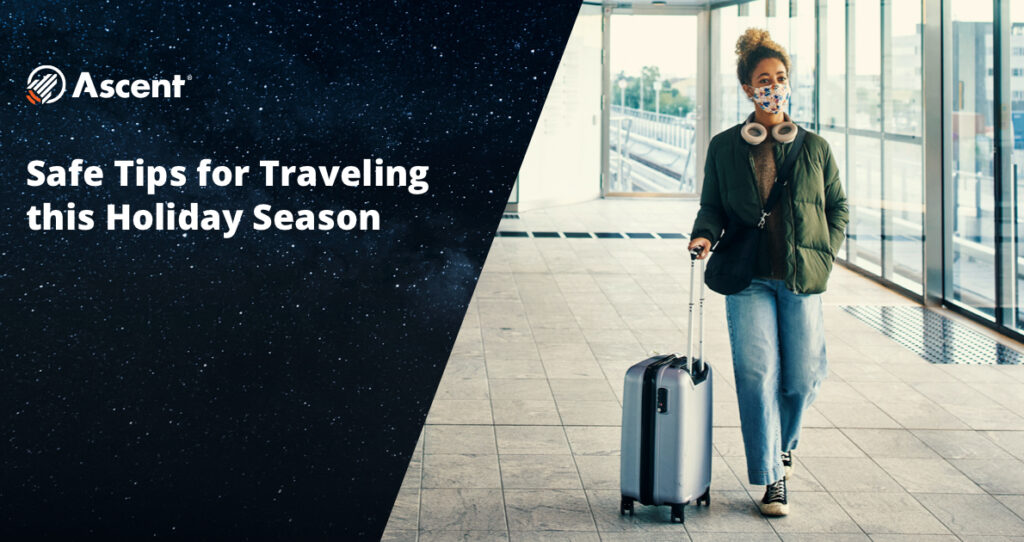 From drinking hot chocolate to wearing fuzzy socks every night, the holiday season is a special time to celebrate all the achievements you've accomplished each year with friends and family. For this year's holiday season, the CDC suggests, "delay travel until you are fully vaccinated." Whether you are vaccinated or not, if you do plan on traveling during the holidays this year, here are 4 tips to make your journey safer.
Tip #1: Choose the safest form of transportation for you.
Depending on how far you plan to travel this holiday season, your transportation choice may come with different types of risks.
Preparing for Take-off
Suppose you need to travel by plane to reach your destination. In that case, the CDC states, "wearing a mask over your nose and mouth is required in indoor areas of public transportation (including airplanes) and indoors in U.S. transportation hubs (including airports)."
The CDC also recommends you limit touching frequently touched surfaces as possible, such as not touching the hand railings, restroom surfaces, fingerprint scanners, and checking into your flight online beforehand to avoid long lines with other people.
Keeping Your Health on Track
Another way to increase your safety when traveling during the holidays by bus or train according to the CDC is to ensure to leave a few rows of seats between you and other riders. You might also want to enter and exit buses and trains through the rear doors instead of the front, where more people are likely to hop on. Just like at airports, make sure you avoid touching surfaces as much as possible. Remember to wash your hands with soap and water for at least 20 seconds (hum the birthday song to time yourself) or use hand sanitizers containing 60% alcohol.
"Are we there yet?"
Choosing to travel alone in your car might be one of the safest ways to travel this holiday season. One of the things that you should consider (and limit) is the number of stops along the way for food, gas, and bathroom breaks. By limiting these stops, you'll be able to minimize your contact with other people and surfaces, which can make your travel journey a lot safer.
Tip #2: Plan ahead with friends and family.
As you start to plan your trip for the holidays, it is worth noting who you are going to see when you arrive. Your parents may be essential workers who come in contact with all sorts of germs every day, or you may share a home with your grandparents who are among the most vulnerable. Some of the things you can do to protect yourself and those you love include:
Stay home and self-quarantine for a full 7 days after travel, even if you test negative at 3-5 days.
If you don't get tested, stay home and self-quarantine for 10 days after travel.
Limiting the number of times you leave home to pick up food or groceries; and
Deciding not to travel and opting for a Zoom-filled holiday this year.
We know it may be tempting to visit childhood friends and other family members during the holidays, but the CDC recommends limiting your exposure to people outside your home to keep you and your family safe. You can interact with your loved ones virtually by playing games on Zoom, watching a movie on Netflix simultaneously, or even reading a book at the same time.
If you intend to meet up with people outside your home, you can find a COVID-19 testing center near you. You and your friends can agree to get tested before coming in contact with one another.
Tip #3: Preparation is key to staying healthy when traveling for the holidays.
You've probably seen some common safety tips on Instagram, TikTok, and maybe even YouTube. We want to remind you of some of the things the CDC recommends you do to stay safe when traveling during the holidays this year:
Wash your hands with water and soap as often as possible, for at least 20 seconds.
Wear a mask at all times, especially when you are in close proximity to other people. Having extra masks is also preferred in order to provide a backup in case your current mask is damaged.
Have a steady supply of hand sanitizer with at least 60% alcohol.
Make sure these reminders are permanently engraved in your brain before your journey begins to help keep you and your family safe.
Tip #4: Find a local COVID-19 testing center and get tested.
One of the most efficient and easiest ways to know whether you are safe to travel or not is to get tested. Many states and counties are offering free drive-up testing for COVID-19 with or without appointments.
By checking your county's website, you will be able to find specific spots where the county's free testing sites are located. The CDC recommends getting tested 1 to 3 days before a flight and 3 to 5 days after arriving at your destination. In addition to testing, the CDC also recommends quarantining for at least 7 days after arriving at your desired destination.
Whether you decide to travel or not during this holiday season, it's helpful to keep these guidelines in mind. Remember, our safety during this time depends on every single one of us and the actions we take in our daily lives. For more information about how to travel safely, please refer to the CDC's recommended guidelines here.