Ascent Student Spotlight: Alexis J. of San Diego State University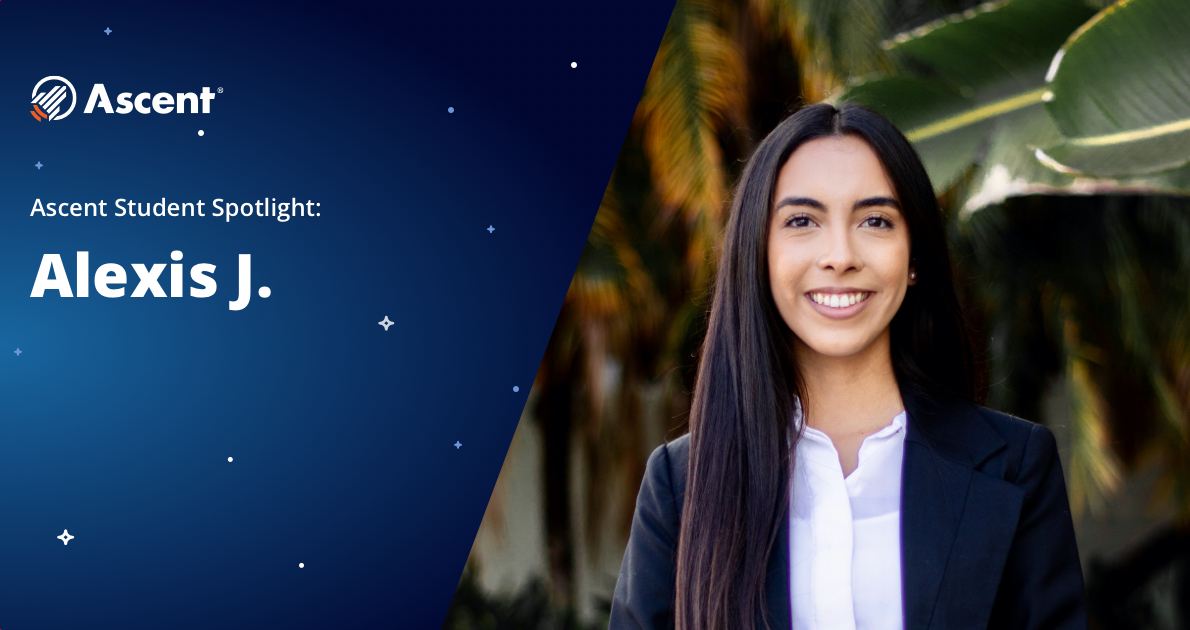 Throughout her college career, Alexis Juarez was the definition of self-motivated. From managing three internships (one while studying abroad in Santiago, Chile) to balancing multiple jobs, she was still able to maintain good grades and graduate with a promising future.
Alexis graduated in May 2020 from San Diego State University with a degree in International Business and an emphasis in Spanish/Latin America and Management. After graduation, she spent the next few months searching for her dream job. By September, Alexis was recruited by Amazon Logistics for her dream job as an Area Manager in Operations.
But how did she do it? We chatted with Alexis to get her tips on finding a stellar job post-grad and what (or who) keeps her motivated. 
What was your major in college and what made you decide to pursue it?
At SDSU, I actually went in as a finance major. I really did like it, I had a passion for numbers. I liked seeing the analytical way of thinking. However, I wanted to bring my passion into what I was doing as well. One way of doing that was by incorporating my culture, which is one of my biggest passions. 
So, I ended up switching my major to international business with an emphasis in Spanish and Latin America, and an emphasis in Management. I got the best of everything in business, I had the opportunity to focus on marketing, finance, and management. I also had the opportunity to learn more about Latin American culture and how businesses ran there, as well.
Were you involved in any organizations or groups throughout your college experience? Did any of them influence or shift your career path?
I was definitely involved throughout my college journey in multiple organizations and groups.  Two clubs I was involved in were the International Business Society, and the Hispanic Student Business Association. I was most involved in Delta Sigma Pi, which is a business professional fraternity. 
I would say definitely Delta Sigma Pi really influenced me in my career path. While I was pledging, I switched my major, and I had the opportunity to meet over 70 business students at SDSU — all different majors in business. It was through this that I realized a lot of them had a passion for what they were doing, and quickly after that, I switched to international business. 
You mentioned shifting my career path. Coming out of college, I wasn't sure exactly what to apply for. But I knew through my experiences that I really liked management. So that kind of made me focus on what I was going to apply for.
Since you graduated in May, I'm sure your last semester and summer were filled with applying for jobs. How do you feel your school prepared you for this?
That's an interesting question. I don't necessarily think school specifically prepared me just because there isn't a class like Resume 101 or Cover Letter 101. There's nothing like that. You kind of have to do it all on your own. I would say I'm thankful for the organizations that I was involved in, they definitely prepared me for post-graduation life. 
Throughout my three years in all these organizations, I was able to construct a really good resume, cover letter, solidify my LinkedIn, grow my network — all these different things. So, I feel that it was the organization (Delta Sigma Pi) that I was involved in that helped me prepare as opposed to school itself.
You were contacted by an Amazon recruiter, which is so exciting! How did you make your LinkedIn stand out? 
As I mentioned before, the organizations I was involved in had a lot of workshops, and through them, I was able to learn tips and tricks on how to make my LinkedIn stand out. It's all about going above and beyond just adding your past experiences. That's simply a resume. 
On LinkedIn, since it's online, and it's virtual, you're able to add a lot more content into it. So, I would add pictures, videos, blog posts I've written, anything that could really be more of an online portfolio. 
Typically, you want a resume to be one page. But with LinkedIn, you're able to add so many more things such as community service, your skills, your certifications. If you went abroad, you're able to add the school where you studied abroad. There are just so many useful tricks that you're able to do with LinkedIn and I took those all to my best advantage. 
Another good tip is asking your friends or your professors if they're able to endorse you on LinkedIn for a particular skill. It's extremely helpful to show recruiters that you're either bilingual in Spanish or have good teamwork or leadership experience, etc.
Communicating with a recruiter (especially from Amazon) can be intimidating. How did you keep your cool and put your best foot forward?
I think a lot of people, going in, think that communicating with a recruiter is really stressful. It can be intimidating, but the way I kept my cool and put my best foot forward throughout the process was realizing that this is their job. They talk to so many people daily, and it's nothing to be intimidated about. 
One thing I would do is talk to them just as I would to a professor, or perhaps a supervisor or a boss – be respectful. However, you also don't want to seem too nervous or be too scared to ask all the questions that you need. 
They're there to help you along the way — remember that in the back of your mind going into it. Their purpose isn't to intimidate you or anything like that. At the end of the day, they're not going to be the person interviewing you, they're not going to be in the room with you. So, ask all the questions you want.
What was the interview process like during COVID? Do you have any tips for students who are about to step into your shoes?
For Amazon, I had a three-part online interview, all on the same day. For other companies, they do it on separate days. Round one, and they'll call back with a round two, and then a round three if there's a final round. But in this case, they did it all the same day, and it was back-to-back. I did have five-minute breaks in between.
The first round wasn't necessarily an interview, it was more of a briefing with the recruiter. The second and third interviews were formal interviews with multiple people in Amazon with different positions from across the country. They had so many people engaged in this interview process during COVID-19, which is really cool.
As for tips, I would say if you have a routine stick to it. What I mean by that is, if you always wake up and go to the gym at 6 am, do it. You don't want to shift from your regular routine because it's just going to put you in a state of flux.
Eat a well-balanced breakfast, drink a lot of water, try to even keep a glass of water next to you on your desk so your mouth doesn't get dry, smiling throughout your interview. Obviously, you don't want to seem fake when smiling, but it can help you to feel present, not as nervous, and makes you seem a lot more confident.
Preparing your outfit the night before is really helpful so that you're not scrambling in the morning trying to figure out what you're going to wear. Just because it's an online interview doesn't mean that you shouldn't put your best foot forward. I know, it's really easy to stay in pajamas nowadays in this kind of environment. But you want to look your best because in my opinion, when you look your best you feel your best.
We've all had bad interviews. What's the most embarrassing moment you've had while interviewing for a job?
The most embarrassing moment I've had while interviewing for a job was actually with Ascent!  It was my second-round interview. The first round was a phone interview, and then the second round was going to be in person.
The interview was in San Diego, but I was living in Los Angeles at the time. So, for this interview, I came to a friend's house to stay for the weekend and for the interview. In the morning, I came to the stressful realization that, 30 minutes before I had to leave, my heels were in my roommate's car, and she had locked her keys in the car!
We knew there wasn't going to be a way to get my heels for this interview. My friend was a lot taller than me and her heels definitely did not fit. So, I was a full professional from you know, head to ankle – not head to toe – head to ankle. I had Rainbow sandals on, so part of me wondered if I should cancel, I just felt so embarrassed. Then suddenly I decided, you know what, I'm still going. I just went and right away when I saw the person interviewing me, I laid it all out on the table and told them the story upfront. Just so that they didn't think I planned to come in sandals to the interview. But luckily, I still got the job, so I guess I did okay!
Spoiler alert: you got the job! What are you most looking forward to going into your new position?
I would definitely say just learning. Learning is something that I really enjoy doing, whether it's in school or my personal life, I just love learning new things.
In college, I worked in food and beverage, had three internships, but I've never done something similar to distribution and logistics the way I'm going to be working at Amazon. Their training is pretty intense, and it could go up to 10 weeks. So, I have some time to learn a lot of new things and put them into practice for the rest of my career at Amazon!
What keeps you motivated?
As opposed to "what" keeps me motivated, I want to answer this question with "who" keeps me motivated.
My grandfather, who was from Mexico, came to the United States as a bracero worker in hopes of potentially giving his future family a better life. The Bracero Program, which lasted from 1942 to 1964, allowed millions of Mexican men to come to the United States to work on short-term agricultural labor contracts. During this time, my grandfather left his entire family behind and made the decision to come to the United States. He worked around 14-hour days in the fields and overcame racial discrimination and segregation. Despite these rough years of his life, he always says that he wouldn't change it for the world because the opportunity of bringing his family to the United States was worth it all. 
Don't get me wrong, college can be extremely overwhelming and stressful, but I know that I will never see obstacles the way my grandfather saw hardship in his early adult life. My college degree isn't just for myself, it's for both of us. He taught me the skills of hard work and dedication, and I will never give less than 100% in all that I do because of him. 
He suffered so that I didn't have to. Everything and anything that I do is for him.
Looking to learn more about our student community? Read Steven's Student Spotlight!