5 Things to Consider Before Joining Greek Life in College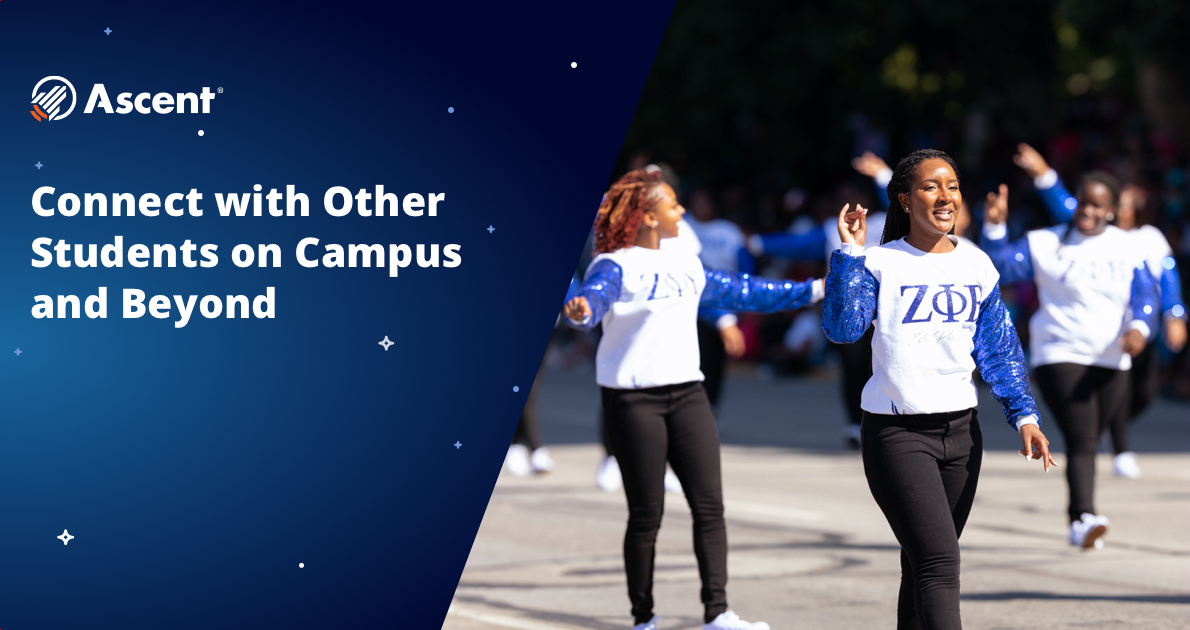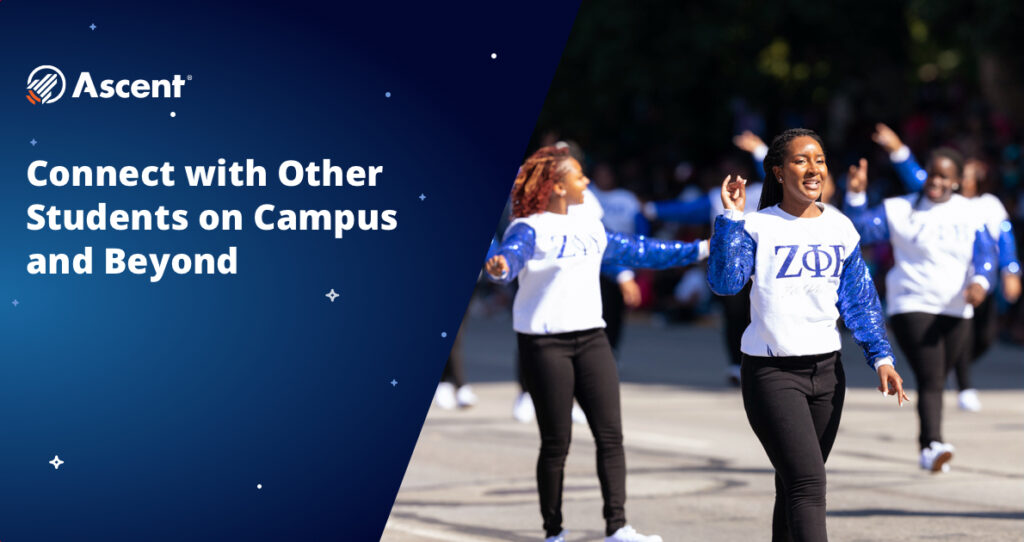 Movies like Legally Blonde (2001), Neighbors (2014), and Sydney White (2007) portray Greek life as an opportunity for students to spend less time studying and more time partying. The truth is sororities and fraternities can be a great way for students to connect with peers, get involved on campus, volunteer in their local community, and build relationships with alumni.
If you're searching for other ways to meet people on campus and think Greek life might be for you, here are 5 things for you to consider before joining Greek life in college.
1. Know the Benefits of Greek Life in College
Greek life in college allows you to connect with other like-minded students on campus and beyond.
Networking with Peers and Alumni
Greek life can help you network with classmates who share the same passions and professional goals as you. Oftentimes, fraternities and sororities are filled with students from different majors and backgrounds, giving you the chance to meet other people you normally wouldn't connect with during class. This may help you find personal references, a friend to proofread your cover letter or someone to work on side projects with you as you build a professional portfolio.
You may also get the opportunity to network with alumni that might offer career advice, serve as professional references, or be a mentor for you.
Participating in Leadership Opportunities
Like other committees and organizations on campus, Greek life offers you the opportunity to hold leadership positions within your house, such as President, Vice President, Secretary, Treasurer, or even Social Media Chair.
If you're a finance major, becoming treasurer of your fraternity or sorority might help you practice what you're learning in the classroom. If you're planning a marketing career, being the Social Media Chairperson may help you explore your creative side as you make social media posts and recruitment videos.
Fraternities and sororities provide a sense of community, similar to being on a sports team or in the associated student body in high school. Everyone is on a mission to help each other succeed and build lifelong friendships. Having a close community to lean on in the future may be beneficial as you get ready to find your first job after graduation.
2. Explore Fraternities and Sororities on Your Campus
Each fraternity and sorority is unique in its own way. Still, they ultimately aim to achieve the same goal: build strong bonds among their members. Below are 3 of the most common types of Greek life organizations on college campuses today.
Social
The most common type of Greek life organizations are social fraternities and sororities. This type of organization is more famously misrepresented in pop culture, movies, and tv shows. Social fraternities and sororities aim to connect students with one another from different majors, participate in community service, and attend social events. You'll find with social Greek life organizations, houses are not typically co-ed.
Academic and Professional
Other common Greek life organizations include academic and professional fraternities. These houses are usually filled with students at the top of their class and share similar long-term professional career goals. Academic fraternities are co-ed and aim to help students excel in a specific academic field so they can connect with a broader range of students.
Cultural and Service-Focused
Cultural fraternities and service-focused fraternities and sororities connect students who share the same faith or culture. According to Insight Into Diversity, cultural organizations "provide strong on-campus support systems and foster cultural pride for thousands of students as well as continue to inspire other underrepresented groups to 'go Greek' on their own terms." Examples of these organizations include Christian, Hispanic, Black, and Jewish fraternities on your campus.
As you explore the different types of Greek life organizations at your school, keep in mind the things that are most important to you. Whether you're looking for ways to socialize with classmates or meet other students who share the same faith as you, find the fraternity or sorority that fits your needs.
3. Understand Your Budget and What to Expect
Spoiler alert: Being a part of Greek life might mean additional costs on top of your other college-related expenses. But don't worry, every college and organization are different.
We don't have the exact number for you. Still, we can help you understand some additional costs that may come with joining a fraternity or sorority, so you can take these into account when building a budget. According to Investopedia, here are the most common types of additional expenses of Greek life:
New & Active Member Dues: According to the same article by Investopedia, this money goes toward other expenses for the organization like liability, insurance, philanthropy, scholarships, and other upkeep. There may be additional costs for new members, too, so make sure you read the fine print before signing off on anything.
Room and Board: Depending on the fraternity or sorority you choose to join, you may be required to stay in the chapter house for at least one year. Like on-campus student housing, this may be more expensive than finding an apartment with a few friends. You may also be required to purchase a meal plan too. Make sure to find out beforehand if these are requirements for the fraternity or sorority you're considering joining.
Social Expenses: Aside from purchasing new shirts and hoodies with your chapter letters on them, you'll also be required to attend social events and contribute money for them. The cost of new clothes can quickly add up for social events, like formals and parent nights. Make sure you're prepared for these unexpected costs.
Fines: No surprises here. If you break any rules of the house, you may get a fine. This doesn't necessarily have to be illegal. It could also mean missing a mandatory meeting or not meeting applicable GPA requirements. Remember to read all the house rules carefully when you join.
Alumni Expenses: When you graduate, the cost of your fraternity or sorority may not end there. You may also be required to contribute alumni dues to help active members pay for conferences, social events, and other activities. This may be something you want to consider if you will have expenses that kick in after graduation, like your student loans.
Don't forget, Ascent offers new scholarship sweepstakes each month to help cover the extra costs associated with college. See below for a chance to win this month's scholarship giveaways.
  Enter Shining Stars Scholarship
  Enter Community Champions Scholarship
4. Consider Other Opportunities of Greek Life
We've talked about different ways Greek life may help you connect with peers and build your professional portfolio. It can also be a great opportunity to give back to the community around you.
Your future fraternity or sorority may have a philanthropic aspect or require volunteer experience to be an active member. Some organizations have direct ties to local food banks or pantry kitchens, so you don't have to go out and find your own volunteer experience. This is another great way you can continue to build your resume and support the local community.
There may also be separate leadership positions available for students who want to lead these philanthropic efforts as well. Other organizations might reward members who finish the year with the greatest number of volunteer hours or raise the most money. Although you shouldn't volunteer for the rewards, it's something else to add to your resume. Check with your future fraternity or sorority to see if you'll be required to volunteer.
5. Search for Other Ways to Get Involved on Campus
If you're still unsure if Greek life in college is for you, we encourage you to look for additional ways to get involved. Joining Greek life isn't the only way to meet people.
Associate student body committees can help you connect with other students who want to hold leadership positions within your college or university. This also allows you to raise your voice for students across campus.
There may be other opportunities to join organizations related to your majors like the American Marketing Association, Society of Professional Journalists, or the National Student Nurses' Association.
Whether you're ready to take the next step or still considering your options to being involved, check out your school's website for more information. They may also have tips to get involved while you're attending online classes. We recommend starting this process early, so you can take advantage of whichever direction you choose to go.