6 Questions to Ask If You're Considering Grad School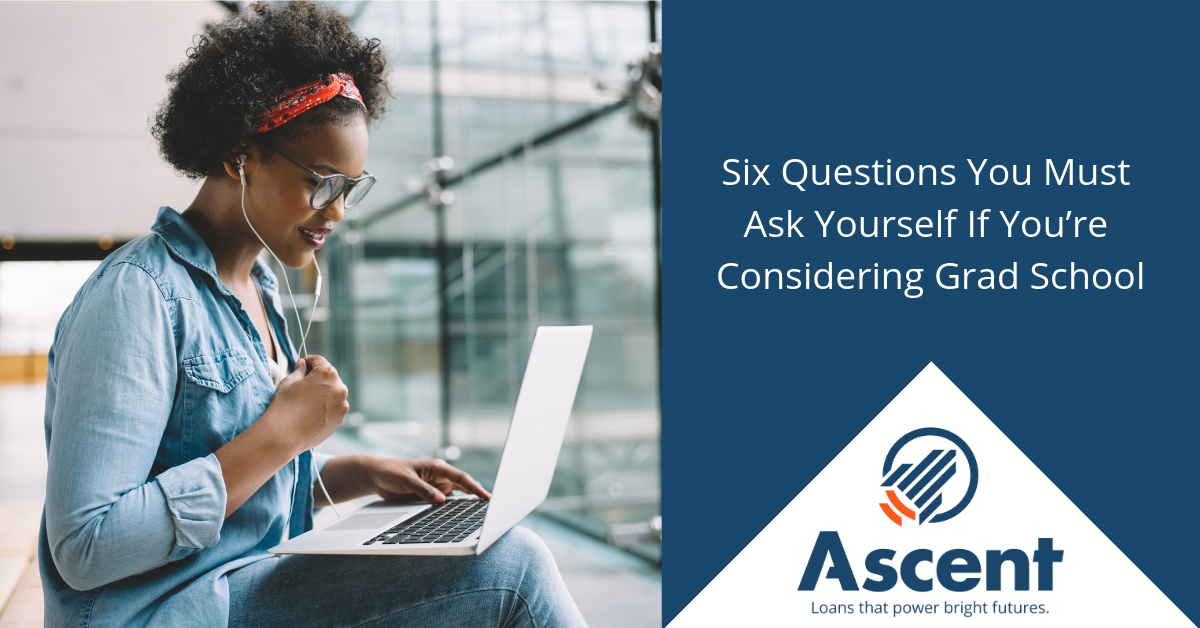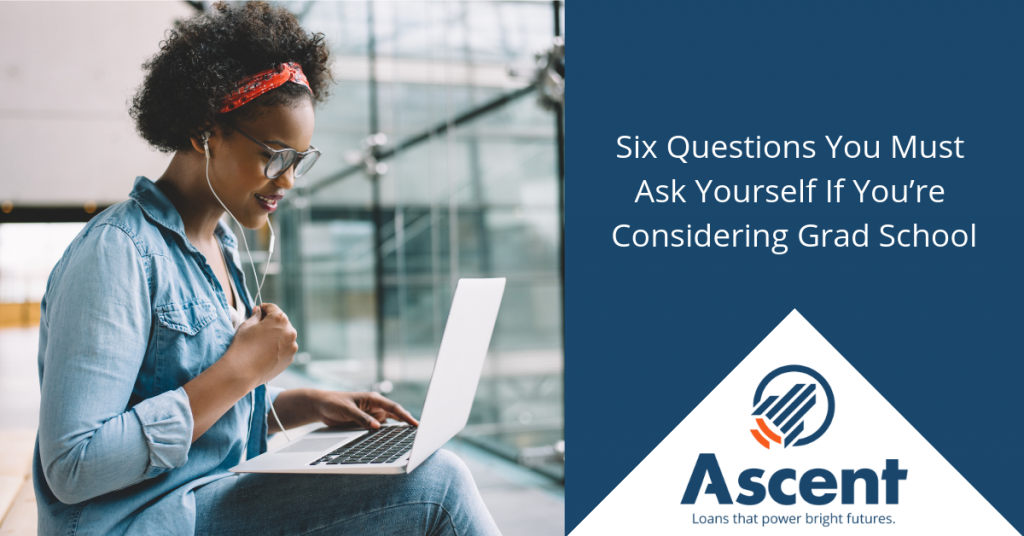 At Ascent, we provide free resources to help you throughout college, which are intended to be for informational purposes only and may include links to third-party websites (where security and privacy policies may differ from Ascent's). For our full disclaimer, please click here.
The decision on whether to attend grad school can be a tough one. While earning that first college diploma may mark the finale of an educational journey for some, for others it's just the beginning.
Pursuing an advanced degree can open new opportunities, but not without considerable time, effort, and cost. In this post, we'll look at some of the most important questions to consider helping you decide whether graduate school is right for you.
1. Why go to grad school?
It's important to have a clear understanding of your reasons for attending grad school — this will help to guide you through the challenges that lie ahead. Reasons for pursuing an advanced degree may include career advancement or the desire to break into a new field. Perhaps you just love learning and want to soak up as much as you can about a given topic. While undergrad education provides a good general overview of various subjects, graduate degrees are where you can really specialize in a field of study.
If your only reason for wanting to pursue a graduate degree is you're not ready to enter the workforce yet, you may want to take a step back and consider the alternatives. Landing an internship can be a great way to explore what it's like to be on-the-job in a given field. After exploring the other options available to you, you'll have a better understanding of whether graduate school is right for your future — beyond just wanting to hold off work.
2. What type of degree should I pursue?
Graduate degrees usually come in one of two forms: a master's degree or a doctoral degree (also known as a Ph.D.). Master's degrees offer you advanced studies in a given field, so you can indeed become a "master" of the subject. Doctoral degrees, on the other hand, are usually focused on developing new knowledge in a highly specialized way. Some doctoral programs will require a master's degree to get started, whereas others will accept a bachelor's degree. There are also combined master's-Ph.D. programs that can bring together the best of both worlds.
3. How do I find the right program for me?
There are thousands of graduate programs available throughout the globe — so which one is best for you? Pick a subject that you're passionate about, and then explore the programs that are available. When checking out a program, consider whether the format piques your interest and determine if you meet the prerequisites. Are you looking for a full-time or part-time program? Online, in-person, or a combination of both? The deeper you research a program, the better you'll be able to determine whether it's right for you. After all, it's a serious undertaking, so take the time to make the best choice.
4. Do I have the time and energy?
It's no secret that graduate programs offer a whole new level of challenge to students. You must be willing to commit the time and energy needed to do the work. Consider the factors in your life that may affect your ability to focus on your new program. These may include relationships, family commitments, and work. If you need to hold a job while in school, a part-time graduate program may be ideal. Take a step back and look at the big picture — is this the right time for you to embark on this journey?
5. What happens after I graduate?
This question ties into your reasons for attending grad school. What do you plan to do with your degree once you've earned it? Yes, perhaps a vacation is in store after you graduate, but what about in the long term? There's no doubt that the grad school process will help you grow and present you with many new ideas, but it's still helpful to have a general sense of post-graduation plans. This is a situation where having a mentor can be an invaluable resource.
Before taking on a new degree program, you'll want to consider how to pay for it. Tuition, books, and living expenses can add up, especially if you're relocating. In some cases, an employer can sponsor your graduate program — you get a new degree and they get a more qualified employee. In any case, explore the projected salaries of the post-graduation career you're aiming for, to see if it can cover the costs you may incur. Also consider that you may have to prioritize school over work, which could mean a loss of income. This is where your financial wellness skills play an important role!
If you plan on borrowing for your school and living expenses, Ascent provides graduate student loans. We also offer graduate student loans for MBAs, dental school, law school, medical school, graduate degrees for health professionals, and for other PhD and Master's students. No matter what your graduate school goals are, Ascent can help you get there.
More Tips & Resources
From test prep tips to financial education, we are determined to provide students with the tools they need for success. To stay up to date with the latest college tips and tricks, be sure to check back on our blog!