Top Questions to Ask Before Accepting A Job Offer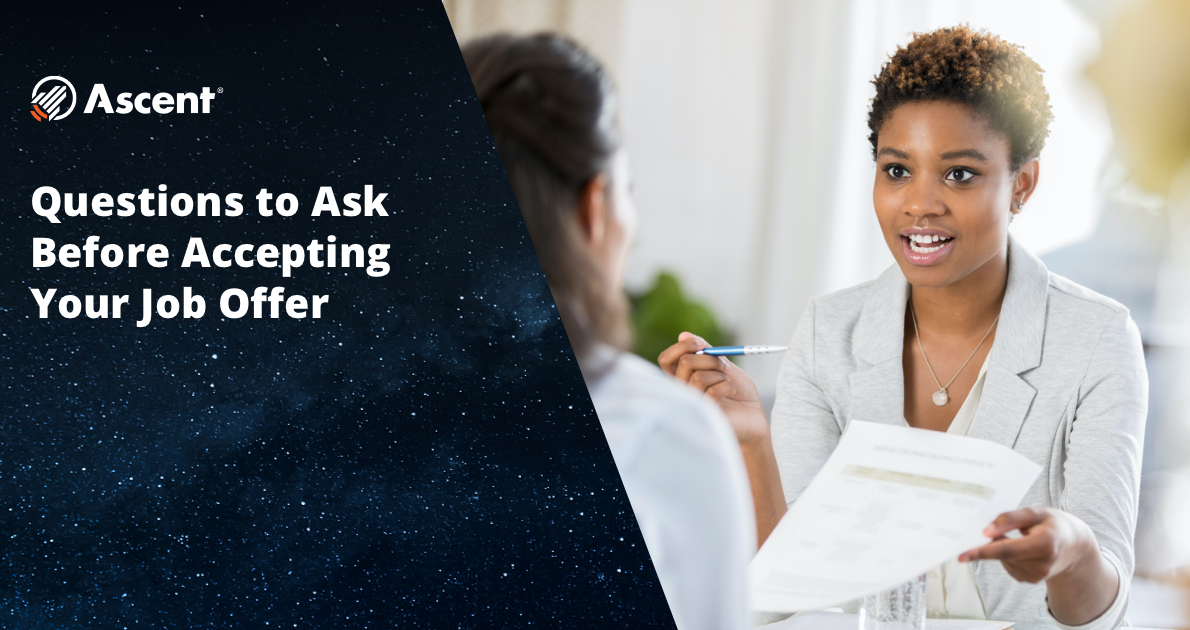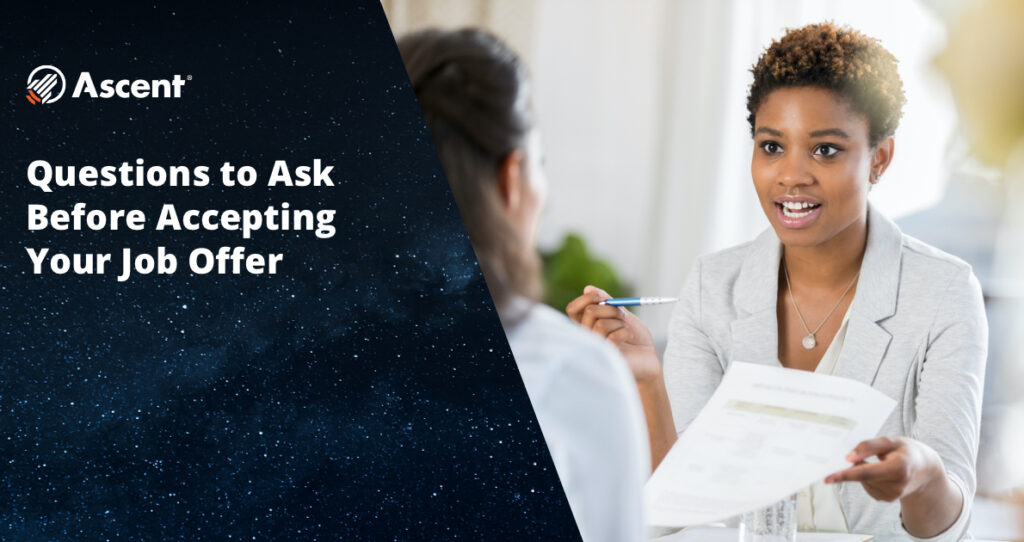 At Ascent, we provide free resources to help you throughout college, which may include links to third-party websites (where security and privacy policies may differ from Ascent's). For our disclaimer, please click here.
You spent days meticulously editing your resume, weeks waiting for a reply, and hours preparing on how best to answer every potential interview question, all just to wait for a call back from your dream job.
Congratulations, you got the job! Now that it's time to sign your job offer, your future company might move fast. While you shouldn't have a reason to hesitate (you have landed an awesome opportunity), accepting a new job comes with newfound responsibilities and considerations.
Before you sign on the dotted line, take some time to slow down and consider these questions to make sure you're 100% aware of all the benefits your future company has to offer … or might be missing.
Common Benefits from Companies
Salary
"I appreciate the offer, is there any room to negotiate my salary?"
Once you've considered all the other details of your offer, take another look at the salary and research competitive salaries using LinkedIn or Salary.com – you should know your market value. Most college students, especially female students, feel awkward or uncomfortable negotiating salaries (you're just thankful you got the job), but it's important to be direct and ask. You'll never know unless you do. In most cases, the employer will be willing to discuss salary, since they know your value to the company, as well.
What if they can't negotiate on salary?
While some companies might offer a signing bonus up front if they can't negotiate salary, The Muse suggests asking for a "timeline for a raise," which allows you to bring up the conversation again at a later time (typically during a three to six-month performance review). You may even accept the offer on the condition that you're allowed to renegotiate your salary six months into the job.
If you negotiated and are still left with a salary that you feel is less than awesome, take the focus away from compensation and see what else you might be able to request, such as more vacation time or a flexible work schedule. Jennifer Fink, a career coach who specializes in negotiation coaching, says you "should negotiate other elements that could significantly improve satisfaction with [your] offer."
Bonus Compensation
"How are bonuses determined?"
Find out if bonuses are offered, and if so, how you can be eligible for them. Some companies give bonuses for specific incentives, such as taking on more responsibilities or pay raises based on performance. The more you know about these bonuses offered at the company, the more you'll strive to earn the extra cash.
You can even ask for other bonus incentives, such as cell phone reimbursements or gym membership reimbursements. Every company is different, so be sure to ask before your first day.
"How can I know I'll receive a fair bonus?"  
When accepting a job, it's crucial to read the fine print, especially with positions that have a bonus structure. Nothing is a guarantee with bonuses, so make sure you understand how bonus amounts are determined. Ask questions like, "How do bonuses work here?" or "What is the bonus structure for this role?"
You may not get an exact number (since it depends on several factors) but even a range or idea of how the company thinks about bonuses can help you understand how they value their employees. Tip: If you think the bonus offered is reasonable, get it in writing. Whether that's a formal contract or an informal email, make sure you read all the details and fully understand what achieving the bonus means.
Benefits Package
"Can I review the benefits package?"
What exactly is a benefits package? A benefits package is a collection of non-wage benefits like health insurance and paid time off in addition to your salary.  If you haven't seen the details of your company's benefits package, ask for more information. While some employers might give you an entire packet of information going over co-pays (the fee you pay for a doctor's office visit or to pick up a prescription), deductibles (the price you pay for medical care before your health insurance pays), and what exactly is covered, others may not send over that information until after you've signed your offer letter.
When you ask for those details beforehand, you can help ensure the benefits work for your needs, and it ultimately helps you to make a more informed decision when accepting your offer letter.
Not sure what to look for? Here's a quick list of terms and their definitions:
401k: Most companies offer retirement savings plans, and the contributions come straight out of your paycheck so you can start to build your own safety net after retirement. Even better? Your company might offer an employer match. This means they will throw some money into your 401k on your behalf if you agree to pay a certain amount every paycheck. Basically, if you make $100,000 and contribute $6,000 a year to your 401k, your company might match it with another $3,000. That's essentially free money for your retirement! (Did we mention it's tax-deductible?)
PTO: "Paid Time Off" is the amount of time your company will pay you, even if you're not working. Most companies separate PTO by vacation, sick, personal days, and paid corporate holidays – make sure to ask about how many days of each they offer. Make sure you find out if your company's PTO policy rolls over into the following year, or if it's more of a "use it or lose it" situation each calendar year.
HSA/FSA: Both HSAs and FSAs allow people with health insurance to set aside money for health care costs labeled as "qualified medical expenses," which includes deductibles, copayments, or monthly prescriptions. Health savings accounts (HSAs) aren't your typical savings accounts. They are available to people who have a high-deductible health plan, or HDHP.
Flexible spending accounts (FSAs) come as part of a benefits package from your employer, but the medical expenses you can use them for are similar to HSAs. The money in your FSA comes out of your paycheck before taxes, but it's important to be precise in the amount you want to contribute since most FSA contributions do not roll over into the next year. Before you enroll, make sure to research how much big-ticket items like Lasik surgery or Invisalign might cost if you want to use your FSA money before it expires.
Career Development
"Does the company offer any reimbursement for professional development costs?"
Many companies offer incentives for employees to receive additional training that helps to advance their careers, so if offered at your company, take some time after joining to explore a few conferences, courses, and certifications that interest and benefit you. The more relevant education you have, the more effective you will be at your new job.
Health & Wellness Programs
"Are there any wellness perks or fitness programs?"
Wellness at work is an emerging new trend – as it should be! It's worth looking into what health and wellness programs your future company offers that go beyond the gym. Examples of a few wellness perks include free onsite flu shots, free gym memberships, health coaching, onsite fitness classes or meditation, or even financial wellness where your company offers resources to help with money goals such as budgeting or saving for retirement.
Other unique benefits
Student Loan Repayment
According to a survey by Abbott of 2,600 adults, nearly nine out of ten recent graduates with student loans are on the hunt for jobs with employers who offer student loan repayment assistance. In addition, 62% of working American adults say they would consider switching to a company that offered this benefit. Want to learn more about this benefit but don't know where to start? Here are a few questions you should ask your future employer:
How is the program structured?
The way a company's student loan repayment program is set up can play a major part in how beneficial it is. While few companies offer this benefit – only around 4% ­­– it's worth learning more about the details before accepting a job offer. Some companies provide a matching contribution to your retirement savings while you pay down your student loans, while the more popular option is for the employer to match the amount you are contributing toward paying off your student loans.
How much money could you get for your loans?
Several employers have set limits on these programs for both yearly and lifetime. For example, Aetna offers to match up to $2,000 in student loan repayments each year for full-time employees and caps the total amount at $10,000. Other places, like Chegg, don't have a cap on their total loan repayment assistance but will limit yearly contributions.
What are the guidelines?
In addition to financial caps, it's important to know if your company has any other limitations on its program. Some employers will require you to work at the company for a specific amount of time before you're eligible to participate, while for some the program is only available to full-time employees within specific roles.
Relocation/Tuition Reimbursement
Did you know that according to a survey by Adecco, 67% of millennials said they would move cities/states for a job opportunity? If you plan to relocate when taking this position, find out if the company will be helping with relocating expenses, including offering to pay a fixed amount towards moving expenses or putting you up in temporary housing until you can find a place to live.
Interested in going back to school? Some companies offer some form of tuition assistance that allows you to build upon your education while alleviating some of the financial stresses. From paying for a portion of tuition to some companies even allowing you to take a leave of absence to get your degree, find out what your company is doing to help you continue your education.
Corporative Giving/Matching
With 84% of millennials – and 49% of Gen Xers – giving to charity and consistently contributing to work-sponsored initiatives, you could say donating is a cause that people are passionate about both inside and outside of their corporate culture.
What is a corporate matching gift?
Corporate matching gifts are a form of philanthropy in which companies offer to financially match donations their employees make to nonprofit organizations. When an employee donates, they submit this to their employer to request the matching gift from their employer, who then makes their own donation. Normally, companies match donations at a 1:1 ratio, while others match at a 2:1, 3:1, or even 4:1 ratio.
Why do companies match donations?
Companies match donations because it's an easy, organized way to support good work in their communities and help to establish relationships with different charities.
Flex Hours/ Working Remotely
While some corporate jobs today might be starting remotely with employees working from home due to the coronavirus, a flexible work schedule is something that might be implemented long after the lockdown. While each company's culture may allow for different types and levels of flexibility, there will undoubtedly be some aspects of any company that you can't change. Nonetheless, it's worth bringing up to help achieve the work-life balance that works best for you.
The ultimate takeaway? Find time to ask the right questions and take a deep dive into your HR packet to fully understand everything that's being offered to you – aside from the free snacks and/or company nap rooms. Remember to trust your gut and your well-researched information, of course. And congrats again on the new job!