Breaking into Tech: Dominique Thomas | IT Support Engineer, Amazon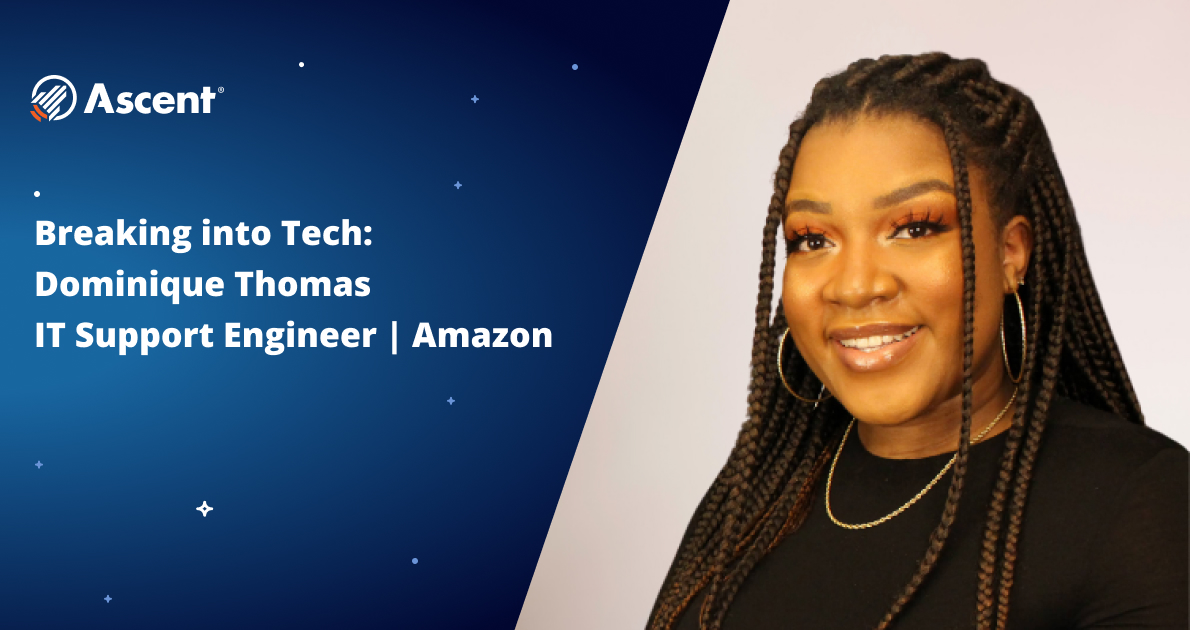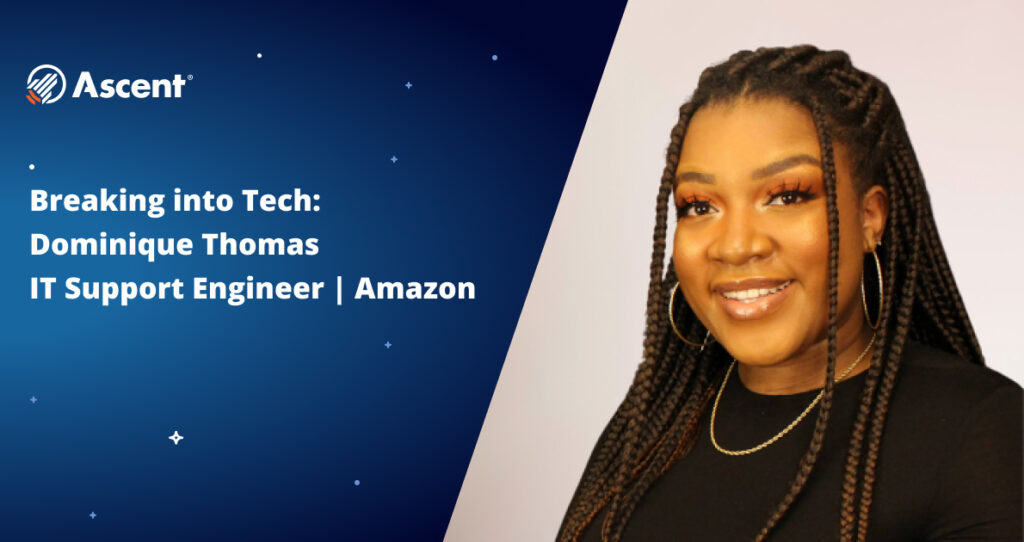 Dominique Thomas is constantly pushing the boundaries. Starting her career in IT and administration, she's worked her way up to an IT Support Engineer at Amazon (and she freelances as a web developer). 
While she's always finding new ways to expand her mind and de-stress, her current hobbies are listening to new podcasts and playing Minecraft. In her free time, Dominique is all about creating content to help others get into tech by sharing her journey on YouTube, Linkedin, Twitter, and Instagram. 
We chatted with Dominique about her thoughts on imposter syndrome, who motivates her, and what tips she has for other Black women with a desire to break into tech. 
When did you first know you loved tech? 
When I was a sophomore in high school my mom told me I had to go on a website called Codecademy (I had no idea what that was at the time) and start learning how to code. A few lessons into the basic HTML unit and I was hooked. I even gave a tutorial to my class on how to make basic HTML webpages because I enjoyed it so much.
Was there someone in your life – parent, family member, professor, mentor – who helped you stay motivated in school and as you started your career?
My mom always made me believe I can do anything and that confidence she instilled in me has helped me take on new challenges. I also am grateful to have had a really great manager early in my career who gave me room to grow professionally.
Breaking into the tech world can be daunting. Did you ever battle imposter syndrome and what tips would you give to someone not feeling good enough for the STEM industry? 
I think a major barrier I faced when trying to break into tech was not having guidance. I had to often research and test things on my own. Since I had this limited understanding of tech I didn't know all of my options. I thought helpdesk or programming were my only options which is so far from the truth. That is the reason I spend so much time on my content and mentorship. I try to share all the information I wish I had when I was getting started. 
How would you explain your day-to-day role at your current job?
My job varies a lot day by day. I work onsite at a local Amazon warehouse and work on projects including networking, hardware lifecycles, and other initiatives. Also, as an engineer, I act as an escalation point for our technicians when they are working on tickets. Typically after work, I dedicate time to increasing my web development skills and working on client work.
What's been your career highlight so far?
Getting the offer for Amazon. Their interview process is intense and I doubted myself many times during the process. It gave me reassurance that I am doing well in my field.
In your opinion, what can tech companies do to make the industry more inclusive of Black women and other POC?
Have black women be a part of the recruiting and interview process. I have never had a recruiter or interviewer who was a person of color. I have only had an interview with a woman once and she was on a panel with two other men. This adds an extra layer of pressure that most companies don't realize. Your first introduction to a company's culture is normally the interview process and when you are only meeting with people who don't look like you then there is an immediate sense of not belonging.
What advice would you give to other Black women who want to get into the tech world?
There's room for you! We're here. Get support from amazing groups like Baddies in Tech and Sista Circle: Black Women in Tech. Check the #BlackTechTwitter hashtag on Twitter and interact. There's a whole community online that can make you comfortable and give you guidance. I wish I had connected with these groups earlier!