Breaking into Tech: Rumby Wilson | DevOps Consultant, Amazon Web Services (AWS)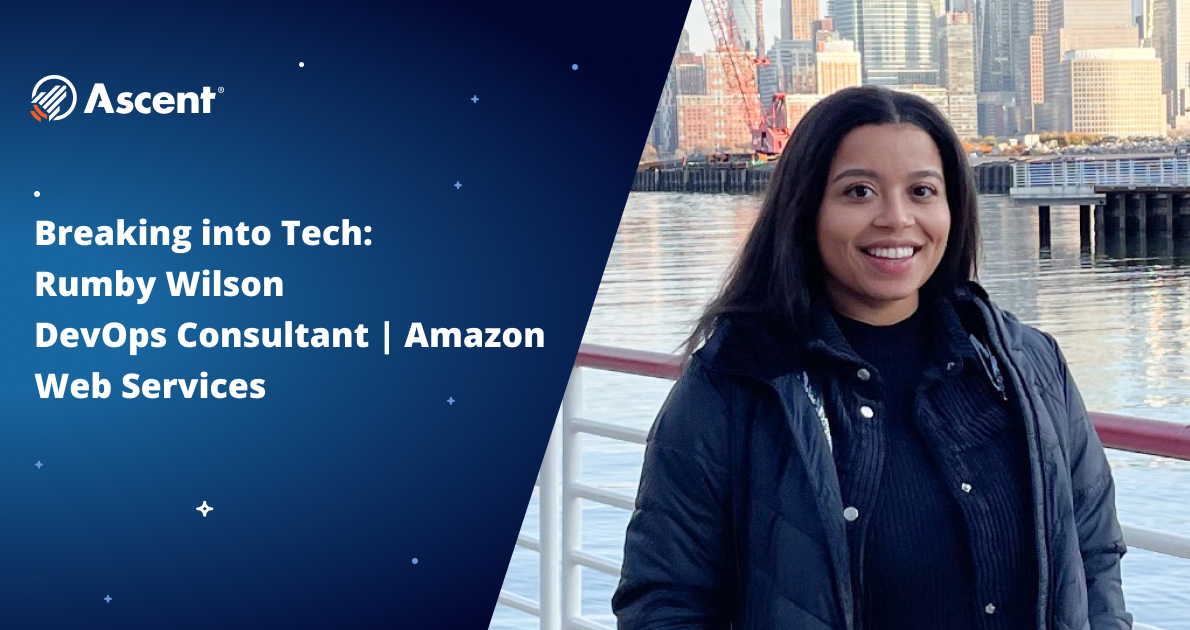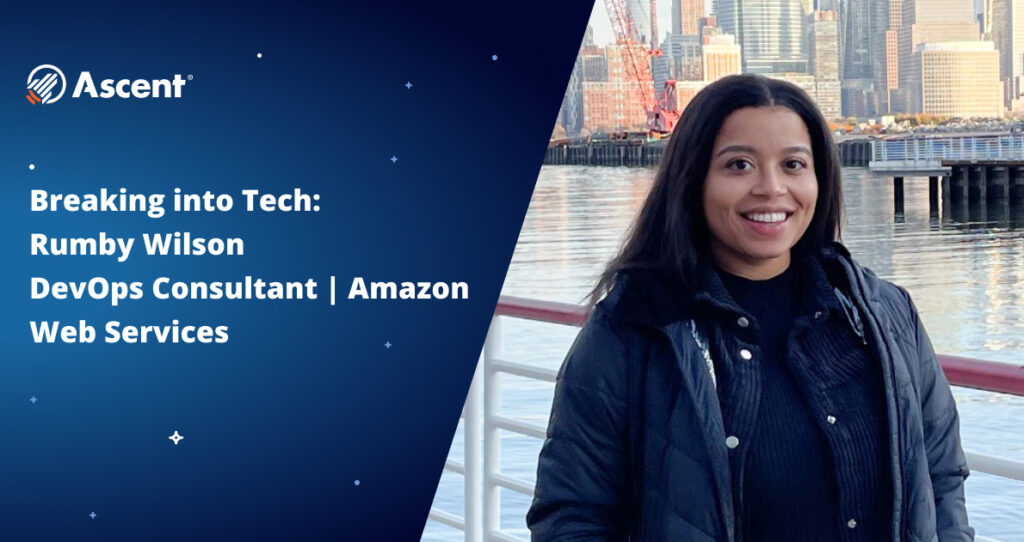 Originally from the Midwest, Rumby Wilson moved across the country to start her journey into tech at Carnegie Mellon University. Majoring in Information Systems, she eventually landed a software engineering position working in full-stack development. 
Dipping her toes into cloud technology led Rumby to her current role as a DevOps Consultant at Amazon Web Services. In her free time, she loves joining tech meetups and sharing her journey in tech on her Instagram. 
We sat down with Rumby to talk about her battles with imposter syndrome, who in her life inspired her to stay on track, and advice she has for other Black women wanting to break into their own tech careers. 
When did you first know you loved tech? 
When I was a freshman in college, there was a "pass or don't continue" class for students wanting to go into technical majors. The class itself was pretty intense and the end project was to create anything you liked using Python. 
I took five of my favorite feminist campaigns at the time and created an application that would allow users to explore the campaigns (by looking at videos, writing notes, drawing with the logos, etc). For me, it was the moment where I saw how I can utilize technology to have intersectionality with other things I am passionate about.
Was there someone in your life – parent, family member, professor, mentor – who helped you stay motivated in school and as you started your career?
The reason I'm in tech today is because of my dad. 
He is in tech and encouraged me to try out classes and explore. My first exposure to tech was through a computer science class in high school. I was the only girl in the class, sat in a row alone, and had no one to talk to. 
The only way I made it through was knowing I could go home to my dad's help and encouragement. We had fun working through my homework and building projects. Now that I'm in my career, he is still someone that I can constantly go to to discuss new topics or just someone to talk to that understands what I'm working on. 
Breaking into the tech world can be daunting. Did you ever battle imposter syndrome and what tips would you give to someone not feeling good enough for the STEM industry? 
Yes, I definitely battle imposter syndrome! When I start to feel imposter syndrome I try to ask myself, "Am I feeling this way due to the actions of others or myself?" and find that most of the time it stems from the pressure I've put on myself. 
When you are in STEM, you constantly need to learn new concepts to stay up to date. If you're starting to feel imposter syndrome, just remember that everyone feels like that sometimes and there is no one expecting you to have all the answers. You can only learn and grow from the things you don't know.
How would you explain your day-to-day role at your current job?
My role is to work with clients and help them meet their organizational goals using cloud technology, with a focus on their process to create, deliver, and monitor applications. My day-to-day usually consists of meetings to better understand the client's use cases and intense coding.
What's been your career highlight so far?
Being able to lead conversations with clients and own my own projects has definitely been a highlight for me.
In your opinion, what can tech companies do to make the industry more inclusive of Black women and other POC?
Companies should establish an inclusive environment by creating spaces in which employees can voice any concerns they have or ideas that they would like to see implemented. Having transparency on actions the company is taking to address anything that comes up in these spaces creates an environment where people are empowered to speak their minds and feel like their thoughts matter.
What advice would you give to other Black women who want to get into the tech world?
Start building:

Commit to learning a skill and building a project with it. It can be intimidating to know where to start when breaking into tech, but the more you do the easier it will get over time. Plus it will help you gain experience and help with the job search to be able to point to specific projects you've built!

Find a community:

Having a community to connect within tech is really important. For me, finding other Black women in tech to talk with and discuss our shared experiences has been a continuous source of inspiration to pull from and people to lean on.