Breaking into Tech: Shelbi Chandler | MarketPlaces Commerce Business Partner, Google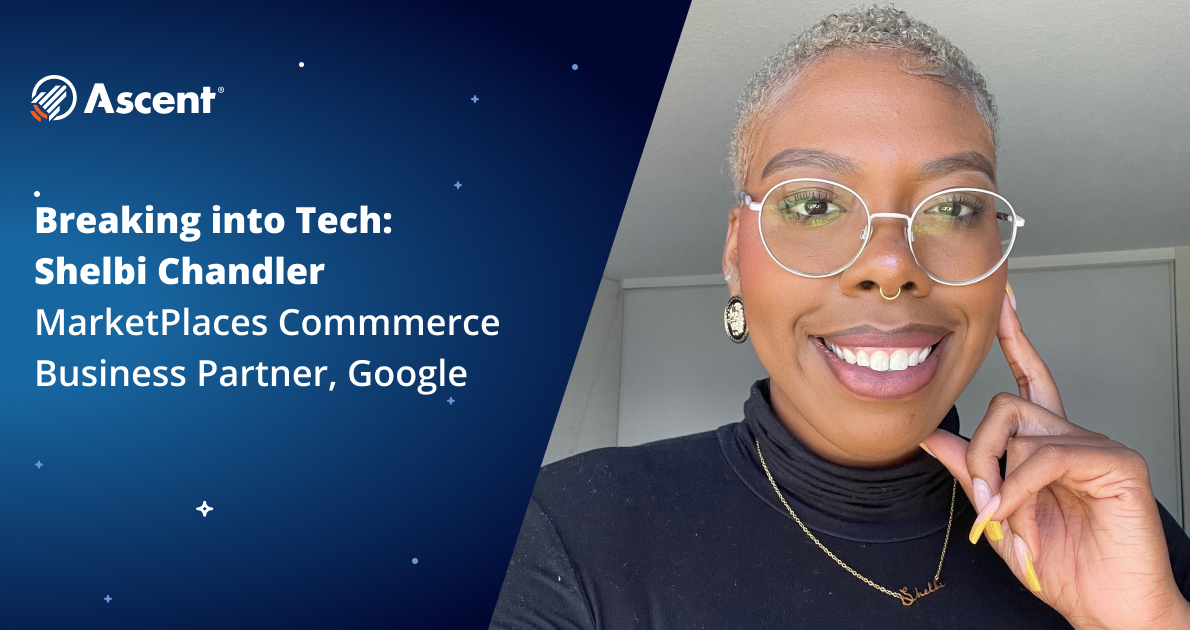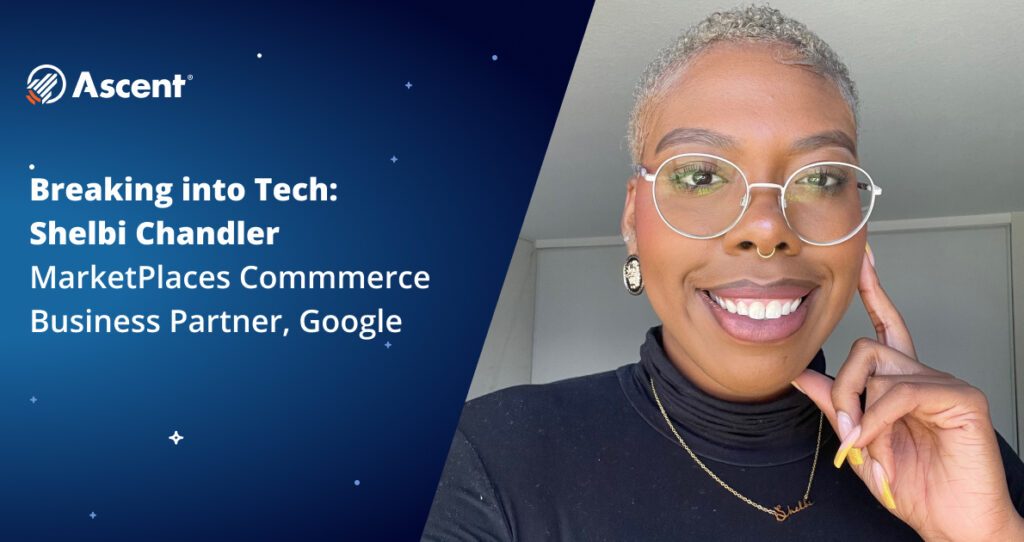 Growing up, Shelbi Chandler's father always reminded her of the importance of knowing your roots and who you are. Starting her journey as a full-time missionary helping others, Shelbi brought that reminder with her, wherever she was. 
Shifting into more leadership roles, Chandler couldn't help but notice that not enough Black women were in organizations, and few felt comfortable speaking up. This was what kick-started her career at Google. Serving on the engineering side as a business partner to MarketPlaces Commerce, she is also the lead communication chair for the Black Googler Network and a Black+ Stakeholder for Commerce and Payments. In these roles, she is determined to push forward the vision of unity within the business, and shed light on the disparities of underrepresented communities. 
When she's not operating in techie leadership form, Shelbi enjoys skating by the beach, writing poetry, focusing on her faith, and finding peace in any moment. We had the pleasure of chatting with her about how she fell in love with tech, and what companies can do to make the tech space more inclusive. 
When did you first know you loved tech? 
I knew I loved technology the moment I came in contact with Steve Jobs' first iPhone. I was a freshman in high school, and I had seen nothing like this phone in my life! I became intrigued to know more. That's when I began taking coding classes in high school and building out websites, not really sure where this would land. As I think back to my 15-year-old self, I chuckle because my plans now completely shock 15-year-old Shelbi. 
Was there someone in your life – parent, family member, professor, mentor – who helped you stay motivated in school and as you started your career?
I am blessed to have had a magnitude of people pour into my life and be on this journey with me. I played Division I women's basketball at the University of Cincinnati, graduating in 2016. And during my time at UC, I encountered many great leaders who were intentional with ensuring my education was a top priority. 
Fast forward to now, I just graduated with my Master's degree on April 28, 2022, and I am still going. My parents motivate me each day, and the sacrifices they have made to even allow me to be here today. I am driven by the sacrifices my ancestors made while picking cotton and being beaten with whips and chains. While being belittled, they never gave up. I am motivated in my career by my ancestors' longing, hopes, and dreams. I stay focused because I am reminded of a time when women and Black people were not allowed in any of these rooms. This keeps me going. 
Breaking into the tech world can be daunting. Did you ever battle imposter syndrome and what tips would you give to someone not feeling good enough for the STEM industry? 
Breaking into the tech world is so daunting, especially when you are a minority and you are not represented in many of these rooms. To be honest, I believe imposter syndrome is a daily battle for me. Each moment I wake up I have to prepare myself to step into an environment where dialogue and culture are not represented or aligned with the ways that I was taught. I am also expected to step into a space where I have to be confident and know that I belong even though no one else in those spaces looks like me to stamp my belonging. 
My advice to those people working in tech spaces encountering imposter syndrome, regardless of your background or demographic, is to know that you belong here. The process to step into a new field that involves high-speed thinking, with high intellectual individuals can be scary. However, it is important to remember that the same ways you put your shoes on are the same ways that they put their shoes on. You belong here too.
How would you explain your day-to-day role at your current job?
Explaining my day-to-day role is such a tough task because as all Googlers know, there is never just one job. The title can easily read executive or administrative business partner, but underneath that umbrella, we house a plethora of different resources and nuggets that advance our company. I like to define myself as my Directors' right hand. Someone who they rely on for their business needs, business glitches, mitigation of team influxes, and our diversity pulse. I work with different stakeholders, and different company leaders who utilize our Product; I bind communication pillars between their leaders and ours.
What's been your career highlight so far?
As I reach my four-year mark at Google, one year as a contractor and three as a full-time employee, I am reminded of many successes. One personal highlight would be when I received my very first promotion at the company. I hadn't been at the company for a year yet when I decided to go for it, and it is very hard to get promoted at Google in less than two years; but once I saw the obstacle, I embraced it and challenged the system. I reached my goal of promotion, and snuck into the creases of the .6% chance that I had to achieve this goal! 
Another highlight I will share would be when I created Google Maps' first black+ sub-community group, Black-in-Geo. This group created sponsorship and mentorship platforms for underrepresented Googlers, and I also served as a hiring and retention stakeholder.
In your opinion, what can tech companies do to make the industry more inclusive of Black women and other POC?
In my opinion, tech companies can be more intentional with prioritizing the psychological safety of Black women and implement microaggressions managerial training, alongside sensitivity cultural diversity training. These are the leading causes of our retention rates. Next is hiring. We cannot have this dialogue until we hire more women of color. I've noticed many times that tech companies hire people of color but only reach out to IVY League such as Yale's and Harvard's.
The majority of tech companies engage with Howard University; however, I have yet to see tech companies show the same interest in other schools such as Bethune Cookman University. I know stellar Black women with Computer Science degrees who studied at Kentucky State University. I know many great Black Women in tech who go to Indiana State University or Ball State University. Making a small-town school choice is oftentimes a result of limited resources when referring to underrepresented groups, but this does not mean the qualifications are shifted. I believe once we step into the cracks and creases of hidden minority gems and successes, is the moment when inclusivity will begin to profusely show within these companies.
What advice would you give to other Black women who want to get into the tech world?
The advice I would give to Black women who want to get into the tech world is to not overthink code-switching and be yourselves. The world is not looking for you to replicate them, they are looking for us to step in and show the education, wittiness, charisma, culture, and African roots which curated our identity long before the underground railroads. Show off her when you walk into those rooms and interview for roles. Wear your braids that our ancestors used to hide rice in when we ran away from those slave plantations. Show up each day as yourself, because each day we fight to establish and keep a seat at this table. Be yourself while sitting here. Stand for something.