Conversations on Entrepreneurship: Nikita Gupta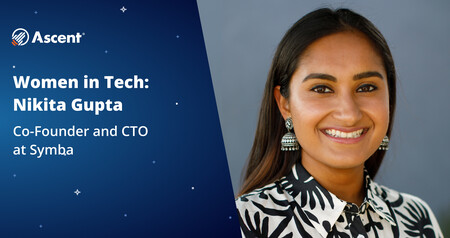 Nikita Gupta learned early about entrepreneurship and the power of philanthropy. Influenced by her father, a business owner and entrepreneur, Nikita began her own path with an online cooking blog. She even used her experience as a girl scout to open a library in an underprivileged neighborhood. 
In our next Women in Tech interview, we learn about Nikita's journey with education and her career as well as her success with the intern management platform, Symba.
What inspired you to pursue your study of Computer Science? 
My path to Computer Science started in my pre-teens when I discovered my love of cooking. Throughout middle and high school, I would cook a lot for family and friends. I had my own recipes, crafted handmade cookbooks, and even hosted dinner parties! My father encouraged me to find a way to monetize my passion for cooking. Thus, was born my first cooking blog, www.nikitaskitchen.com.  
Before Wix or Squarespace was popular, I learned to code Nikita's Kitchen using web technologies – HTML, CSS, and JavaScript. It was my first taste of coding – little did I know that Computer Science goes way beyond just building websites! My blog allowed me to use technology to showcase my passion for cooking beyond my circle and reach people around the world. Because of this, I went on to study Computer Science and Engineering at Cornell because I knew the versatility of the degree and how it can be applied across many, if not all, industries.
How did you get into entrepreneurship? 
My father is an entrepreneur and growing up I saw firsthand the busy life of a business owner. I also partook in Girl Scouts, where I reached the highest-level Gold Award, which taught me how to turn ideas into reality. For my Gold Award, I built and opened a library in an underprivileged neighborhood in Trenton with the purpose of teaching immigrants English. Through that experience, in addition to launching my cooking blog and joining organizations in college, I became more business savvy and grew as a leader. When Ahva asked me to join her as a co-founder and build Symba's product, I decided there was no better time! Thanks to family encouragement and support, entrepreneurship was a seamless decision for my career.  
Tell us about Symba! What is an Intern Management Platform? 
Symba stands for symbiotic relationships, symbolic of the win-win nature of the intern & manager relationship. Our Internship Management Platform combines program management and data analytics tools to help organizations measure and improve their internship programs. With Symba's software, employers have improved administrative efficiencies by up to 99.7% and have scaled critical early-in-career job opportunities by over 500%. Symba facilitates impactful internships and drives business value by increasing intern-to-hire conversion rates by up to 20%, helping corporations future-proof their employee pipelines while giving interns the positive, educational experiences they seek.  
What drew you toward working with interns? What were your intern experiences like? 
I was fortunate to have many internship experiences. I've interned with Martha Stewart, an animation studio start-up, Bank of America, and Apple just to name a few. My internship experiences taught me what I wanted and did not want out of my career. It was an imperative way to apply my education in the professional world. One pivotal moment during my internship was when I noticed that there were not many people that looked like me at the companies I was interning for. It was rare to see a senior leader who was a woman of color and in technology. That was when my narrative shifted and I wanted to make internships accessible to all students and #OpenUpTheWorkforce to diverse talent to drive a future of more diverse leadership across industries.  
Do you have anything you want to share with women trying to break into the tech space for their careers? 
As women, it's important to support and mentor other women and help pave a path toward a more diverse and equitable tech workforce. I wish I had mentors who looked like me and now I hope that I can support others. 
Technology is a space for everyone, no matter what background or experience you come from. Different perspectives allow us to be innovative and drive change in the world. Don't let anyone tell you otherwise and always hold your head high! 
Often when entering the workforce, interns can struggle in areas such as leadership. What advice can you give them? 
Find a mentor that inspires you and can help you grow in the workforce. You can learn so much from them. If you don't have a mentor, search for a role model that has your dream job title and observe and learn from how they lead. Beyond that, here are three rules of thumb: 
Be ethical in your work

 

Do your research (it will give you confidence)

 

Remember to follow your gut, not the recipe!
Were there any notable mentors during your path of education or career? If so, could you share some of the wisdom they gave you? 
I've had multiple mentors throughout my education, career, and as an entrepreneur. Some of the wisdom I have received is the following: 
Make your "side hustle" your job when it deserves your 100% energy

 

Always think positively and work ethically

 

Network, network, and network (and try your best not to burn any bridges!)

 
We love promoting awesome people. If you have anything new you or Symba are working on, tell us about it here, and don't forget to tell everyone how to find you!
Symba and Pay Our Interns recently launched the Paid Internships Pledge encouraging employers to commit to paying interns fair wages. 40% of internships in the US are still unpaid, which is one major reason internships are not accessible to all, particularly women, Black, and Hispanic talent. We are working to educate employers on the positive social impact and business benefits of paid internships, and options for funding resources, to promote a future of 100% paid internships. If you pay your interns fair wages ($15/hr and not in commission), or you seek to, join the movement: https://symba.io/paid-internships-pledge/