Goal Structured Solutions Named As One Of The "Best Places To Work" In San Diego In 2015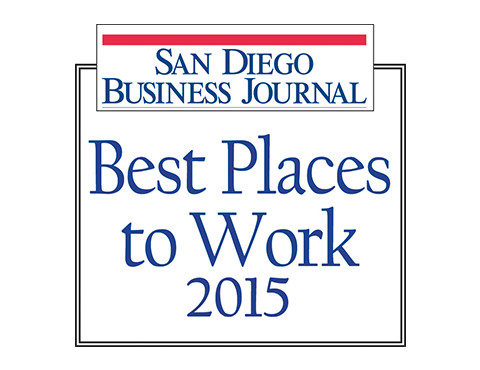 San Diego, CA – Goal Structured Solutions ("GS2"), a San Diego headquartered education finance company was recently named as one of the Best Places to Work in San Diego. The annual list of the Best Places to Work in San Diego was created by the San Diego Business Journal, Best Companies Group.
This program was designed to identify and recognize the best employers in San Diego, benefitting the state's economy, workforce and businesses. The list is made up of the 100 best San Diego companies split into four categories by size of company. "We are honored to have made this list, especially since this was our first year applying for it," said Ken Ruggiero, Chairman and CEO at GS2. "The talented and committed employees that work at GS2 are very much the key to our success." Sandra Reynaga, Manager of Human Resources added, "GS2's values driven culture is derived from the passionate individuals we have working here. We search for outstanding professionals that seek a culture based on setting and achieving goals and a sense of commitment to the San Diego community."
GS2 competed against many other companies for the position through a rigorous review process. To be considered for participation, companies had to fulfill eligibility requirements that include a wide spectrum of characteristics that make the achievement a considerable accomplishment. Companies from across the county entered the two-part survey process to determine the Best Places to Work in San Diego. The first part consisted of evaluating each nominated company's workplace policies, practices, philosophy, systems, and demographics. The second part consisted of an employee survey to measure the employee experience. The combined scores determined the top companies and the final ranking. Best Companies Group managed the overall registration and survey process, analyzed the data, and determined the final rankings.
The list-making companies will be honored at an awards ceremony on August 6th. A special issue of the San Diego Business Journal that profiles the companies selected as the Best Places to Work in San Diego will be published on August 17, 2015.
If you are interested in working at GS2 please email your resume to [email protected]. For more information on the Best Places to Work in San Diego program, visit www.BestPlacestoWorkSD.com.
---
About Goal Structured Solutions
GS2 is an award-winning, employee-owned education finance asset management company. GS2 has been working collaboratively in the student loan industry for more than a decade to provide customized products and services for education financing. GS2 manages more than $25 billion in student loans (both private and federally guaranteed) for its clients and partners. GS2 performs services for schools, investors, banks, and hedge funds, helping them manage their returns and asset performance more effectively. In addition to The Ascent Program for Funding Education, GS2 provides a comprehensive line of products and services including trust administration, loan and receivable purchasing, student loan special servicing, capital market advisory services, and private student loan originations.
Goal Structured Solutions, Inc. is headquartered in San Diego, CA. For more information, visit www.goalsolutions.com.