6 Tips for Navigating Your First Day of College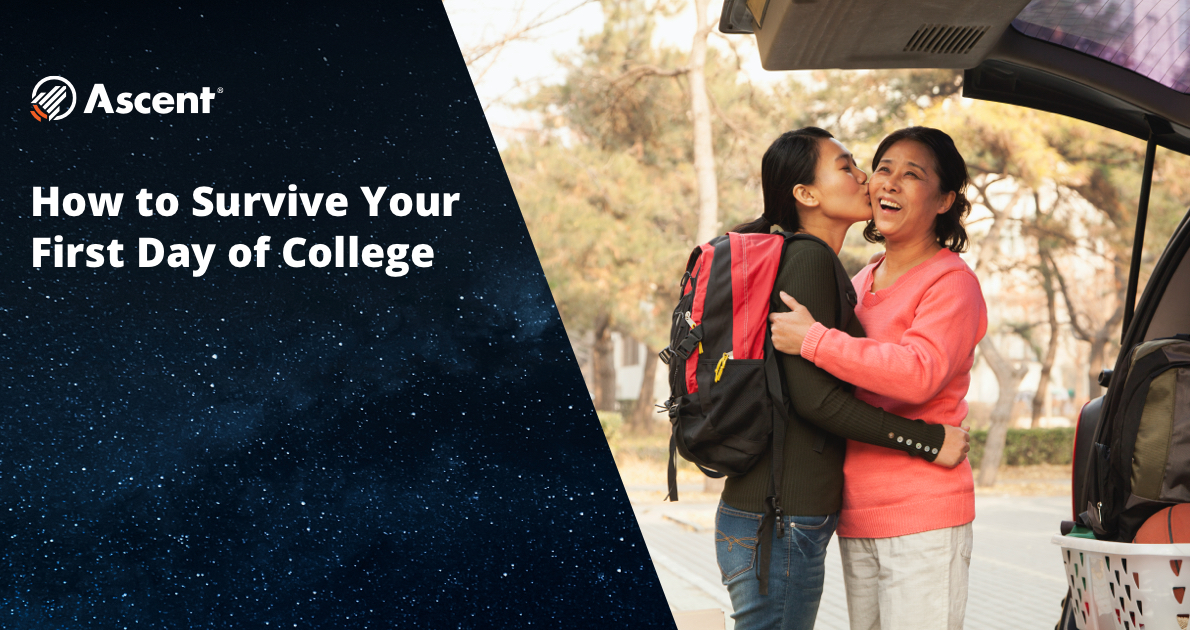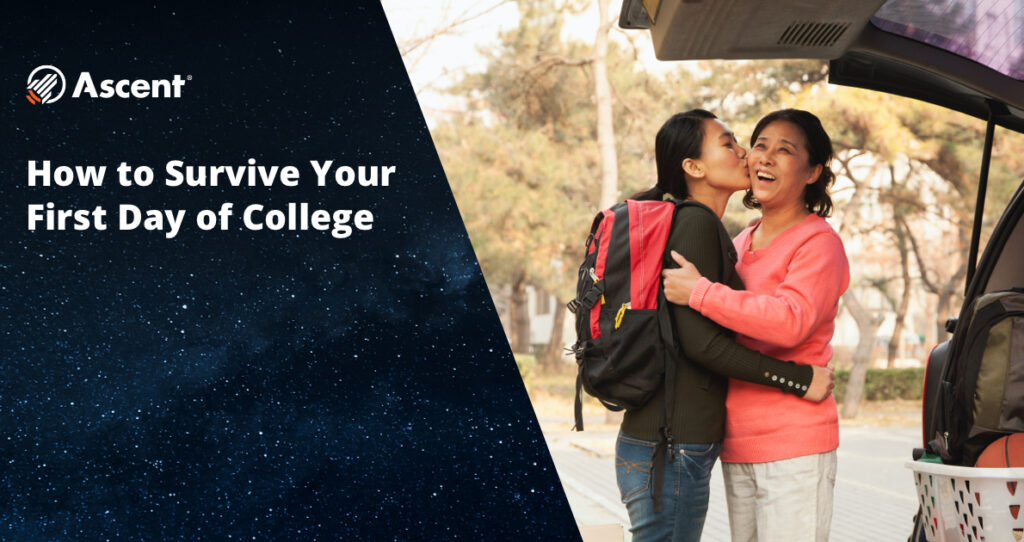 You've unpacked your belongings, settled into your new space, and met your roommate(s) ­­– now your official first day of college can begin!
Whether you're nervous about making new friends or getting lost on your way to class (we've all been there!), starting college can be a daunting experience. Calm those nerves with the first day of college tips for freshmen – most importantly, stay prepared and have fun!
1. Let your parents fuss over you.
If your mom wants to vacuum your room or help you unpack, let her. Remember, this experience is both stressful and exciting for your parents too ­– they're helping you get ready to live on your own for the first time. Your family might want to take you out to lunch or dinner for a proper send-off (and delay saying that final goodbye), so spare an hour or two before beginning your next big adventure.
In the time of coronavirus, it might not be an option to have your family or friends physically make the trip with you on your first day of college. If that's the case, remember that your experience moving away from home for the first time is still a huge milestone. Whether you have close friends helping you set up your space or you're doing it solo, know that this is still a big day, and it's important to take time to reflect on how far you've come.
2. Explore your campus.
Spoiler alert: you're going to get lost finding your classes. Once you've finished unpacking, explore your surroundings (but don't forget your mask!) Whether you spend time figuring out where your classes will be or checking out the recreational facilities, try to orient yourself with your new campus. P.S. If you're going fully virtual for your first semester, there are still ways to stay engaged and connected! Check out our latest blog post on tips for taking online classes!
If you're living on campus, check out local stores, restaurants, and the transportation options available near you. If you will be commuting to school, take a drive to campus and visit all the parking lots near your classes. This will help you further down the line, in case you ever wake up late and need to find your way to class outside of your routine.
Tip: Pay attention to which areas require a permit or paid parking. It might be more cost-effective to buy a parking permit to avoid the stress of parking tickets or being late to class while you drive around searching for a spot. Also, if you ride a bike or a skateboard, make sure you know where you're allowed to go and where you can securely lock up. Some campuses have strict rules!
3. Don't worry; everyone is just as nervous as you are.
While other students you meet might look calm and collected, that doesn't mean they aren't nervous on the inside. This is a new experience for everyone, so don't think you're the only one who is homesick, worried about making new friends, or nervous to step out of your comfort zone.
Tip: If you want to meet more people, try leaving your dorm room door open on your first day of college. It's a great way to show other students moving in that you're friendly, and they are welcome to knock on the door and say hello!
4. Sync up your schedule.
Whether you're living in the dorms or off-campus, take some time to coordinate schedules with your roommates. Sit down and chat about your morning routines – when they have to wake up, get ready, and leave for the day, if they take forever in the bathroom if they plan on having an on-campus job or rushing a sorority or fraternity, etc. As someone who's had many, many roommates throughout her college years, working out your schedules goes a long way to transitioning living together and ensuring everyone is ready on time for class.
5. Find time for yourself.
Your first day of college will be filled with floor meetings, campus events, and preparing for classes, but don't forget to carve out some much needed "you" time to relax and enjoy it. Whether you meet up with your roommates for lunch in the dining hall or grab some tea at that trendy off-campus café, take some time to chill and swap stories of your first day with new friends!
6. Let go of things going as planned.
If you don't meet anyone that's BFF material on your first day, that's okay! It's only the first day. You have four+ years to connect with people and form meaningful friendships – some don't meet their best friends until senior year!
The first day of college can be a stressful experience because expectations are high, or maybe because you aren't quite sure what to expect. Try not to put too much pressure on these 24 hours, and remember you'll settle in soon. It's all about getting into the groove of your schedule and meeting more people with similar interests through classes or events. Just keep reminding yourself: it's only day one. You got this!