Ascent's New Scholarship Empowers Students to Speak Up for Social Change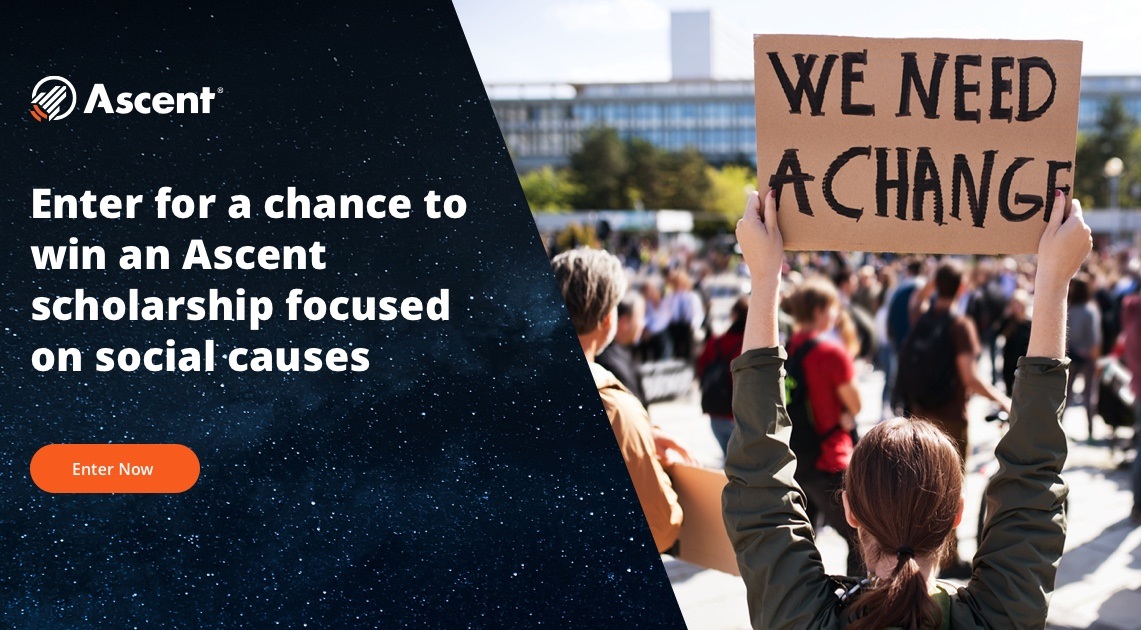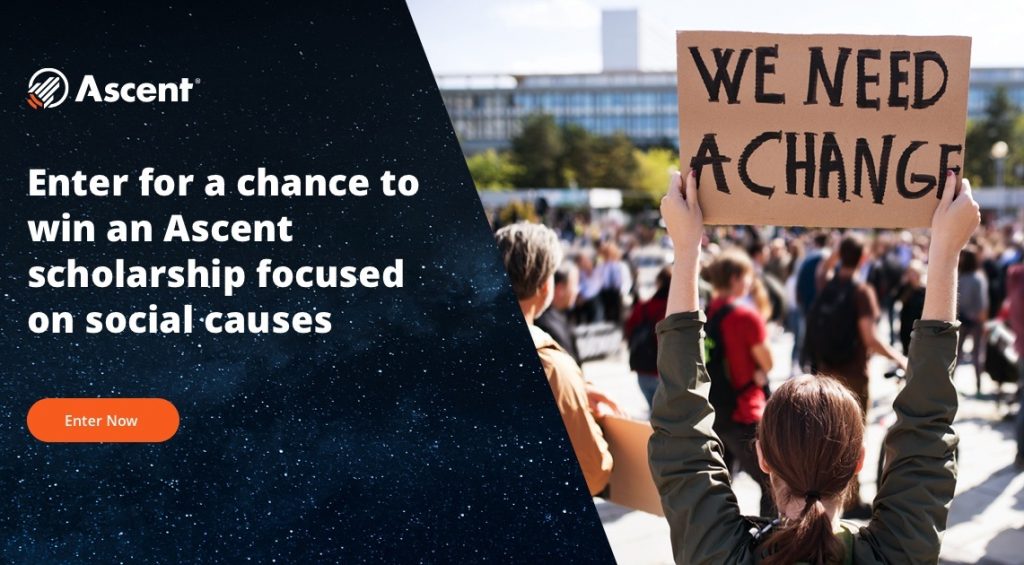 Today, students across the U.S. (18+) can enter for a chance to win a new scholarship by Ascent focused on supporting the social causes that motivate them.
Show Up, Speak Up and Enter
Students are transforming their social media accounts into platforms to show their support for the fight against racism with the Black Lives Matter movement and other organizations. We're already seeing change happen around the world – but there's still work to do. We want to continue empowering you to share helpful resources within your communities and beyond.
For our first ever social cause scholarship, we want to know how you stay informed on the current events surrounding the fight against social injustices and share a resource that can help you and your friends continue to support this cause. To enter before the August 17th deadline, please visit AscentFunding.com/SocialCauseScholarship.
Through our social cause scholarship, we want to support the social causes that motivate you. A new scholarship task will launch every month and you do not need to have an Ascent loan to participate.
"When Students Hurt, We Do Too"
Students are among the largest demographic showing up for the Black Lives Matter movement. They are supporting by joining peaceful protests, signing petitions, making donations, calling city council members, showing up to the voting polls, and/or sharing resources on social media. Your commitment to make change happen inspired us to build a scholarship opportunity where we can continue the conversation and fight these injustices together.
On June 8th, 2020, during our 50 Days of $1,000 Scholarships, we asked students to share the social causes they're passionate about and share what they're actively doing to show their support. As a result, our social cause scholarship was born.
We believe you have the power to make positive social changes and we want to continue supporting your commitment to speak up and use your voices to make an impact.
How Ascent is Joining the Fight Against Racism
Our company is rooted in data and the data for representation of Black people in the world of higher education and finance is low. Our CEO, Ken Ruggiero, recently published a message to our Ascent community about how we are taking action to join the fight against racism. In addition to our social cause scholarship, we are:
Matching employee contributions to organizations fighting racism like NAACP Legal Defense and Educational Fund
Creating more internship opportunities that further increase diversity
Continuing to incorporate student feedback into the benefits we offer
We recently made a $3,000 donation to CareerKarma's Reskill America campaign with our parent company, Goal Solutions and our sister company, Skills Fund. Reskill America aims to raise money to provide laptops to the communities who need them most.
We're also in the process of building a not-for-profit organization to inspire more students, especially in disadvantaged neighborhoods, to gain access to the affordable education and training they need to pursue their lifelong professional dreams.
"I believe we need to work together to fight racism in ways that the government will not have the will or the skill to confront." – CEO, Ken Ruggiero