Budget Blog – Finances of an SDSU Senior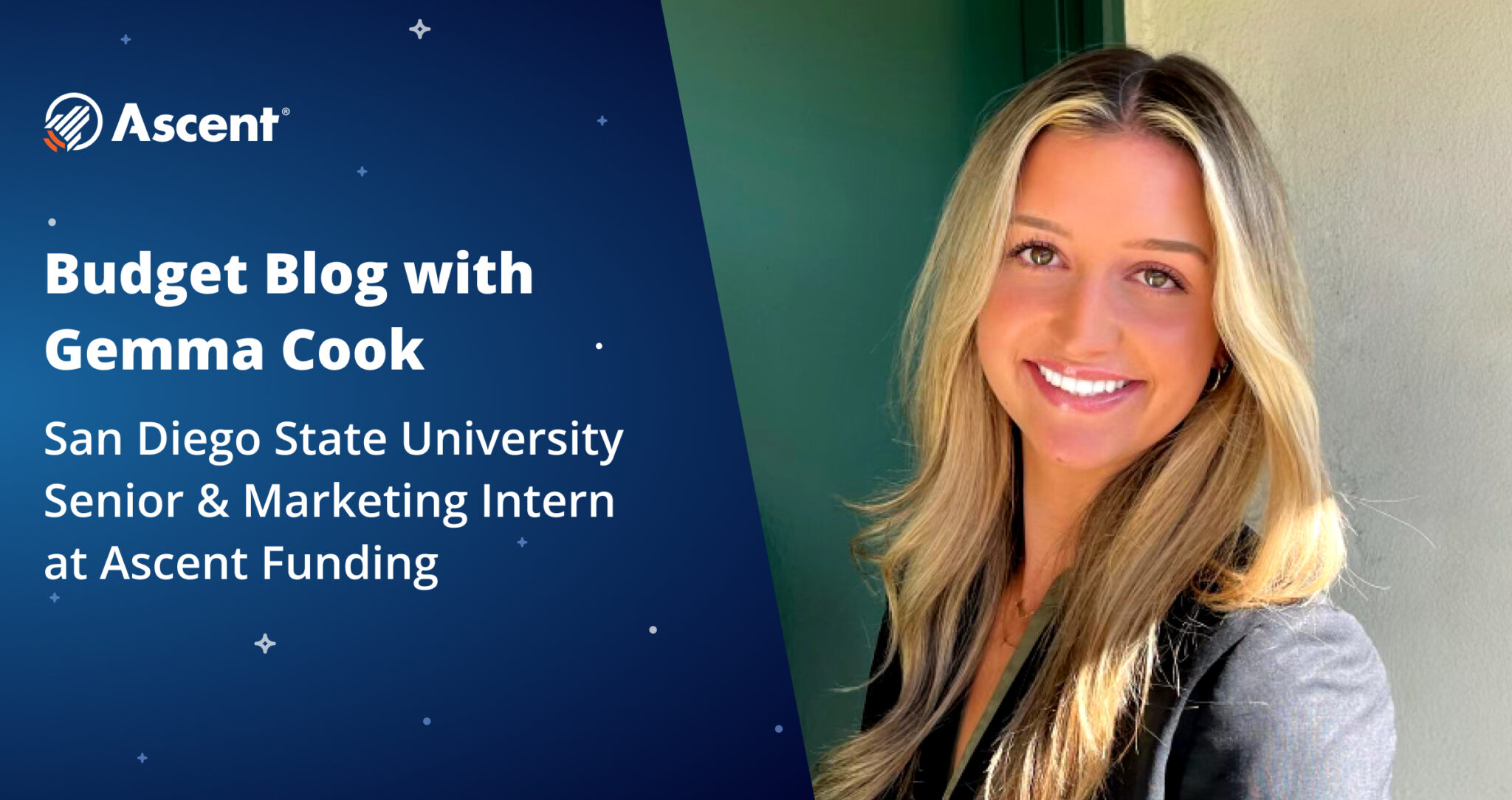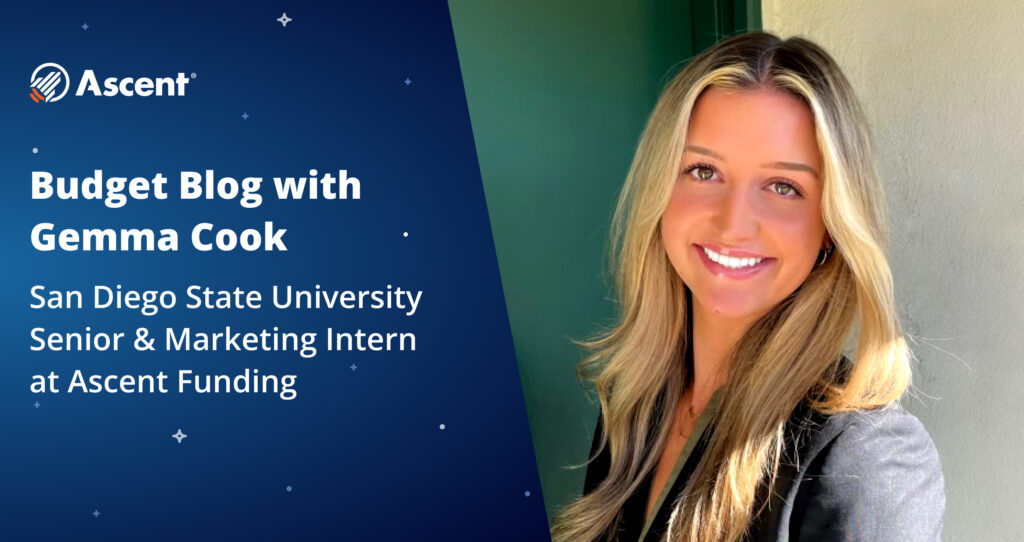 The idea of having a budget can feel empowering, yet, the process of building, maintaining, and sticking to a budget can be tough. Learning the right approach can help you stick to a budget.  
We invited Gemma Cook, an intern at Ascent Funding and undergraduate attending SDSU, to open up about her finances as a busy SDSU senior and Social Media Marketing Intern here at Ascent: 
A look into my budgeting, month by month
My approach to creating a budget is to make a document in Excel or another similar platform where I can write down my expenses, income, spending money, saving money, etc. By tracking this monthly, I'm able to allocate money in appropriate places for financial peace.  I use a credit card for a lot of my purchases, and make sure to pay it on time, so that I can earn cash-back and improve my credit score. In addition, I have recently started my investment journey to help put my money to work. 
I plan my monthly budget to include household necessities like WiFi, gas/electric, cleaning supplies, gas for my car, and groceries. Roughly, each month WiFi is about $25, gas/electric is $35, and cleaning supplies are around $25. Weekly, I pay for gas for my car which is about $65, and groceries which range from $70 – $100 a week. During the weekdays, I like to cook my meals at home to save money. I typically do all my grocery shopping at Trader Joe's which has great prices and good quality food. They have a wonderful selection of produce, frozen meals, and even desserts! On the weekends, I allow myself to have a little more financial freedom and buy some of my meals out – especially when I am with friends. 
Fortunately, my parents cover my school-related expenses like rent, tuition, and books. Rents in sunny, desirable San Diego are high, ranging from $1,000 – $2,000 per person, and I personally live off campus. Tuition at SDSU is about $4,000 per semester for in-state students and SDSU offers online textbooks at a reduced price through "equitable access," which is an organized platform for having all electronic textbooks available on one website. Textbook prices average $300 – $500 a semester. Additionally, I'm on my family's phone plan, which is about $70 a month.  
Budgeting with the fun stuff in mind
I stay motivated to keep a budget so that I am not stressed when fun events or opportunities come up in my life. I try to budget my "fun money" so that I stay within reason and can put money into savings too. Music is a big part of my life whether I'm working out, walking around campus, or just doing homework, and Spotify is my favorite platform for this. If you're an active college student, you can sign up for Spotify Premium for only $4.99 a month (versus $9.99 a month), and get access to Hulu and SHOWTIME, which is awesome to eliminate those other monthly television streaming services which can add up.  
Working out is one of my favorite hobbies and the gym I go to, Crunch fitness, costs $25 a month and is within walking distance from my apartment. I typically go to the gym between 4 and 5 times a week which averages out to less than a dollar a day. 
One challenge I've experienced while budgeting is consistency. We all love to splurge – it's important to treat yourself and allow some moments of self-care. I enjoy buying coffee out once a week – typically from a local coffee shop in San Diego. Seeing my friends on the weekend and getting together to have dinner, see a movie, or do activities together is another one of my hobbies. I typically allot around $200 – $300 a month for this, but it can vary with each month with specific events that I have planned. 
Get your budget started!
If you're thinking of starting a budget, I would say start small! Begin your budgeting journey by writing down your financial goals (short-term and long-term) and making a priority list. I'm a big planner, so another tip I have is creating a schedule and sticking to it. Scheduling and planning your budget can help you set your expectations and can take off added stress. Life is ever-changing and I know that my current financial situation now will look a lot different a year from now when I graduate from college, so I just take it one day at a time. If you haven't tried budgeting – why not start? It's a great way to achieve your academic and financial goals while in college!