Here's What You Need to Know About Your Credit Score, From Credit Coach Nicole Soares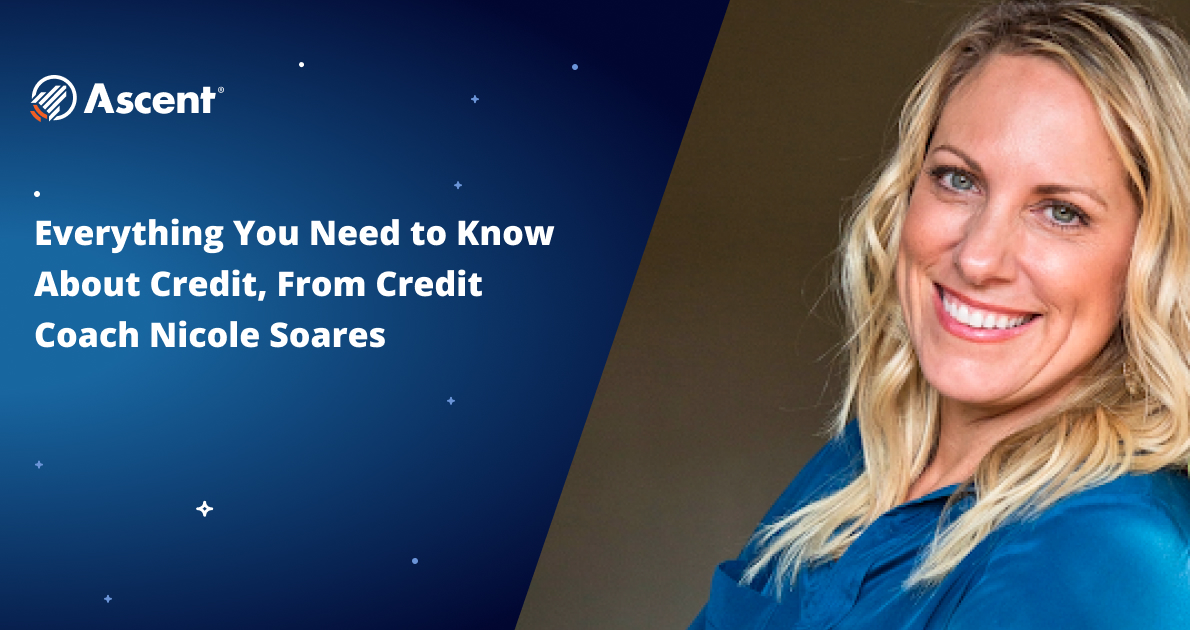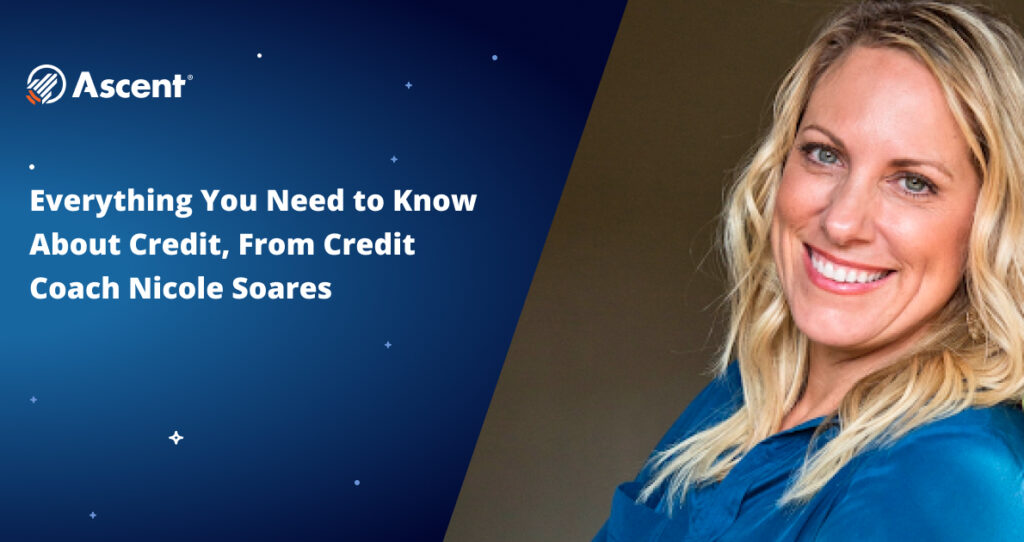 There's a lot to know when it comes to your credit score. Whether it's researching the right credit card to use, where to check your credit score, or just knowing what a credit report is, it can be daunting. 
That's where credit coach, educator, and founder of bSquared Credit, Nicole Soares comes in. Nicole has been through a journey of both rewarding and defeating chapters in her pursuit of financial success and stability. Now, she uses her over 30 years of financial and credit industry experience to empower others to raise (and fully understand) their credit scores, eliminate financial stress, and save money. 
For National Credit Education Month, we chatted with Nicole to get her expert advice on everything from FICO® scores to building up your credit. 
Why does a credit score matter?
Having strong credit is a vital part of our overall financial health.
Your credit score is one of the most important numbers that will be associated with you during your lifetime. An excellent credit score can determine what school you go to, where you live, where you work, and the level of stress in your daily life. 
The best part is a strong credit score is it can dramatically reduce your borrowing costs and help you build wealth over time, again making your credit strongly correlated to your overall financial health.
Credit scores typically range from 300 to 850. This 3-digit score sums up your likelihood to repay your obligations. The higher your score, the better, as it signals to lenders that you are a lower risk for future debt and a good steward of your debt and finances. When your score is low, however, lenders may shy away, choosing not to approve you for a new loan or raise interest rates to cover their risk.
What does a credit report consist of? 
The three national credit bureau agencies are TransUnion, Experian, and Equifax. They manage nearly 300 million credit reports and gross over $4 billion dollars annually. Each of them manages a unique credit report for you, so your data and scores could be very different.
All lenders and collection agencies can report to the credit bureaus, but they aren't required to. Some report to only one bureau, some two, and most large ones report to all three. For example, if you get a parking ticket in San Diego that you fail to pay, and a notice of collection is reported to your Experian credit report, one of the three bureaus will report the negative impact on your credit.
The data these bureaus are collecting and organizing includes:
Personal Identifiable Information (PII)

from your applications and account data (this could be your first & last name, social security number, driver's license numbers, etc.)

Positive account data

including cards and loan account data – your credit limits, loan amounts, balances, and the dates you opened, and your accounts were closed 

Negative account data

which includes derogatory information- late payments and defaulted accounts including charged-off and collection accounts

Hard inquiries

for up to 12 months 

Public record data

such as bankruptcy filings
Why do scores show up differently on places like Experian versus Credit Karma, etc?
Credit scores differ by bureau, by brand, and by day.
In addition to the three bureaus, there are several brands of credit scores – don't be fooled into thinking they are all the same. Credit scoring companies like FICO don't have their own data set, they usually use reports from each of the bureaus to create their credit score. 
Over 90% of lenders use FICO scores to make loan decisions because they've been proven to be the most predictive scores on the market – they have the ingredients and recipe that lenders trust most. But with high quality comes a higher price. Most consumers only obtain their FICO scores from their lenders on special occasions – when they apply for credit or on their monthly bank statements.​
​Many consumers use credit-monitoring tools like Credit Karma and IdentityIQ to obtain their credit reports and scores. These websites often use VantageScores®. 
While VantageScores are also predictive of risk, use a similar scoring range, and use the same data sets as FICO credit scores. Although, they assess risk differently, which means that you are likely to wind up with scores that are very different from your FICO credit score. 
What are the best ways students can track their credit? 
I highly recommend you monitor your credit report data and scores monthly to make sure your information is reporting accurately. Also, as you set your credit improvement goals and invest in your overall credit health, having a monitoring service turned on will allow you to see how each action you take is directly impacting your credit scores.​
To keep it simple, I like to recommend the monitoring services I trust most: IdentityIQ® and MyScoreIQ®. Both provide access to your three credit reports in an easy to read side-by-side format. IdentityIQ tracks your VantageScores and MyScoreIQ tracks FICO Scores, so you can always see the whole picture of your current credit.
What tips or advice do you have for students looking to build their credit score?
In addition to cleaning up your negative credit, make sure you have enough good credit, and you have a mix of account types:
Tip #1: ADD POSITIVE REVOLVING CREDIT
CREDIT CARDS (avoid store cards)
Do you already have at least one or two open, active credit cards? If you don't have any open active credit cards you are missing out on up to 30% of your score!
Credit scores factor in both cards you are liable for and cards you are authorized on. If your scores are 640 or higher, you might be able to start building credit by applying for and opening an unsecured card (cards that you don't have to pay or make a deposit to get) you'll be liable for. For a better chance of getting approved, you can leverage your checking or savings account banking relationship by applying with a bank you already do business with.
If your scores are less than 640, or you don't have a credit score yet, you'll probably need to start with a secured credit card – you're not likely to qualify for a regular card just yet. You'll find my favorite options for secured cards here.
When you open a secured credit card account, you'll need to put down a refundable security deposit. Usually, the amount of the deposit will determine your credit limit. If you don't pay your account as agreed, the card issuer will use your deposit to pay off your balance. If you cancel your secured card or convert it to an unsecured card later, you'll get your security deposit back.
Another way to raise your scores quickly is to increase your account maturity by leveraging someone else's good credit card history. You can do this by getting added as an authorized user on a friend or family member's mature, great standing credit card account with a low balance-to-limit ratio. This form of credit building does not replace your need to be liable on your own card, but it can make a great positive impact as a second account by improving your utilization ratio which is 30% of your score. It can also positively impact the Length of Credit History category of your FICO score, improving your scores by up to 15%.
This form of "piggybacking" can be a quick way to build credit, but be careful. If the account you're added to has a high balance-to-limit ratio, irregular payment, or any late marks, it could backfire and bring your credit scores down. Make sure it's a reliable, mature account owned by someone you trust.
Pro tip: If you're opening credit card accounts for the first time, make sure to take a look at adding your rental history (if applicable) to your reports as well. If your credit file is young, adding up to two years of rental account history can raise the Length of Credit History category of your FICO score, improving your scores by up to 15%.
Tip #2: ADD POSITIVE INSTALLMENT ACCOUNT
RENTAL HISTORY
Another way to create a mix of account types is to add your rental history to your credit reports. Your rental history is not usually reported to the three major credit bureaus, so even if you are an excellent, reliable renter, it may not be reflected in your scores.
With the Rock the Score service, you can add up to 24 months of your rental history as an installment account to two of your three credit reports.
Visit Credit Card Broker and scroll to the bottom of the credit building product page to enroll in this service. If your active, good credit is less than 24 months old, adding two years of a rental installment account not only gives you credit towards the mix of account types which makes up 10% of your FICO score but can also impact the Length of Credit History category of your FICO score, improving your scores by up to 15%.
You can also add your rental history to Experian through their Boost Your Score service.
What sparked your passion for financial wellness and helping people become more aware of their credit?
My parents did enough to make ends meet, but it didn't include saving for their retirement or even having money in a rainy day fund, so when unexpected expenses arose it made for very difficult times.
I remember hearing them argue about my mom's secret credit card debt and their choice to file bankruptcy to save our house. Their reactive way of managing their finances was stressful on us kids, too. I learned not to ask for much because the answer was typically we couldn't afford it. I was the second youngest of five kids which meant I lived in hand-me-downs. When I entered high school, I wanted clothes that fit and weren't worn out and I wanted to have my own money to buy what I wanted and needed and to be financially independent.
I was blessed to have a wonderful mentor who hired me as a night collector at Bank of America at the age of 16. It was the start of my financial freedom and amazing career. For the first time, I had a savings account, health insurance, and a 401k that the bank matched by contributions! I was so blessed to experience financial stability and a strong credit score firsthand and at a very young age. There wasn't any way I could ever go back now that I had a taste of what living with money meant to me. Financial stability was essential in my overall happiness and my mental health.
I spent 13 years at the bank, of which five of them I worked in the credit department reading credits reports, analyzing FICO credit scores, and decisioning loans. I was so grateful that the bank paid for my education and allowed me to work in all of the major departments learning the full life cycle of a credit card. I eventually worked my way up to the Vice President of Fraud. I felt so blessed and accomplished.
At 29 years old, I was recruited by FICO, the fraud and credit scoring company, and relocated to San Diego from Phoenix to be a Fraud Analytics Product Manager covering the US, Europe, Middle East, and Africa.
In 2011, I started my credit consulting and repair company with a partner so we could focus on helping consumers directly. I had a financial and credit setback when I was laid off in 2008 and I was grateful to have my investments to pull from and the understanding to quickly recover my credit score.
I realized I could take all of my experience and knowledge and use it to help others like me understand and improve their credit so they could recover after their own life events and enjoy all of the amazing benefits great credit scores afford them.
Want to learn more? Explore Nicole's Credit Clarity Guide below:
Nicole Soares | Founder of bSquared, Credit Coach & Educator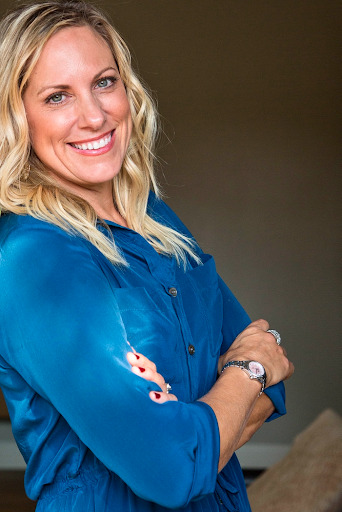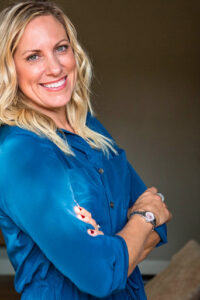 In her 5+ years as an employee of FICO, the country's most trusted credit scoring company, Nicole Soares learned the nuances of the scoring calculation from the inside out. Today, as a credit coach, educator, and the owner of bSquared credit, Nicole passes along the knowledge she's acquired in 30 years of financial and credit industry experience, empowering tens of thousands of clients since 2011 to raise their credit scores, eliminate financial stress, and save thousands on major purchases- like student and home loans.