Ascent Student Spotlight: Steven K. of St. Louis College of Pharmacy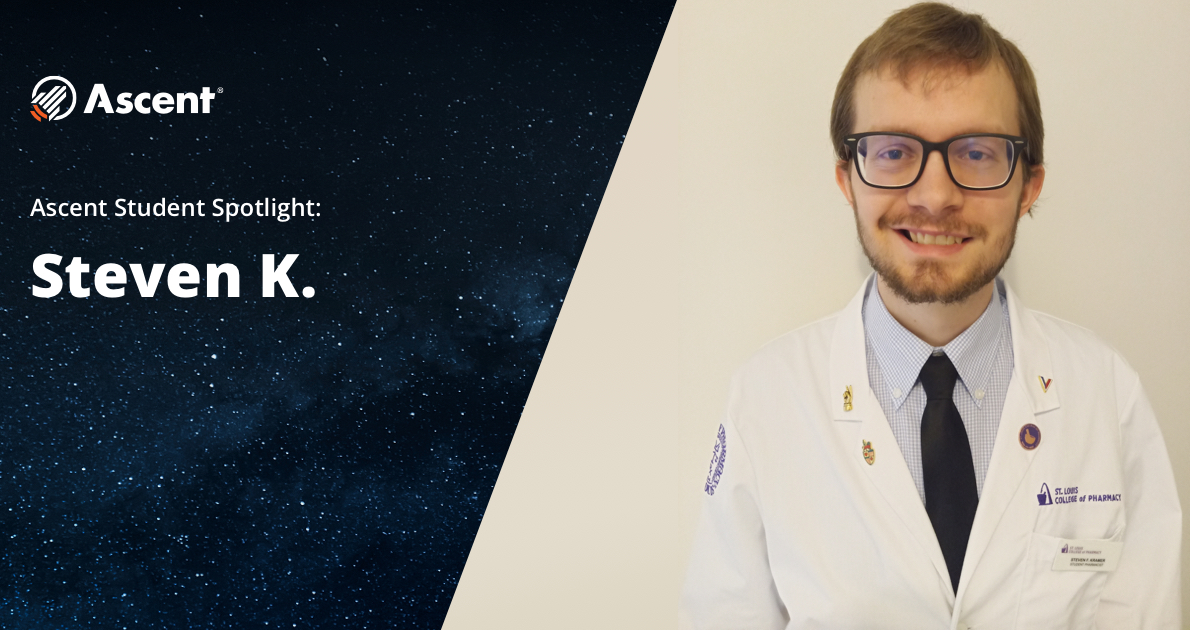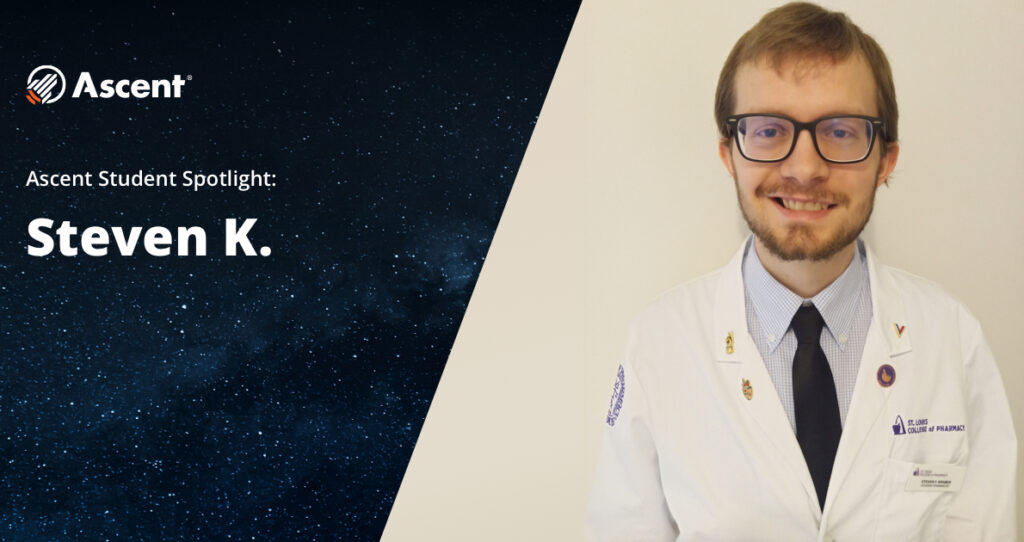 At Ascent, we provide free resources to help you throughout college, which may include links to third-party websites (where security and privacy policies may differ from Ascent's). For our disclaimer, please click here.
It's not every day that you encounter a college student with such passion and drive for helping others within their community and beyond. We were lucky enough to experience that in Steven (spelled with a V for Victory, as we quickly learned) Kramer.
A pharmacy student at St. Louis College of Pharmacy (STLCOP) at the University of Health Sciences and Pharmacy (UHSP), Steven, as a member of the Student National Pharmaceutical Association (SNPhA) and the founder and president of the American Sign Language (ASL) Club, is dedicated to supporting people with disabilities and ensuring they are advocates for their health.
In our very first Student Spotlight, we chatted with Steven about what drives him to help others, what tips he has for other college students navigating mental health during COVID, and more. Check it out!
What makes you so passionate about helping others?
Four years ago, I had the opportunity to meet and work with an 11-year-old deaf boy adopted by a hearing family. His biological family could not provide the support he needed as a Deaf person, and for the first 11 years of his life, he had no language. When I met him, he did not even know his name. He could not read, write, sign, or lip-read. He had no friends. Can you imagine living 11 years without an effective way to communicate?
I read about language deprivation and how isolating deafness can be, especially if a child does not have access to language development. To actually see and meet someone who experienced it was much more real and disheartening. His adopted family decided to learn sign language prior to adopting him. Over the following year, I assisted his new family by connecting them with resources, so that they could learn sign language together. Now he has a language and knows his name! Unfortunately, my student's story is common in the Deaf community, but this only increases my desire to advocate for this group of people.
When I was in eighth grade, I met someone who is Deaf, and that began my passion for helping others because it changed my perspective that Deaf people are just like everyone else–they just cannot hear.  I decided that I wanted to make an impact in the Deaf community. I want to make sure all patients have access, no matter how they communicate.
You mentioned your mission is to empower people with disabilities to play an active role in their health. What drove you to get more involved with this cause?
When I was a senior in high school, I was looking into different career paths. I became fascinated by the research of Dr. McKenzie Ferguson, an Associate Professor of Pharmacy Practice at Southern Illinois University at Edwardsville, and about the need for pharmacists to better advocate for their Deaf patients.
She had an opportunity to meet with 20 deaf individuals; seven admitted to using guesswork when taking their medicine. Additionally, they agreed that because of the language barrier, it is difficult to communicate with their pharmacists. She said that there is a need in healthcare for better patient-centered care, which pharmacists could fill.  I agreed as the pharmaceutical field is going through an interesting phase right now, where before, it was medication-dispensing focused. With machines that can count pills faster than humans can, it is allowing pharmacists to do a lot more clinical work, like educating patients on how to take their medicine.
Her work motivated me to begin the 7year journey at St. Louis College of Pharmacy to earn a Doctor of Pharmacy degree to better advocate for the Deaf as a pharmacist. As a member of the American Pharmacists Association-Academy of Student Pharmacists (APhA-ASP), I had an opportunity to connect with Dr. Ferguson in person and collaborate on a research project titled, "Evaluating the Effectiveness of Medication Administration Videos Translated into American Sign Language." It was published in the Journal of APhA, and we presented our findings at the 2018 APhA conference in Nashville, Tennessee.
Online learning presents its own unique obstacles. What are some challenges you've faced, and how have you motivated others to overcome these challenges?
Truthfully, online learning has been more of a blessing for me. Last semester, St. Louis College of Pharmacy (STLCOP) pre-recorded their lectures and had them available for viewing at any time a student wanted to view them. This was helpful as I was able to pause and rewind whenever I was not fully sure what I heard. This semester, they gave students the option to return to campus, and I chose to do that, as I knew I needed the extra motivation to stay focused during the three-hour lectures. After attending in-person for four weeks, I returned to online learning. I realized that there is no shame in staying at home, and I encourage all students to do what they feel will make them most successful during this time.  I thought I was ready to go back, that I HAD to go back in-person, but I was wrong.
One way I have motivated others is by forming a study group. It is something I would recommend that really helped! Last semester before the lockdown, I met with some friends, and I was like, "Hey, let's get together and study." So, we made a Facebook chat to assist with planning study meetings, and now it is our lifeline, because during this pandemic, it is how we communicate. Even after last semester ended, we used that group chat to stay updated with each other's lives and support one another. Just because you cannot meet in person does not mean you have to get through this alone.
Do you have any tips for students on how to navigate their mental health during COVID-19?
Something I have been doing is attending "Zoom-ba." I love to dance, and the VP of Student Affairs at St. Louis College of Pharmacy (STLCOP) has held virtual Zumba dance classes for the community on Zoom. For about an hour every week, I have been able to get away from everything going on and just dance.
Another thing I did was going down my Facebook friends list and messaged just about every single one of them–as many as I could. Hearing from them was nice because I could see that we were going through this together, and that helped me stay positive as I was not alone.
How have you used your time during quarantine? Have you learned any new skills or binged a new Netflix show?
I have actually been applying for scholarships during the quarantine. Ascent made applying for scholarships much easier than I thought. They have 50 Days of $1,000 Scholarships, where all I needed to do was like a post and comment my thoughts for a chance to win. They are still giving away monthly scholarships, which I am applying for as well. It is not as time-consuming as I thought it would be, and I would strongly recommend all students to apply for scholarships.
I have been hiking with my family just about every Saturday to various parks. It has been wonderful to get outside and still comply with the social distancing guidelines.
If you could go back in time to 2019, what piece of advice would you give yourself about how to survive 2020?
Invest in toilet paper.
Sorry, I had to say it! As a pharmacy student, I am in my bedroom studying anyway, so "social distancing" has always been a part of my life. Many times, I would not be able to go to events because I had to study; however, with everyone else going virtual, I have been able to attend events and meet new people.
For example, I joined a group of Deaf dancers from the West Coast who incorporate ASL (American Sign Language) into their dance moves. I met a group of Deaf musicians from the East Coast who have decided that their hearing "loss" does not mean they have to lose the music they love to create. These connections would have been unlikely to happen if not for the lockdown.
Lastly, every year in St. Louis, we have a Deaf Visual Arts Conference, and every year, it has been the same week as final exams, so I have never been able to attend. But this year, I was able to attend because it went on virtually. So it has been amazing to take a quick break and join the Deaf community from my study room.
#BLM is more than just a trend; it's a growing movement right now. How has this shifted how you advocate for the Black Deaf community?
In 2015, I read this article by Benro Ogunyipe, President of the National Black Deaf Advocates, (NBDA) from 2011 to 2013. This quote really changed my perspective of the Deaf community, as it is much more complex than a group of people who cannot hear:
'Because Black Deaf students were prohibited from opportunities to interact with students and teachers on the White Deaf school campuses, this separation contributed to the development of Black ASL, a dialect of American Sign Language that's distinctively different from those of white Deaf students' signs.'
Having information accessible is an important first step. Making sure that I am culturally competent when serving my patients is also very important. I want to uplift the voices not heard.
This semester, I organized a virtual movie night at the University of Health and Sciences Pharmacy (UHSP) where students were able to watch the documentary, "Signing Black in America." Before this, I have volunteered at the BESt program at STLCOP@UHSP, which empowers minority students to consider a healthcare career. Last October, I had the opportunity to participate in a health fair in Ferguson to educate and empower my community.
Any tips for students on how to get involved or show up for the Black Deaf community and beyond?
Absolutely! I actually connected with Benro Ogunyipe virtually about this very topic. He provided a great resource with background information about the Black Deaf community and culture, as well as the Black Deaf Center resource hub, which connects you to different community resources, books, workshops, and vloggers sharing their personal stories.
Once you graduate, do you plan to continue your passion for supporting students with disabilities?
In short, yes. My goal is to collaborate with all the Centers for Independent Living, which supports people with disabilities, so they can be empowered to connect with healthcare organizations in the area to hold health fairs.  Presently, I am participating in more virtual events such as the COVID Advocacy Exchange to continue to empower the community during the lockdown.
Additionally, while sign language is not universal, the Deaf community is international. There are approximately 350-400 sign languages around the world. Until everyone has access in a way they can understand, I will not stop.
If you want to learn more about Steven and watch his interview, check it out here: