One small step to solving the student debt crisis; one big step to helping students achieve financial success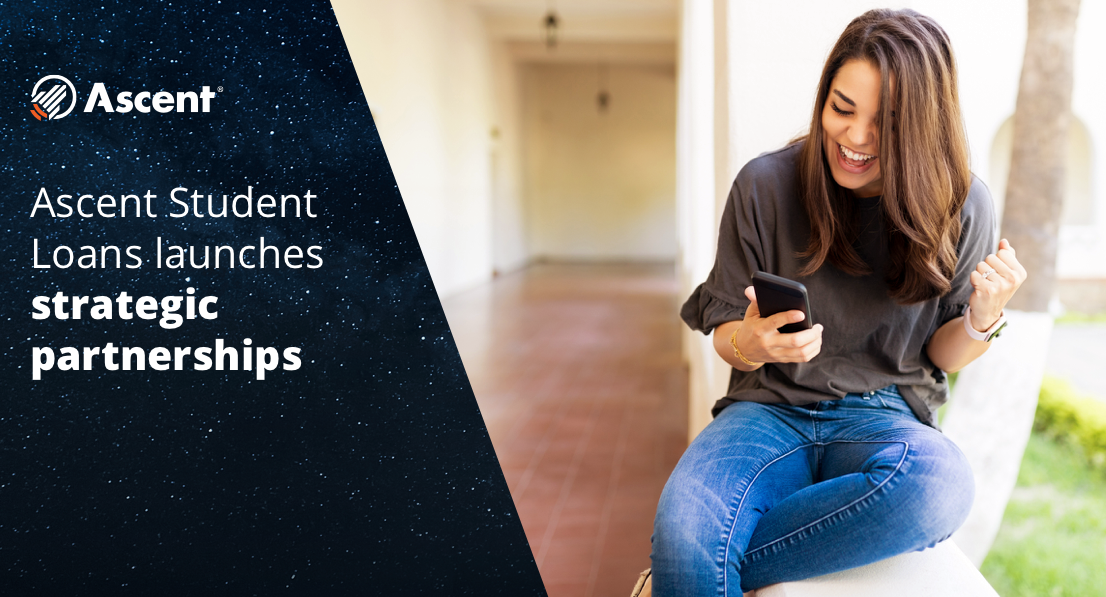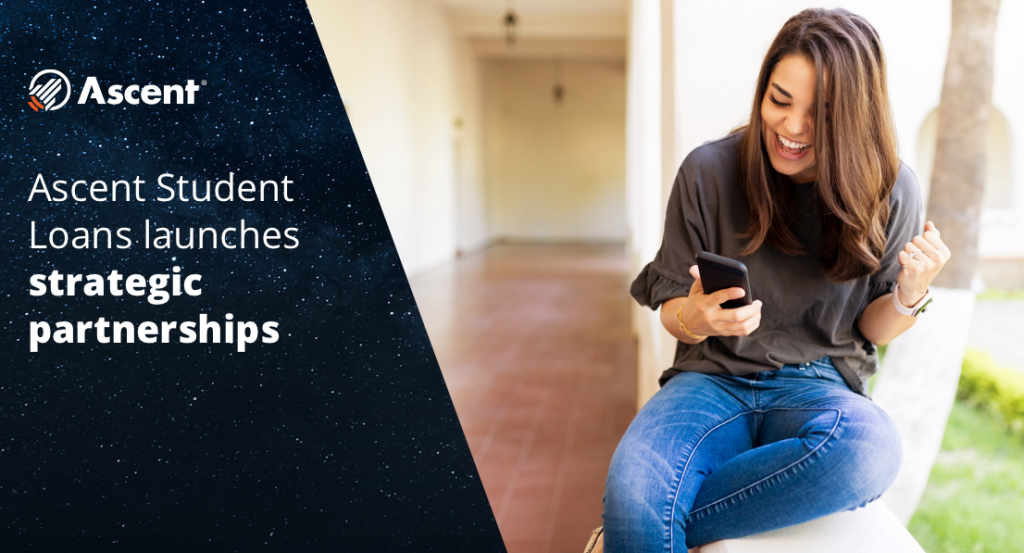 Ascent launches strategic partnerships to help students pay for college and succeed beyond the classroom.
FOR IMMEDIATE RELEASE, SAN DIEGO, CA (October 3, 2019) – From applying for financial aid to learning how to pay back student loans effectively, companies across the nation are building more robust tools to help students on their journey to financial success.  Ascent Funding, LLC, an award-winning, private student loan company that gives students even more opportunities to pay for college with or without a cosigner, has partnered with seven innovative companies as a part of their commitment to invest in a student's success beyond a private student loan.
Ascent's student-centric approach to providing resources beyond private students loans, led to new partnerships and tools, such as the Ascent Rewards Program, a cash back program designed to help students earn cash from making purchases at one of the 50,000+ participating stores. Once students build up enough monetary momentum, they can check progress, rewards, and payments all within the Ascent Rewards site.
"Students need more access to financial wellness information in words they understand with tools they will actually use," said Kim McNealy, Chief Marketing Officer at Ascent. "That's why we've carefully selected specific partners that align with our mission, offering resources to help students make more informed decisions today to open up greater future opportunities."
In addition to the Ascent Rewards Program, Ascent recently launched partnerships with:
Avibra: Free life insurance for students through an app that rewards healthy habits.
"I would love to look into Avibra. As one who is planning on moving on to grad school, having my own life insurance is necessary for increasing financial independence. The fact that it is free is a big service to students living on their own." – Molly H., University of Wisconsin, Oshkosh
ChangEd: Secure and efficient app to help students pay back student loans faster
"ChangEd sounds like an incredible resource! Not only is it easy to understand, it would be easy to save! I wouldn't miss the extra change from rounding up! I think I may even have to take advantage of this resource to help me put down debt!" – Alexis L., University of Texas, Knoxville
Chipper: Cash, round-up app to help students tackle student loans
"I would DEFINITELY use Chipper. I am trying to pay off my student loan debt as quickly as possible and any little bit helps!" – Melissa B., Northern Arizona University
Jobspeaker: Online resource to help students find jobs and receive interview tips
"I would use Jobspeaker to find a company that's a perfect fit for me! Your college degree's worth is usually measured by the jobs you get after graduation, so this would make my education that much more valuable." – Alicia S., Savannah College of Art and Design
Embark: Online admissions software to help students claim their financial aid
"I could see myself using the embark app the most because of the numerous and complicated applications that are required for different schools and different systems of schools within the country." – Ian L., Mount San Antonio College
iGrad: Financial literacy platform to help students achieve financial success
"I would love to use iGrad in order to figure out how to best manage my financial situation during my gap year as well as continuing into medical school. It is an interesting investment and financial planning tool." – Alexandra M., Azusa Pacific University
Visit AscentFunding.com/Resources to learn more about the free resources Ascent offers.  See all the other ways Ascent helps students at AscentFunding.com/Benefits.
ASCENT OFFERS LINKS TO THIRD PARTY WEBSITES SOLELY FOR INFORMATIONAL PURPOSES. WHEN YOU CLICK ON THESE LINKS YOU WILL LEAVE THE ASCENT WEBSITE AND WILL BE REDIRECTED TO ANOTHER SITE. THESE SITES ARE NOT UNDER THE DIRECTION OR CONTROL OF ASCENT. WE ARE NOT AN AGENT FOR THESE THIRD PARTIES NOR DO WE ENDORSE OR GUARANTEE THEIR PRODUCTS OR THEIR WEBSITE CONTENT. ASCENT MAKES NO REPRESENTATIONS REGARDING THE SUITABILITY OR ACCURACY OF THE CONTENT IN SUCH SITES AND WE ARE NOT RESPONSIBLE FOR ANY OF THE CONTENT OF LINKED THIRD PARTY WEBSITES.
Disclaimer:  The views and opinions expressed above are those of the individuals and do not necessarily reflect the official policy or position of any agency, organization, employer or company, including Ascent Funding, LLC and/or any of its affiliates or subsidiaries.
About Ascent Funding
Ascent is built around one guiding principle: Student loans should expand possibilities, not limit them. That's why Ascent created a new private student loan program that gives students more opportunities to qualify for a loan, with or without a cosigner.  Approved applicants can get the funding needed to cover tuition and living expenses. Ascent program loans are originated by Richland State Bank, Member FDIC. Ascent encourages transparency and financial wellness by incorporating financial education into the application process, preserving the notion that an education is an investment where students and families should understand the return on their investment relative to the cost. Ascent also offers benefits (such as 1% cash back, scholarships, Refer a Friend Program) and resources that set students and families up for financial success.
###
Contact for Press Inquiries
Lauren Thayer | Director of Marketing
619-684-7294