5 Ways to Easily Make Your Paycheck Last Longer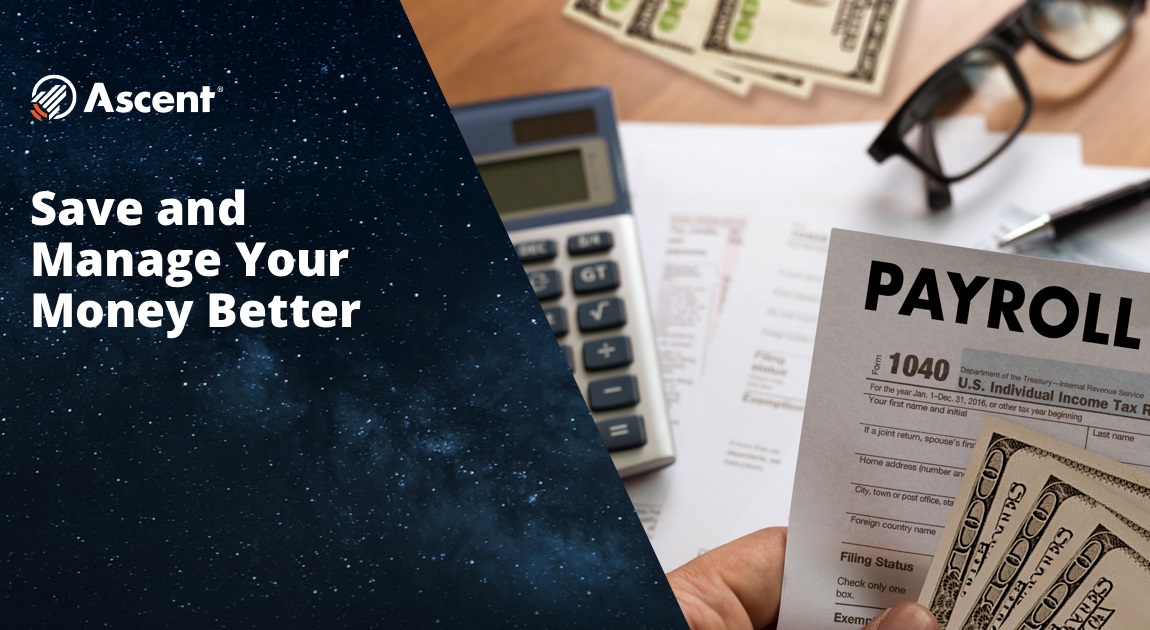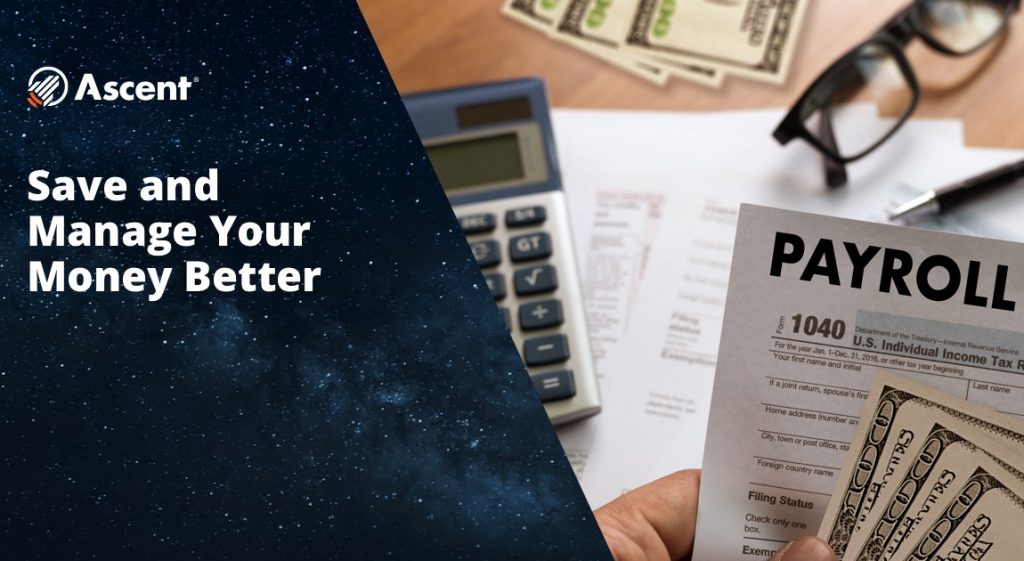 Even before the coronavirus (COVID-19) pandemic, college students have been struggling to pay for essentials like rent, gas, groceries, WIFI, and other school-related expenses. Now, living paycheck to paycheck can be especially stressful, as businesses temporarily close and unemployment rises.
We reached out to students and asked for their advice on how to make paychecks last longer. The responses poured in with amazing, practical tips college students use every day to save money and manage their budget better. 
1. Track Your Monthly Expenses Closely
Budgeting is an important life skill all students should practice now – this is even more important if you consistently receive a paycheck. To avoid the stress of living paycheck to paycheck, it is essential to carefully track your expenses each month and allow yourself a certain amount of money to spend each week. This will help ensure there are no surprises when you look at your bank account at the end of the month!
There are tons of resources out there to help track your expenses with tools you already use for school – Google Spreadsheets, Excel, etc. Apps like Mint.com (Intuit Inc.), You Need a Budget (YNAB) and Wally  can easily help you manage your money right from your phone too.
Your paycheck can quickly disappear when you spend, spend, spend and your bank account is left unchecked, which is why tracking your expenses is so important. You'll be glad you learned this healthy financial habit early on too!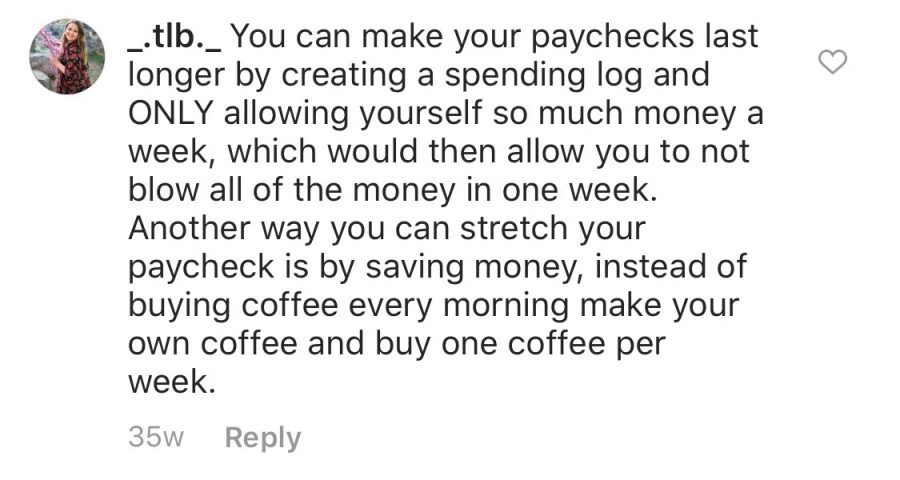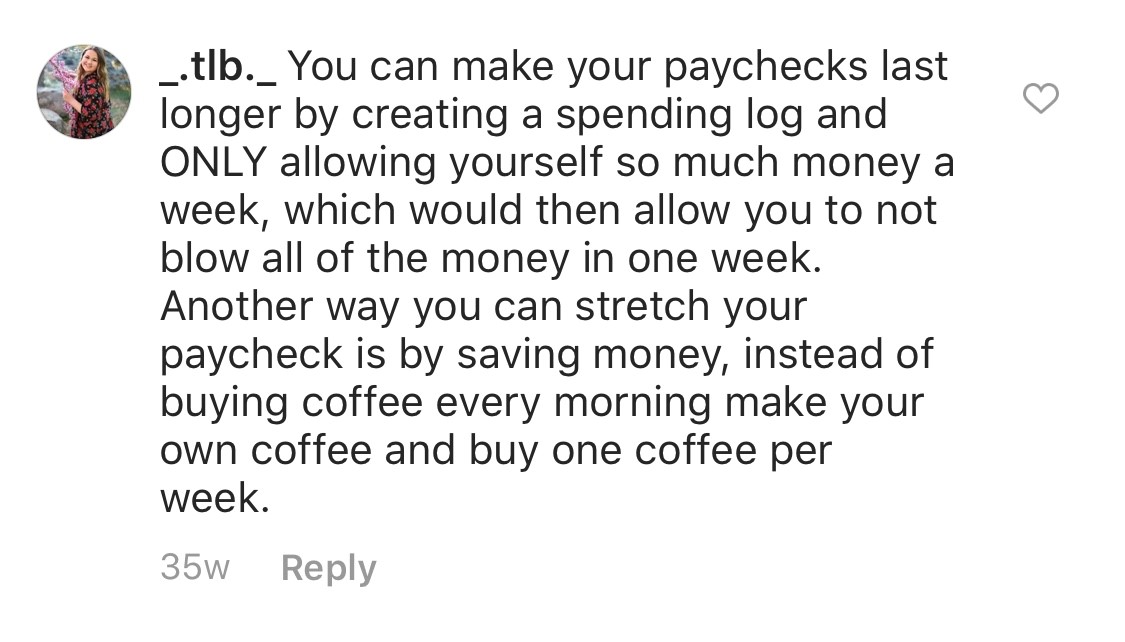 2. Pay Bills First, Then Have Some Fun
Paying your bills first, THEN prioritizing any extra money you have leftover is a great way to make your paycheck last longer. Once your essential bills, like rent, school supplies, and utilities are paid, then you can budget how much money you can spend on other expenses that can be considered "wants" like enjoying a dinner with friends, buying that one shirt you've had your eye on for weeks or taking a weekend road trip.
Keeping up with your monthly bills by paying them first and on time will help you build credit and stay on top of your budget.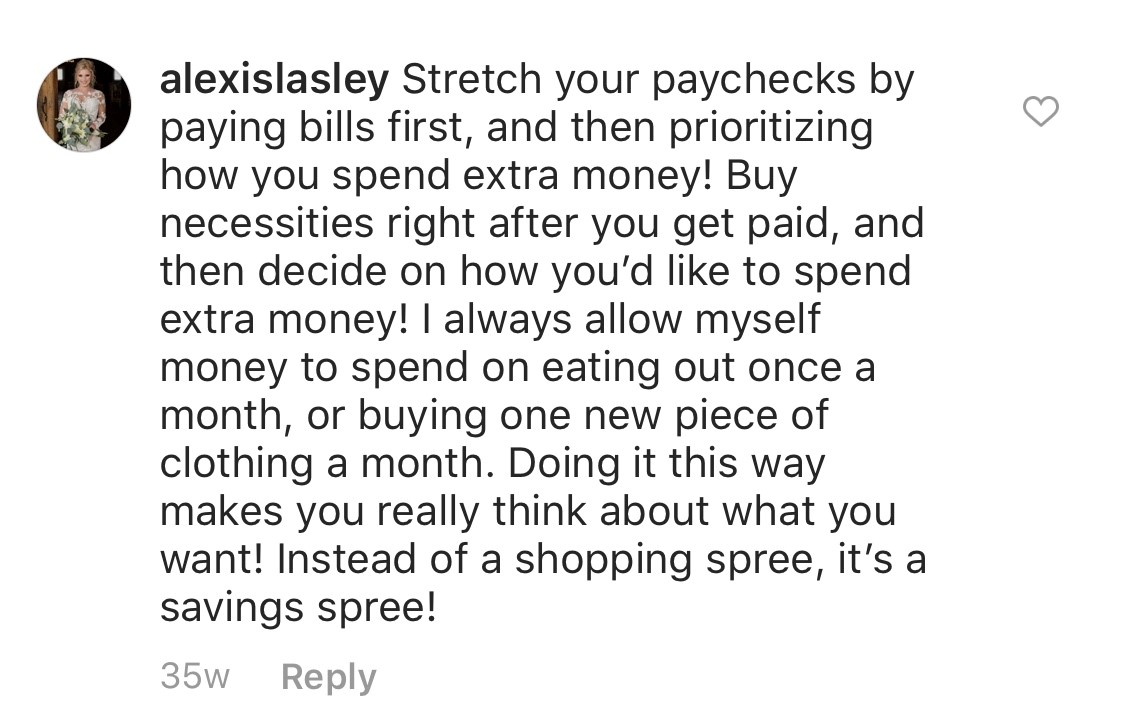 3. Skip on Unnecessary Expenses… If You Can
What's another great way to stretch out your paycheck? Don't spend extra money when you don't have to! Thinking about buying another grande coffee for the third time this week? Maybe it's time to invest in a coffee maker so you can brew your own coffee at home?
In addition to spending on what's necessary (gas to get to class) or not so necessary (your third coffee to-go), three great ways to skip on unnecessary expenses are by picking generic brand products versus more expensive name brand products, using coupons to save a little cash, and buying in bulk from Costco and then splitting it with friends. You don't need 100 rolls of toilet paper –  well maybe you do now – but buying in bulk and splitting with your roommates is a great way to save. Building budget-friendly habits, such as shopping around for the best deals, can really pay off in the long run!
If you haven't already started online shopping frivolously at your local thrift stores, or eBay and Amazon especially in the midst of COVID-19, it's another opportunity to save money on buying second-hand clothes and other items.  There are many second-hand stores that donate the proceeds to a charitable cause, so you get to support local business in your area AND contribute to a good cause.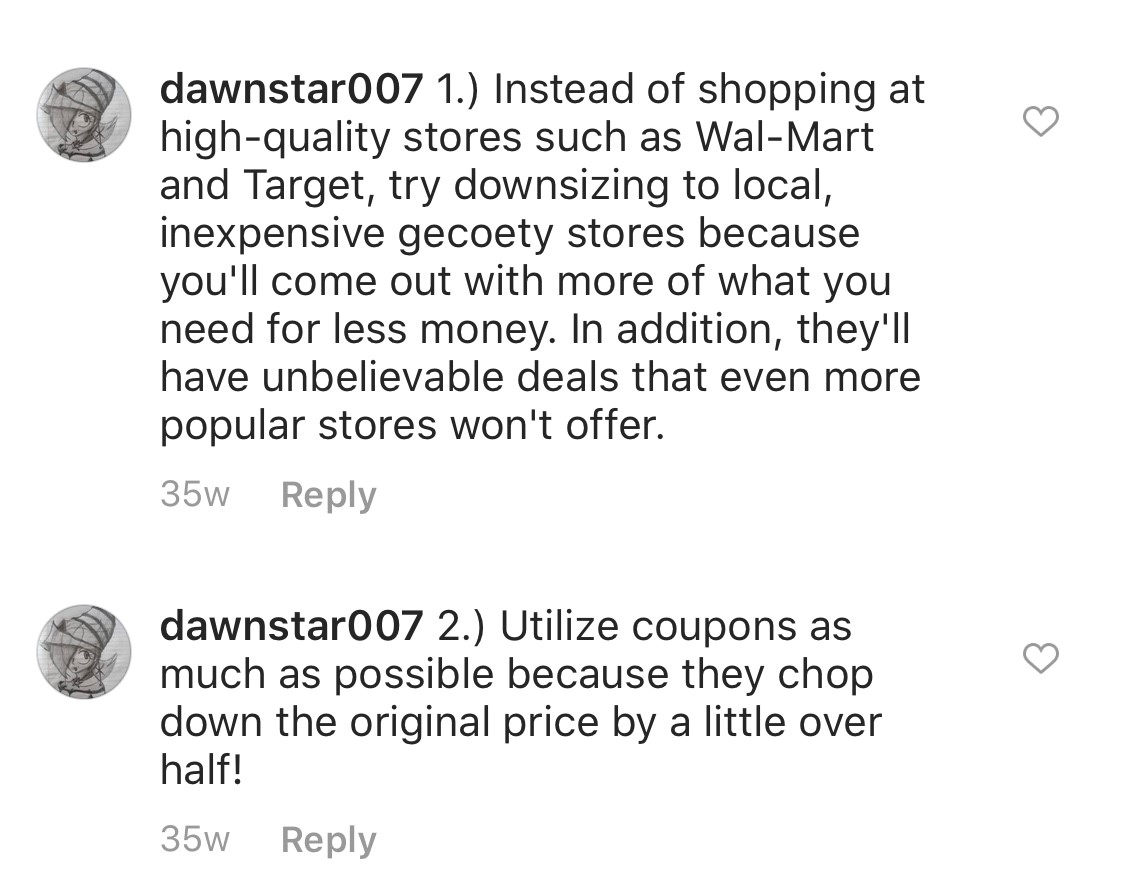 4. Split Your Paycheck into Two
What's better than one paycheck…two! According to many students, they split their paycheck into two, so part of the money goes into their checking account to cover their essential expenses and the rest goes into their savings.
Of course, this is after any important monthly bills have been paid. Methods like these are easy ways to keep your savings account thriving, so you can build a long-lasting financial well-being. If you have a steady paycheck and know your monthly budget, you can also have your bank automatically transfer a specified amount to your savings every paycheck.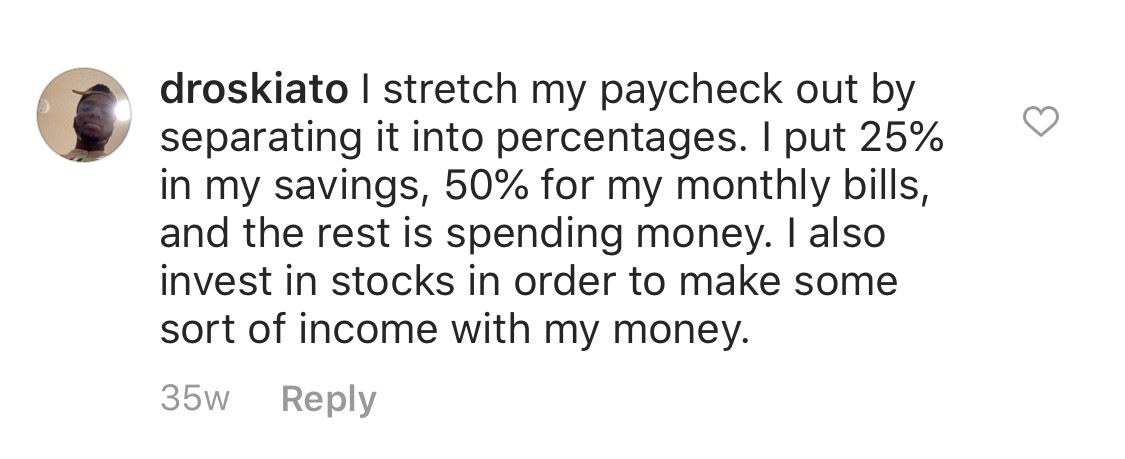 5. Use the Snowball Method
When it comes to paying off debts, many students are using what is known as the Snowball Method. It is important to note which debts have the highest interest rates and pay those down first so your interest doesn't snowball. Another aspect of the Snowball Method is paying off the smallest bills first, and then working your way up to the larger debts. When it comes to paying off your debts, one of the easiest ways to get started is by starting small and building your way up. This helps keep your motivation high as you're able to regularly check bigger bills off your list. Gradually, you can work towards paying off larger debts and take control of your financial future.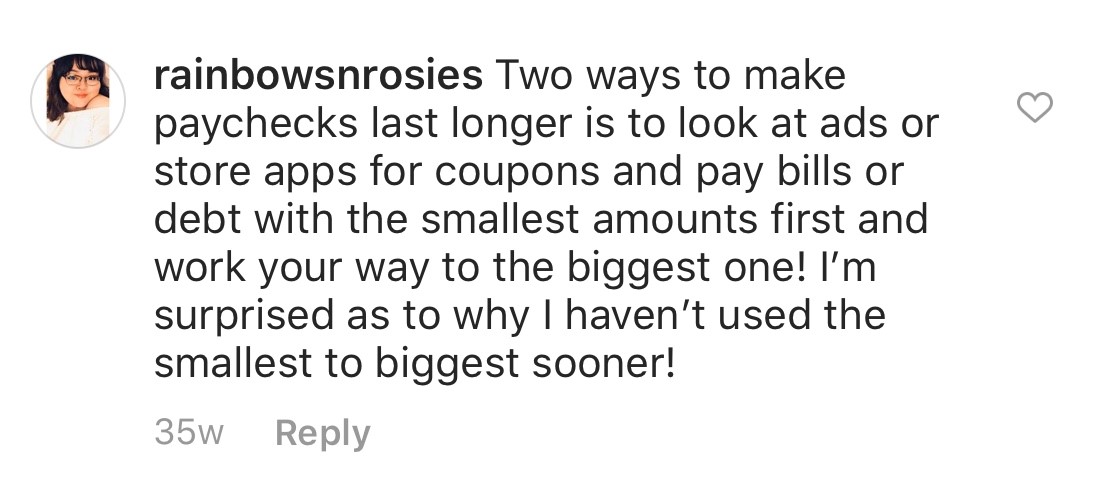 Looking for More Tips?
The responses we received showed us how many students out there are keeping their financial literacy skills on point. If you're on a mission to find more tips on how to make your paycheck last longer, check out the other responses we received on our Instagram post from other students! Feel free to leave a comment or send us a message if you have any more ideas and follow our page to stay in the loop for the next scholarship giveaway. You don't want to miss out!
Ascent Written, Native Advertising Disclosure
Ascent Funding, LLC ("Ascent") sponsors these blog posts and creates informational content that is of interest to prospective borrowers and our applicants. The information included in this blog post could include technical or other inaccuracies or typographical errors. It is solely your responsibility to evaluate the accuracy, completeness and usefulness of all opinions, advice, services, merchandise and other information provided herein. ASCENT IS NOT RESPONSIBLE FOR, AND EXPRESSLY DISCLAIMS ALL LIABILITY FOR, DAMAGES OF ANY KIND ARISING OUT OF USE, REFERENCE TO, OR RELIANCE ON ANY INFORMATION CONTAINED WITHIN THESE BLOG POSTS (INCLUDING THIRD-PARTY SITES). ASCENT OFFERS LINKS TO THIRD PARTY WEBSITES AND ARTICLES SOLELY FOR INFORMATIONAL PURPOSES. WHEN YOU CLICK ON THESE LINKS YOU WILL LEAVE THE ASCENT WEBSITE AND WILL BE REDIRECTED TO ANOTHER SITE. THESE SITES ARE NOT UNDER THE DIRECTION OR CONTROL OF ASCENT. WE ARE NOT AN AGENT FOR THESE THIRD PARTIES NOR DO WE ENDORSE OR GUARANTEE THEIR PRODUCTS OR THEIR WEBSITE CONTENT. ASCENT MAKES NO REPRESENTATIONS REGARDING THE SUITABILITY OR ACCURACY OF THE CONTENT IN SUCH SITES AND WE ARE NOT RESPONSIBLE FOR ANY OF THE CONTENT OF LINKED THIRD PARTY WEBSITES.