7 Most Common Student Interview Questions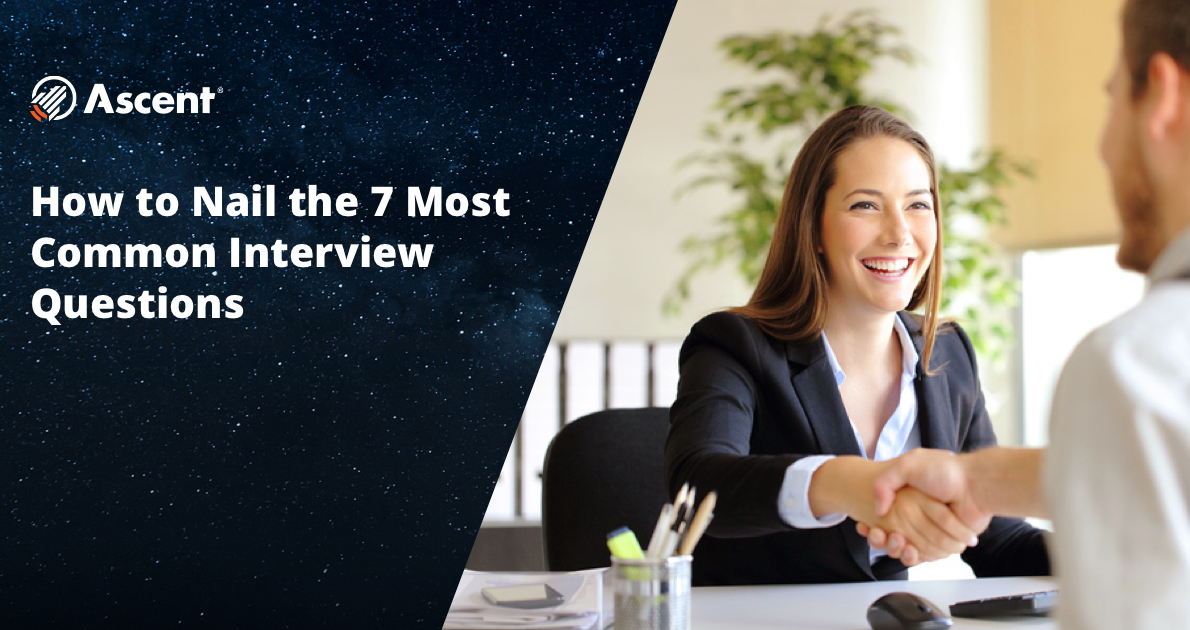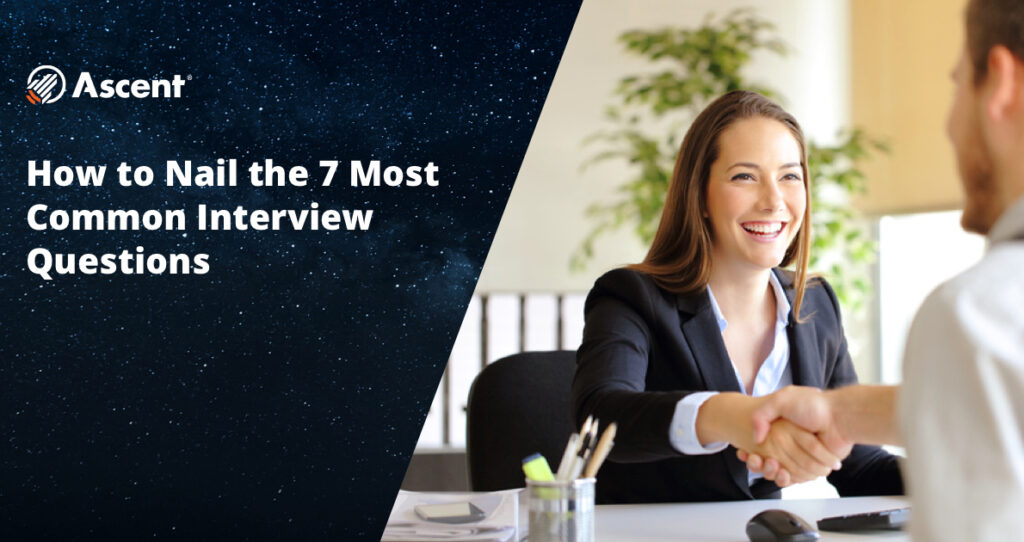 At Ascent, we provide free resources to help you throughout college, which may include links to third-party websites (where security and privacy policies may differ from Ascent's). For our disclaimer, please click here.
After perfecting your resume, cover letter, and job application, you finally landed the interview for a job or internship! Landing an interview is a big deal, so make sure you take the time to plan and prepare. We've all had our part-time jobs at the ice cream shop, city recreation center, or pizza place, but this is the big leagues – this is the beginning of your future career.
  How to Land Your Dream Internship
Going into your first professional interview can be intimidating, but don't worry – we're here to help. Here is what Ascent found to be the 7 most common student interview questions to prepare for.
Can you tell me a little bit about yourself?
Most interviews start with some variation of the same question: "Can you tell me a little about yourself?". It should be easy, right? According to The Muse career coach Theresa Merrill, this common question often leaves candidates stumped.
It tends to be tricky because it is so open. What should I talk about? My favorite music? Movies? Recently binged Netflix shows?
The Muse shared a way to help you answer this question without hesitation: using the present, past, and future formula.
Your present section might tackle:
Roles that you are currently seeking post-graduation.
How the opportunity will relate to what you studied in school.
If you are a recent college graduate, then your past section should include:
Why you chose your major and school.
A brief overview of the organizations you are/were involved in.
Your future section should cover:
Short- and long-term career goals.
What are your strengths and weaknesses?
In most interviews, you will likely be asked to describe your greatest strengths and weaknesses. You should prepare at least 3 items for each question – you never know; they may ask for multiple examples!
If you need help identifying your greatest strengths, ask someone that knows you well to name the top three characteristics they'd use to describe you. You can ask your parents, grandparents, friends, or a mentor.
Remember, don't answer the question by simply stating, "My biggest strength is leadership." Your interviewer wants to hear about specific examples when you believe that you demonstrated your strength. For example, to illustrate leadership as a strength, you might mention the group projects you led in class, being a leader on your sports teams, or serving as a member on the executive board for one of your organizations. Try and think of an example that clearly shows how your leadership led to the success of the group.
The same rules apply to your weaknesses. If you need help identifying your greatest weaknesses, it might help to ask someone who knows you well to give you a list of what they consider to be your top areas for improvement.
Pro Tip: When sharing what your main weaknesses are with the interviewer, never say, "My weaknesses are…" Instead, rephrase your response to describe what you believe to be your main opportunities for improvement. For example, lead with something like  "A few areas I am currently working on are…"
Answering the question in this format demonstrates that you are already aware of your weaknesses and are taking affirmative steps to improve them. For example, if your weakness is time management, you might mention how you use Google Calendar or another free calendar tool to manage your time better. Ultimately, whether your perceived weakness is time management or something else, you ultimately want to show that you have what it takes to identify and work constructively to improve upon your weaknesses. (And remember, no one is perfect!)
What are your short- and long-term goals?
As a student, you're probably just at the beginning stages of outlining your future career goals, so it's okay to not have this 100% figured out by the time you start interviewing for a full-time position. Below are some ideas on how you can answer this common student interview question with precision and ease.
Your short-term goals might include:
Actively participating in other clubs, fraternities, or student-led organizations.
To secure an internship related to your major.
Your long-term goals might include:
Graduate college with an overall GPA of 3.5.
Find a full-time position after graduation related to your major and area of study.
Your short- and long-term goals may become more defined as you navigate through your college career – especially after taking more classes, holding internships or other related positions, and networking in college.
If you're interviewing for a full-time position, illustrate how your broader goals relate to the company and the position for which you are applying. They don't want to hire someone that only wants to stay with the company for six months. You don't have to say you plan to stay with the company for the rest of your life but be realistic and if possible demonstrate how you plan to bring longer-term value to the company.
Describe a time you disagreed with a teammate or boss. How did you handle the situation?
One of the most common student interview questions is around behavioral situations and the question usually starts with, "Tell me about a time…". Indeed shares how you can use one of the most well-known interview techniques, The STAR Method, to help answer this question:
S – Situation
T – Task
A – Action
R – Result
Preparing your answers around this technique will ensure you effectively describe your skills during the interview. In this particular case:
Share a situation when you disagreed with a peer in class, work, or an on-campus organization.
What was your particular task and responsibility in this situation? What did you believe was the correct choice?
What action did you take to solve the disagreement? Did you decide to meet in the middle and compromise? Was a decision made to go one way versus another?
Based on the actions that you took, highlight how it turned into something positive. How did it impact the results? Did it lead to better communication skills? Teamwork skills? Did it help strengthen the relationship or provide a better understanding of one another?
Tell me about a time you encountered a difficult problem. How did you solve or handle this situation?
Similar to question #4, when asked situational or behavioral questions starting with "Tell me about a time…" always refer to  The STAR Method:
S – Situation
T – Task
A – Action
R – Result
In this particular case:
Share a situation when you encountered a difficult problem during a class project, your personal life with family or friends, or your first internship.
What was your particular task and responsibility in this situation? What were you in charge of completing?
What action did you take to overcome the problem?
Based on the actions that you took, how did they impact the results? What did you learn after this problem was solved? After all the problems we overcome, there are always great learning opportunities.
Why do you want this position? Why would you be a great fit for this role?
It's important to ask yourself this question beforehand and determine why you genuinely want the position. Applying for many positions is often a reliable way to ultimately secure a job, but you should focus on the opportunity that interests you the most. Your interviewer will likely want to know what drove you to apply for their position as opposed to others. In other words, why do you want to be a part of their team?
According to Business News Daily, there are four reasons to pursue your passions in a job:
You'll feel more fulfilled
You'll be more productive
You'll inspire others
You'll succeed
If your interviewer feels you don't really want the job, odds are they won't give it to you. Be genuine and always apply for the jobs that spark your interest.
Aside from the individual growth, what can you bring to the table that makes you a unique candidate? There may be others with similar education, background, work experience, or leadership skills, so how will you stand out from the rest?
We all have something that makes us unique. Highlight your relevant strengths throughout your interview to illustrate how you would go above and beyond your job duties to be an excellent team member.
Build Your Personal Brand as a Student and Beyond Now!
Do you have any questions for me?
According to Indeed, it's important to prepare at least 5 questions beforehand for your interviewer. Chances are that your interviewer will cover the answers to some of your questions at the beginning of the interview when they give you a general overview of the company and the open position. You can never be over-prepared though, so coming with at least 5 questions is a great place to start.
Preparing questions to ask your interviewer is imperative, but it is even more important to ask the right questions. Don't ask questions you could have easily gotten from the company website – that might show that you didn't do your research. Ask thoughtful and insightful questions that demonstrate you genuinely want to learn more about the company or the person interviewing you.
Here are some examples of thoughtful questions to ask your interviewer:
Is there room for individual growth within the company? If so, how have you grown since you've been with the company?
What metrics do managers use to evaluate employees?
How would you measure a successful employee in this position?
What are three adjectives you would use to best describe a person who would be successful in this position/company?
Why did you decide to work for this company? Or, what is your favorite thing about working for this company?
What is currently your biggest business challenge and how can I help most in this position?
Tip: If time permits, asking a question outside of work can help you stand out amongst other interviewees. This shows you are not only engaged with your interviewer, but you also have a work-life balance.

What do you enjoy doing with your free time?
What is your favorite book and why?
At the interview stage, you're well on your way to finally getting your foot in the door at the company of your dreams. Hopefully, these 7 common student interview questions will help you feel even more confident and prepared before your BIG interview day.
For more tips on how to prepare for phone or video interviews, please visit our blog.