How to Write an Effective Cover Letter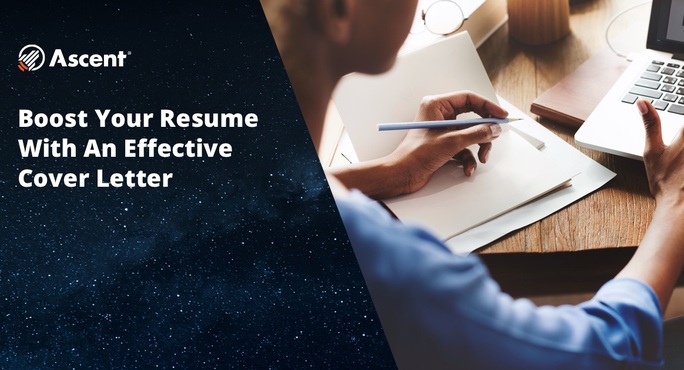 Now is the perfect time as ever to apply for part-time jobs and internships. The secret to landing your dream job or internship is to have a resume and cover letter on hand. According to a study done by CareerBuilder, 49% of HR managers consider a cover letter the second best thing to give your resume a boost.
Unlike a resume (created to summarize your work experiences and skills in a clear and concise way), a cover letter is meant to demonstrate your relevant background and skills, and how they make you a great fit for the role and company for which you're applying. Although not all roles or companies require a cover letter, having one that is thoughtful and well-constructed can sometimes be a deciding factor between you and another applicant.
Ascent has put together a step-by-step guide and video on how to effectively write a cover letter.
1. Start with the Basics
You might be wondering, "How do I even start writing a cover letter? What part comes first? What do I talk about?" Have no fear, similar to writing a resume, it is essential to breathe first, and start with the basics. Consistency is key, so make sure you are using the same template and font from your resume when writing your cover letter!
Header
The first step in writing a cover letter is to construct a clear header that introduces who you are and includes your contact information if they have any further questions or want to connect with you on LinkedIn. For more tips on how to build a header, visit our resume blog.
Ideally, you want your name in the header to be centered, and in a bigger font than the rest of your cover letter.


Below your name, also include:
Your email address
Your location (city and state)
You contact number
LinkedInURL
Make sure your email is professional –  According to Business2Community, 76% of resumes and cover letters are discarded due to having an unprofessional email address. As far as your location goes, it's not necessary to include your full address, just providing your city and state will do.
Don't forget to edit your LinkedIn URL too. If you go to your profile, on the top right corner you'll see an option to "Edit public profile & URL." Edit your custom URL, so it's something simple such as: https://www.linkedin.com/in/alexis_juarez/.


Pro tip:Make sure to save your cover letter as a PDF so that the file cannot be modified, but can be easily shared or printed. However, when you save your cover letter as a PDF, you might lose your hyperlink – just remember to add the hyperlink back in before submitting your cover letter.
Mailing Address
Similar to when writing a letter, it is essential to include a mailing address and formerly address the hiring manager filling the open position. If you have never written a formal letter before, here are the key pieces to include:
Date
Company name
Company address
Name of the hiring manager
If you don't know the name of the person that you'll be interviewing with, then you may address the cover letter with: "To whom it may concern." If you have a panel interview and you know the names of each person, then make sure to have a separate cover letter printed and addressed to all of them. Once again this shows you are well-prepared for the interview.
Pro tip:When submitting a job application, use the date you turned in the application. On the other hand, for an in-person interview, change the date on your cover letter to the date of your interview. Small changes like these can signal to potential employers that you are diligent and come well-prepared.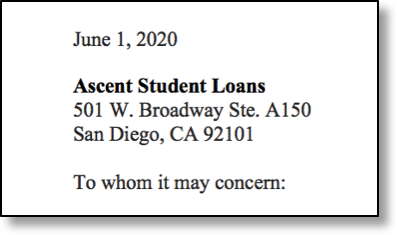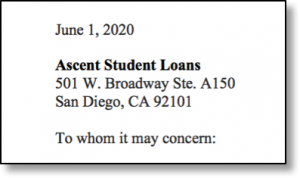 Your Killer Introduction Paragraph
When writing an introduction paragraph, it's simple, but if you get stuck or hit writer's block, just remember to include the following pieces:
Your name
Your major, year in school, and the name of your school
Position for which you are applying
Name of the company
The last part of the introduction paragraph should highlight, in a few sentences, why you want to work for that particular company and how you believe you'd be a great asset to them. You can relate to the company's mission statement, mention their core values, or share how you heard about the position and/or if you were referred by a current employee.


2. Highlight Your Past Experiences Creatively
There is no right or wrong way to write the body of your cover letter – as long as you demonstrate your skills and illustrate how they relate to those of the company and position for which you are applying. To help you on this journey, we found two methods that might come in handy.
Work Smarter, Not Harder
When writing the body of a cover letter, find a few key attributes or responsibilities that are mentioned in the job description, which might include things like being responsible, organized, event planning skills, leadership traits, etc. Select a few of the desired attributes that you feel you've exhibited in the past, and then write a short summary describing these experiences and relating them to this particular job posting.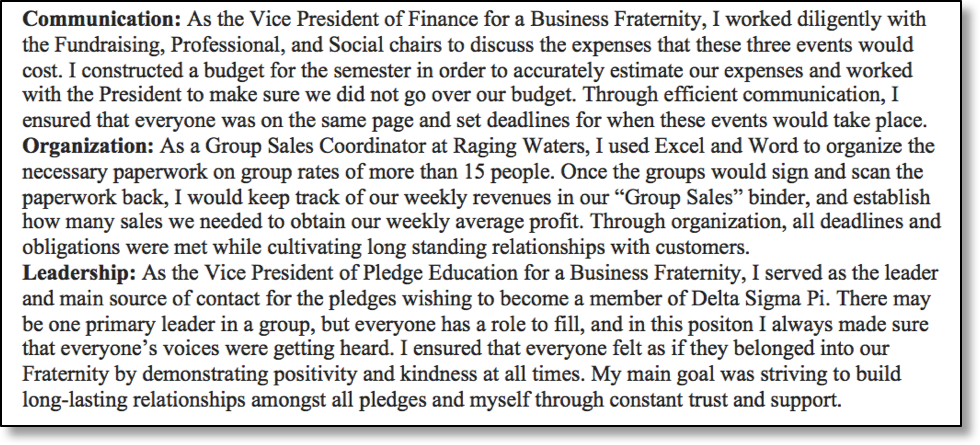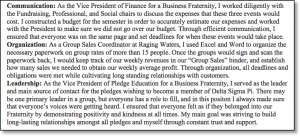 The First Paragraph Challenge
Pay close attention to the job posting, qualifications, and requirements (you should basically have it memorized). Instead of writing a short blurb describing a few relevant examples, you may also choose to focus on a single past experience – it doesn't matter if it's a past job, leadership role in a student organization, or a past community service experience. This is the key to conquering the first paragraph challenge.
In describing this past experience, tie it to the specific job you're applying for and demonstrate how you've exhibited the necessary skills to perform the responsibility of the job you're applying for.


3. Give Them Something to Remember You By
You're almost done writing your cover letter. The only parts that are left are the conclusion paragraph and signature – just don't forget to mention how much you want the job.
Summarize Your Key Points in Your Conclusion
 As with any conclusions paragraph you might write, be sure to revisit the points you made in the body of your cover letter.
Describe the core values that resonate with you the most.
Mention what you look forward to doing and/or learning more about in the position.
Remember to thank whoever is reading over your cover letter for their time and consideration (employers often go through hundreds of resumes and cover letters for a single position – show that you care and are appreciative for everything they are doing to give them something to remember you by).


Don't Forget Your Custom Signature
In addition to your contact information at the of your cover letter, you should also include a professional signature with your name, email, and phone number.
Make sure to leave a few lines in-between your letter closing and your printed name, so you have room to sign your cover letter (yes, actually sign it with a real pen and ink). According to the University of Albany, signing your cover letter in blue ink implies that the cover letter is original. If you don't have a blue pen on hand, then black ink is the second-best option.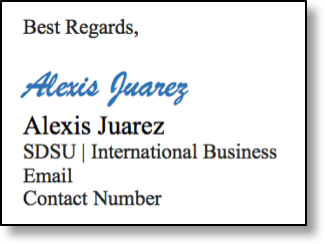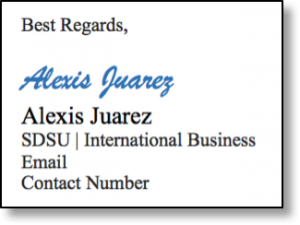 Pro tip: According to Monster, if you are sending your cover letter digitally – whether it be through email or submitting it during the application process – a signature isn't necessary. However, some applicants choose to upload a digital version of their handwritten signature or use a cursive font such as "brush script" instead.
Having a well-constructed cover letter that you can use to apply for jobs and internships is a critical step to launching your future career.
For more tips on how to transition from the educational to the professional world, read our blog Getting Ready for Your First Job Out of College.
Ascent Written, Native Advertising Disclosure
Ascent Funding, LLC ("Ascent") sponsors these blog posts and creates informational content that is of interest to prospective borrowers and our applicants. The information included in this blog post could include technical or other inaccuracies or typographical errors. It is solely your responsibility to evaluate the accuracy, completeness and usefulness of all opinions, advice, services, merchandise and other information provided herein. ASCENT IS NOT RESPONSIBLE FOR, AND EXPRESSLY DISCLAIMS ALL LIABILITY FOR, DAMAGES OF ANY KIND ARISING OUT OF USE, REFERENCE TO, OR RELIANCE ON ANY INFORMATION CONTAINED WITHIN THESE BLOG POSTS (INCLUDING THIRD-PARTY SITES). ASCENT OFFERS LINKS TO THIRD PARTY WEBSITES AND ARTICLES SOLELY FOR INFORMATIONAL PURPOSES. WHEN YOU CLICK ON THESE LINKS YOU WILL LEAVE THE ASCENT WEBSITE AND WILL BE REDIRECTED TO ANOTHER SITE. THESE SITES ARE NOT UNDER THE DIRECTION OR CONTROL OF ASCENT. WE ARE NOT AN AGENT FOR THESE THIRD PARTIES NOR DO WE ENDORSE OR GUARANTEE THEIR PRODUCTS OR THEIR WEBSITE CONTENT. ASCENT MAKES NO REPRESENTATIONS REGARDING THE SUITABILITY OR ACCURACY OF THE CONTENT IN SUCH SITES AND WE
ARE NOT RESPONSIBLE FOR ANY OF THE CONTENT OF LINKED THIRD PARTY WEBSITES.