Dream Job: 8 Tips to Help You Search For an Internship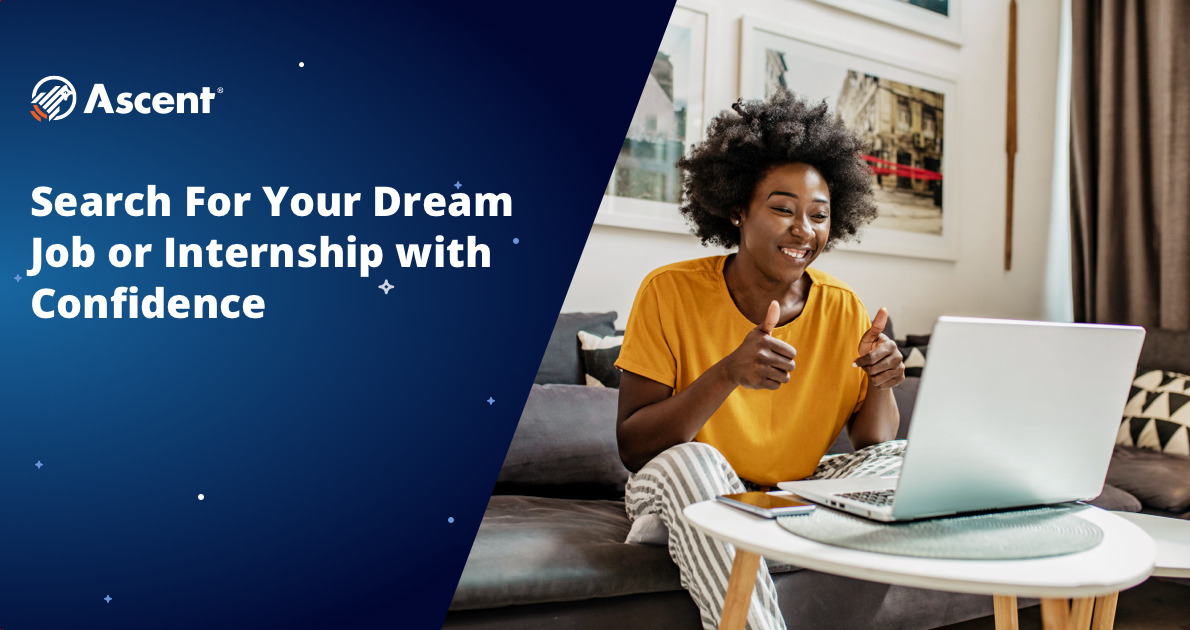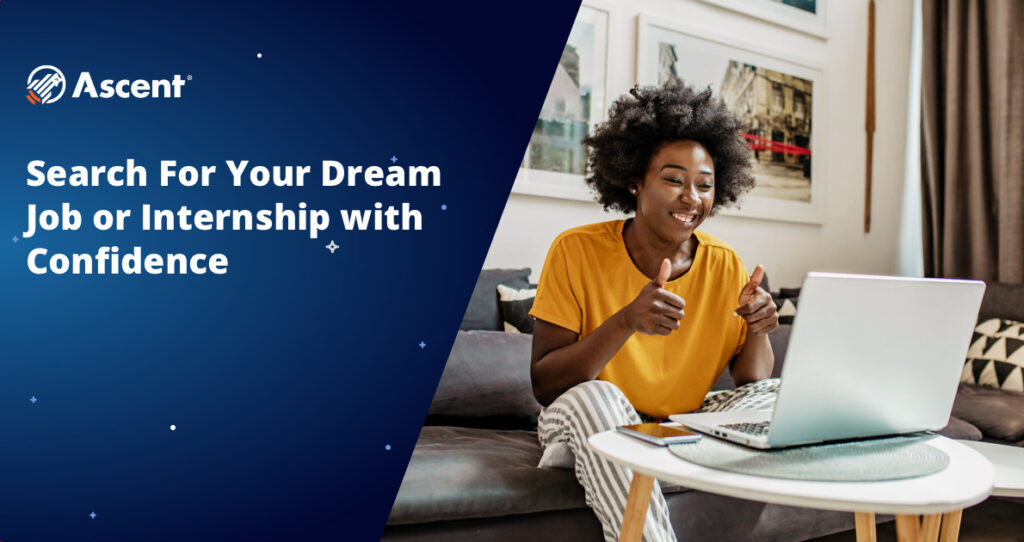 At Ascent, we provide free resources to help you throughout college, which are intended to be for informational purposes only and may include links to third-party websites (where security and privacy policies may differ from Ascent's). For our full disclaimer, please click here.
Looking for your dream internship can be challenging in today's online environment. With the increasing demand and popularity of different internship programs, exploring a mix of strategies is the best way to position yourself before you apply.  
Here are eight tips on how you can find your dream internship:
Tip #1: Identify Your Passions and Interests 
Before diving straight into your internship search, it's worth spending some time identifying and discovering your interests. You shouldn't get an internship just for the sake of "experience"- it is important to choose an internship that best aligns with your passions and interests to propel you forward toward your professional goals. A few questions you can ask yourself during this step include:
What kind of skills/experiences am I looking for in an internship?

What are the values that I would like to see in a company? 

What are my strengths

, and how can I use that to provide value to the company?
By taking some time to answer these questions, it will be easier to get a clearer picture of who you are, your interests, and how you can use your passions and interests during your search for an internship.
Tip #2: Apply ASAP – The Earlier, The Better
As the saying goes, "The early bird gets the worm."
This is especially true when looking for internships. Many companies start posting internship positions months before the actual start date, so begin your search as early as possible. Here's our suggested timeline when looking for internships:  
Summer internship: November of the previous year through February

Fall internship: June through early August
Keep in mind the number of other students who are also looking for internships. According to The Balance, "It is a good idea to apply for internships early, as much as six months prior to their start date." At the same time, some companies have limits on the number of applications for a certain position, so it is always better to apply early rather than missing out on the opportunity altogether. 
Tip #3: Use LinkedIn to Connect
As social media continues to play a big role in your professional life, you can also use this as an advantage in finding an internship. LinkedIn is a social media platform that can help you network in college and connect with employers who post jobs for companies. LinkedIn allows you to create a professional social presence to stand out in the job market.  
On LinkedIn, you can showcase your accomplishments such as the courses you have taken, previous work experiences, past volunteer opportunities, awards, and accolades, as well as your involvement in a campus organization. By listing your current position and including at least five relevant skills, according to kinsta.com, "doing so increases the chance that your profile will be discovered and someone will message you by more than 31 times what you would get if you didn't." At the same time, you're also able to connect and develop professional relationships with a specific company, hiring manager or recruiter.
Tip #4: Make It Specific with Keywords! 
Websites such as internships.com, Indeed, LinkedIn, and Zip Recruiter can all be useful tools to virtually start your internship search. To help you maximize your chances of getting reached out to by an employer, job-hunt.org advises all job seekers to use specific keywords and have consistent personal branding across all of their social platforms.
In the same article, job-hunt.org said, "Most [recruiting] software is not programmed to make assumptions." This means, when listing your marketable skills and experiences, make sure to include exact keyword matches.
For example, if a job description requires you to have experience in "Microsoft Word," make sure to include the words "Microsoft Word" in your profile. By having these exact word matches, recruiting software is more likely to find your account, which increases your chances of getting contacted by an employer.
Tip #5: Explore a Career Fair 
Just as many students are actively looking for internships, companies are also actively looking for prospective interns. Colleges often organize virtual or in-person career fairs to connect with future interns and employees.  
If you decide to attend either a virtual or in-person career fair, here are some ways to make the most out of your first impression with employers:
Dress professionally. 

Prepare extra copies of your resume and cover letter so you never run out.

Introduce yourself, and actively engage in a conversation to stand out from other students.

Ask questions and take notes about the company from the recruiter.

Connect with the recruiter on LinkedIn if possible.
Ask for the employer's contact information and connect via email after the event. Keep in mind that first impressions matter, so make sure to present yourself in the best way possible. 
Tip #6: Reach Out to Fellow Alumni 
One of the benefits of attending college is the network of alumni willing to help out a fellow student attending that same school. When you are looking for an internship in a specific industry, you might be able to find alumni that could help you "open up some doors," as some may say.  
Why reach out to alumni? They are likely to help you answer any questions or even offer advice on getting into the career field you're interested in. Also, if you find a company that you're interested in on LinkedIn which has an employee who is an alumni, you can message them on LinkedIn and ask them about any future job opportunities. To help you get started, here are a few tips on how to successfully connect with alumni: 
Visit your college's alumni center. 

Search for alumni that are currently working in your desired field of interest.

Obtain the alumni's contact information (preferably email or LinkedIn). 

Send a short introductory message acknowledging that you are a current student interested in learning more about what they do in that specific industry.
When you are sending this email, make sure you include something that tells the alumni you are currently attending the same college. This can be a mascot greeting as an opening line of your email or a catchy subject line that emphasizes that you are of the same alma mater. 
Tip #7: Make an Appointment with Your Campus' Career Center  
Most schools and universities have a dedicated resource center to provide students with opportunities to explore career opportunities. Some of these centers are also filled with career counselors that can help you find your interests and a career path that is suitable for you.
Tip #8: Reach Out to Employers Directly 
Last but not least, if you want to land an internship at a specific company, it is best to reach out to them directly. Some things that you can do to reach out to these employers are:
Check the official website for a career page.

Connect with a campus recruiter through LinkedIn.

Share your resume and cover letter with the company's hiring manager.
Many campus recruiters tend to be very active on LinkedIn and other social networking platforms. By introducing yourself and sharing your relevant experiences and skills, you might land an opportunity for an interview. Remember to be straightforward and sincere about what you are looking to pursue.