Your 2020 Guide to Voting in College: Tips for Students and First-Time Voters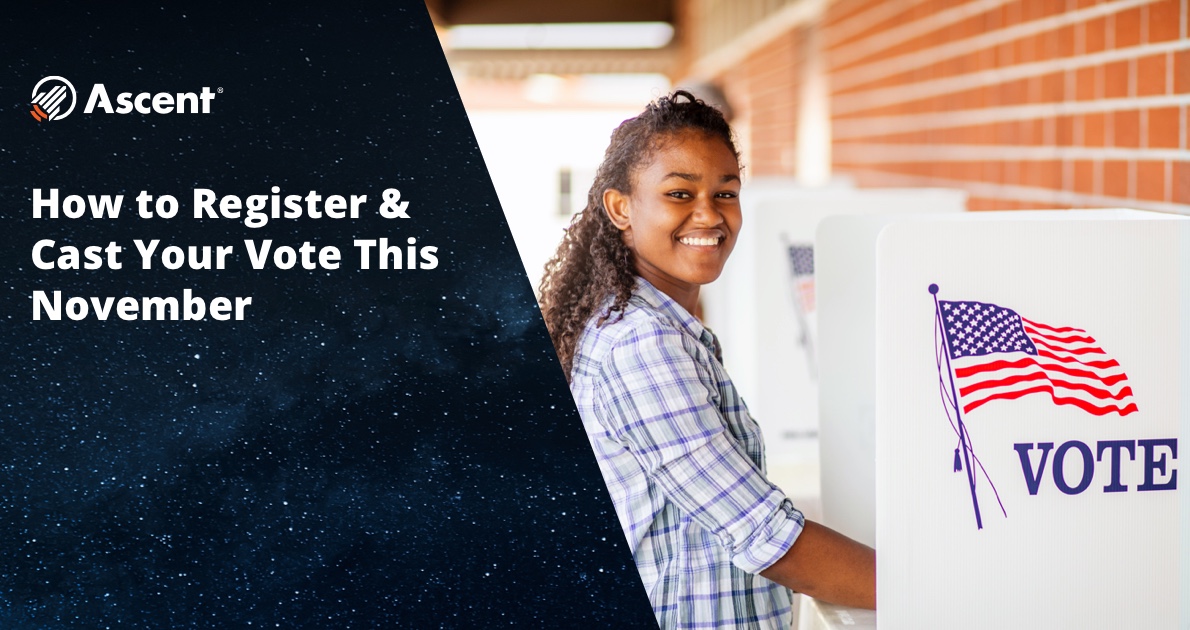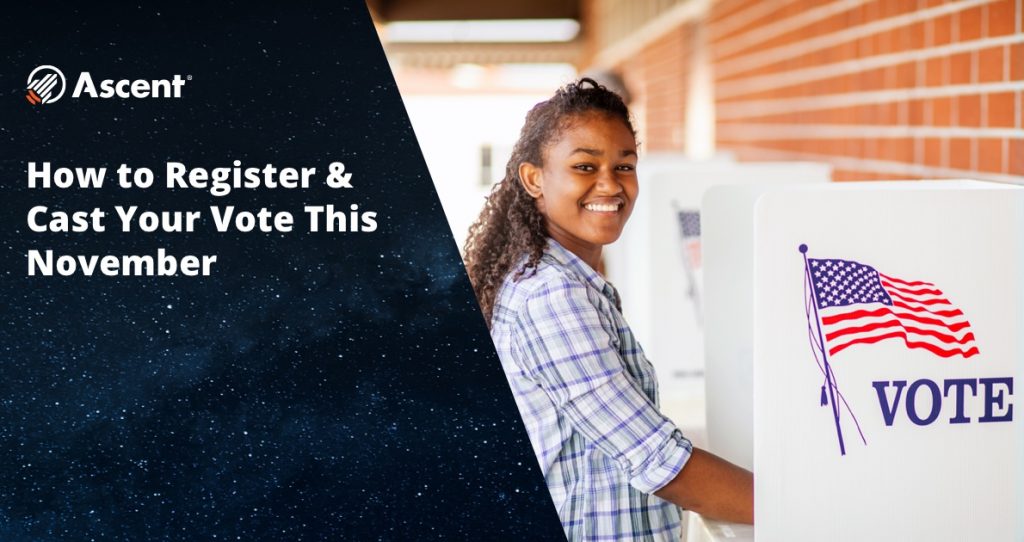 Being a college student means you're constantly busy. Whether it's figuring out where to live, which classes to take, or where to buy your books, it seems like there's always something else to do. It's understandable if juggling all of these personal responsibilities as a college student might make it feel like voting in college is at the bottom of your list.
If it's your first time voting in college or if you've recently moved out-of-state for school, here's a guide to help smooth out the process and ensure you're ready to cast your vote (whether in person or by mail) before or on Election Day (and, more importantly, get your "I voted" sticker) on November 3rd.
Why does my vote matter?
While the phrase "every vote counts" may sound cliché, the reality is–it's true. Young voters –ages 18 to 29 – today make up around 21% of the eligible voting population. Despite being the second-largest group of voters, historically young voices don't show up or speak up as loudly. According to a Harvard poll last year, 43% of 18-29 year olds said they were likely to vote, but the actual turnout in Super Tuesday states ranged from 5% to 19%. Why is that? Not only is voting for the first time complicated, but a few of these other factors also stand in the way for students:
Want to ensure your voice will be heard this Election Day? Here's our guide to getting started and ensuring you're well-informed when it comes time to fill out your ballot.
How do I find out where and when to vote?
This year, our National Election Day falls on Tuesday, November 3rd. This is a massively consequential day for the presidential election, but don't forget there are many state and local issues to vote on as well in your local primary elections. When and where you can vote on these issues depends on where you live, which can be confusing (don't worry, we'll cover that in another section).
Not sure if you're registered to vote? HeadCount enables you to verify your registration status in any state. Due to the Coronavirus (COVID-19), there have been ongoing developments about election guidelines and polling places, so be sure to check Head Count's polling place locator for any updates as Election Day gets closer. Also, if you're not registered to vote, HeadCount makes it easy for first-time voters to register.
How do I vote by mail? What is an absentee ballot?
Absentee voting (aka "mail-in voting" or "by-mail voting") is the process of voting by mail, instead of in-person. This voting method allows you to receive a ballot in the mail to cast your vote at home, then simply put it in an envelope or sleeve that's provided, and then into a separate mailing envelope. For your vote to count, don't forget to sign the outside of the envelope (this proves you marked the ballot and no one else!) before returning it through the mail or dropping it off.
Not only can it be convenient to vote at home, but you might also find you have more time to research specific propositions or candidates before making a final decision. Some studies even suggest that voter turnout increases with mail-in voting, given the unfortunate reality that financial constraints may sometimes stand in the way of voters making it to their local polling place on time.
Normally, you would need to request to receive an absentee ballot, but due to COVID-19, most states are organizing to offer automatic mail-in voting. Not sure where your state stands? Check here.
My school is in a different state from where I grew up. Where do I vote?
This can be tricky to navigate, but the most important thing to remember is that you have the right to vote wherever you consider "home." You'll have to check with your home state or the state you attend school for more information on specific registration requirements. If you want to vote in your home state's election while in school, you'll need to get an absentee ballot. The process for requesting an absentee ballot often differs depending on the state, so check here to see your state's status and requirements on voting by mail.
What can I do to encourage other students to vote?
Want to do what you can to make Election Day a big deal with your roommates, classmates, and peers? Here's a few ways to get more people involved:
Volunteer! There are so many ways to support the cause right now, both in-person and online. You can lend your time to Campus Vote Project or get in touch with your local campaign office to find out how you can help by doing things such as making phone calls or distributing signs.
Host a (virtual) Election Day party. What's the perfect way to remind people in your circle to register to vote? An early invite to your Election Day Zoom party! Catch up and discuss the issues you're passionate about over some chips and dip – just don't forget your laptop.
Start a campus student vote club. Working with your student government, Student Activities Office, and even fraternities or sororities to help create more buzz around voting in college. Collaborate to make the process more fun and sociable (even if it's in front of a computer). Tip: You can even add the club you created on your resume and LinkedIn!
Talk about it. Whether you bring it up in your campus club, on social media, or through texting a friend, take the initiative to start the conversation around voting in college. The more we all help others to understand the process, the less complicated it becomes for first-time voters.
Abby Kiesa, director of impact at CIRCLE, a research organization at Tufts University, says it best when she states that, "young people really do have the ability to create change." Since young voters have the power to shape how our elections shift, we're all about motivating students to show up for their state (and country) by exercising their right to vote.
Want to earn money for having an active voice in your community? Ascent is giving away a $1,000 scholarship to students who are making an impact and supporting the social causes that motivate them. Enter for a chance to win by visiting AscentStudentLoans.com/SocialCauseScholarship.
Ascent Written, Native Advertising Disclosure
Ascent Funding, LLC ("Ascent") sponsors these blog posts and creates informational content that is of interest to prospective borrowers and our applicants. The information included in this blog post could include technical or other inaccuracies or typographical errors. It is solely your responsibility to evaluate the accuracy, completeness and usefulness of all opinions, advice, services, merchandise and other information provided herein. ASCENT IS NOT RESPONSIBLE FOR, AND EXPRESSLY DISCLAIMS ALL LIABILITY FOR, DAMAGES OF ANY KIND ARISING OUT OF USE, REFERENCE TO, OR RELIANCE ON ANY INFORMATION CONTAINED WITHIN THESE BLOG POSTS (INCLUDING THIRD-PARTY SITES). ASCENT OFFERS LINKS TO THIRD PARTY WEBSITES AND ARTICLES SOLELY FOR INFORMATIONAL PURPOSES. WHEN YOU CLICK ON THESE LINKS YOU WILL LEAVE THE ASCENT WEBSITE AND WILL BE REDIRECTED TO ANOTHER SITE. THESE SITES ARE NOT UNDER THE DIRECTION OR CONTROL OF ASCENT. WE ARE NOT AN AGENT FOR THESE THIRD PARTIES NOR DO WE ENDORSE OR GUARANTEE THEIR PRODUCTS OR THEIR WEBSITE CONTENT. ASCENT MAKES NO REPRESENTATIONS REGARDING THE SUITABILITY OR ACCURACY OF THE CONTENT IN SUCH SITES AND WE ARE NOT RESPONSIBLE FOR ANY OF THE CONTENT OF LINKED THIRD-PARTY WEBSITES.