How to Pay for Graduate School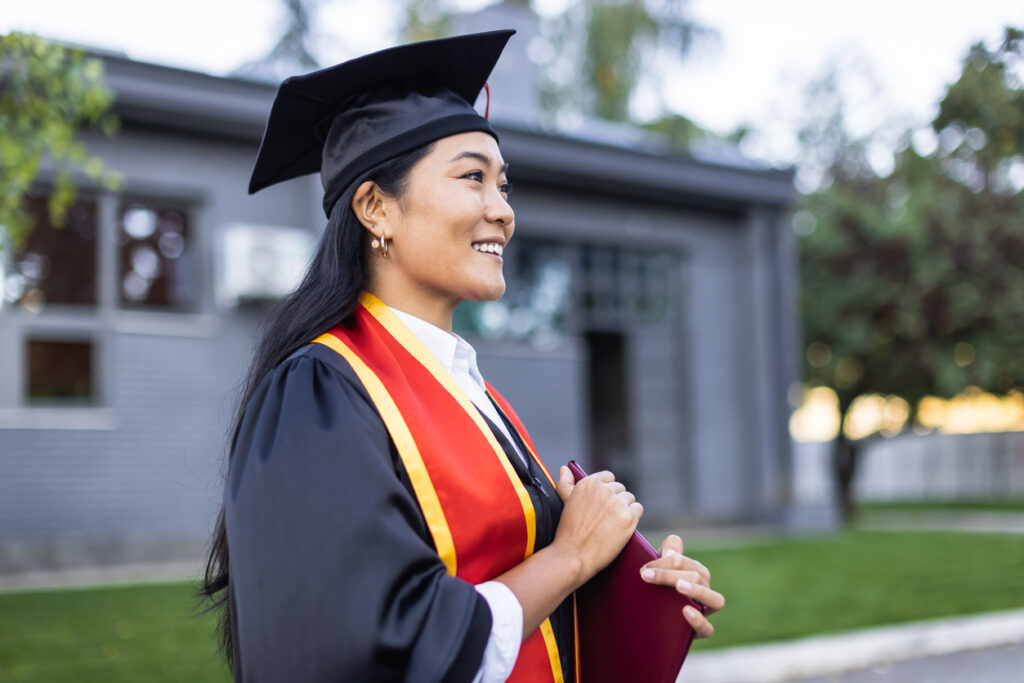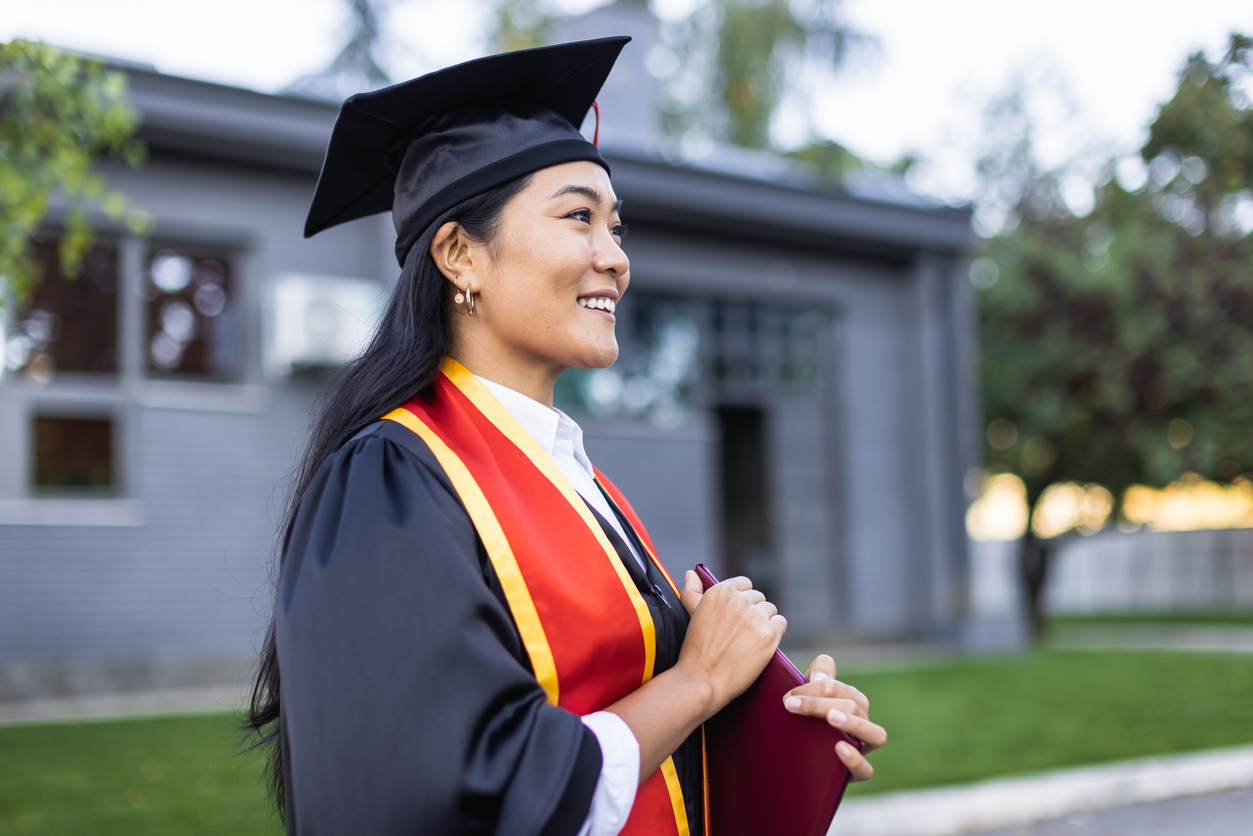 You did it! After four solid years of hard work and more coffee than you ever thought possible, you graduated with an undergraduate degree. Getting into the grad school of your choice is an excellent bonus achievement, too. But as you look over the details of your grad school acceptance letter, you might wonder how to pay for grad school. 
When paying for grad school, you have so many options available, and it can be intimidating to get started. In this blog, we'll help you build a budget, secure the aid you need, and explore other financial options that can fill the gap in your expenses.
1. Build a Budget
Figuring out how to pay for grad school can be stressful. At times it might seem like an impossible dream. But, like most impossible tasks, student loans for grad school start to feel possible when you lay out all the details. That's why we suggest starting by building a budget to see what your grad school expenses look like
In this budget, you'll factor in everything you'll need for graduate school, like books, living expenses, and the cost of tuition. Then, do a financial wellness check and list your monthly expenses, including any subscriptions you might have or other bills. Your budget will provide an overview of your current spending habits and help you find what to cut. 
Building a budget can also help you see how often you use your debit or credit card. If you find yourself shopping at the same stores each month, look to see if your bank offers rewards programs. Some can give cash back or bonus points toward your next bill. The small steps you take now can help you as you go to grad school and start to manage your money smarter.
Now that you have a budget, let's explore financial aid.
2. Apply for the FAFSA
Hopefully, your budget gives you a better idea of your expenses. It can help you understand your options to pay for grad school.
If you haven't already completed the Free Application for Federal Student Aid (FAFSA®), we recommend taking the time to submit yours soon after the October 1st release. The FAFSA is a government form that helps determine your eligibility for federal aid like grants, scholarships, federal loans, and other programs like work-study. You'll need your federal tax forms handy to complete your FAFSA application. Check out our FAFSA 101 guide for more details.
Unlike completing the FAFSA as an undergraduate student, graduate and professional students will apply for grad school financial aid as independent students, so you won't need to worry about having your parent's federal tax info available.
The Federal Student Aid website offers a comprehensive "Graduate School Preparation Checklist" with more information on how and when to apply for the FAFSA.
Once you receive your Student Aid Report, you'll be able to see which federal aid you're eligible for to apply to pay for grad school. If you find you have enough to cover the cost of attendance and maybe your books, be sure to include that in your budget. 
3. Consider a Work-Study Program
One of the federal programs you may qualify for, based on your Student Aid Report after completing the FAFSA, is Federal Work-Study. Federal Work-Study provides undergraduate and graduate students with part-time jobs based on financial needs. This means you could work for your university, a non-profit organization, or a public agency while in school and be paid at least minimum wage, depending on the job.
Remember that all federal aid, including work-study, is offered on a first-come, first-served basis, so be sure to complete the FAFSA as soon as possible. 
4. Explore Part-Time Jobs & Internships
If work-study isn't an option for you, you can still look for a part-time job or an internship to help you earn money while going to grad school.
When finding a part-time job, check your school's website. There's usually a hub of on-campus jobs for students to choose from, especially if you plan on living on campus and don't have access to a car or other transportation. On-campus jobs probably come and go quickly, so if you can't find a job nearby, explore Indeed or LinkedIn for other opportunities.
Internships can be a great way to build a network and meet people with the jobs you ultimately want after graduation. For tips on finding your dream internship, check out our 9-step internship checklist.
If accepting a 9-month or 12-month internship is too long of a commitment or requires you to travel off-campus, look into micro-internships as a possible alternative. Most micro-internships are virtual and shorter in length, usually between 5-40 hours of work. You'll get the chance to work for real companies on short-term projects, giving you the ultimate resume boost. You can take on a micro-internship while working another part-time job or internship to provide you with even more flexibility with your cash throughout the school year.
Whether you apply for a part-time job, internship, or micro-internship, make sure you don't overwhelm yourself with too many obligations – or prioritize your job over your classwork. Remember, you're attending grad school for a reason.
5. Check Out Private Scholarships & Fellowships
Beyond the FAFSA, companies offer scholarship opportunities all year long. They can be a great way to cover your extra costs to pay for grad school.
Scholarships are a great way to earn money in school while not stressing about having to pay them back since scholarships are free money you win. Some scholarship giveaways require an essay, while others, like Ascent's scholarships, don't require an essay. To help you get started, check out our top tips for applying for private scholarships.
On the other hand, students can apply for fellowships in a specific academic program, project, or research. You could be required to assist in teaching or get an internship in the field you want to work in after graduate school. Depending on your focus, fellowships are merit-based scholarships offered to grad students for advanced academic study.
Now that we've covered most ways to pay for grad school, we'll dive into alternative options, including employee programs and private student loans.
6. Ask Your Employer for Help
If you're currently working, your employer may offer a tuition reimbursement benefit to employees. Some employers value education and want to help their employees pay for college/grad school if they can. While there is no guarantee that your employer will help, it doesn't hurt to check out any programs they may have. 
7. Look into Private Student Loans
Private student loans are the best option for graduate students who may not qualify for need-based assistance but still need financial support to pay for grad school. Ascent provides graduate student loans for students in nursing and pharmacy, medical school programs, law programs, dental school programs, MBA programs, and other Master's and PhD programs.
Do your research and ensure you'll be able to borrow what you need for school while considering the other financial opportunities we mentioned. Depending on your situation, you may apply for a private student loan with a cosigner or go solo. Applying with an eligible cosigner may help you qualify for lower interest rates. Applying for a student loan without a cosigner can help you build credit in your name. Be sure to weigh the pros and cons of each one before applying.
8. Open a Savings Account
Last but not least – If you have some time to save before grad school, you may consider opening a savings account and start to set aside some money. You can use this to cover tuition and books or as an emergency fund if unexpected expenses arise. It's never too late to start a savings account, especially if you plan on working while going to school.
Look at some other budget tips to see if they can help you save a little.