Exploring Your Options: 4 Ways to Choose Between A College Dorm or Living Off-Campus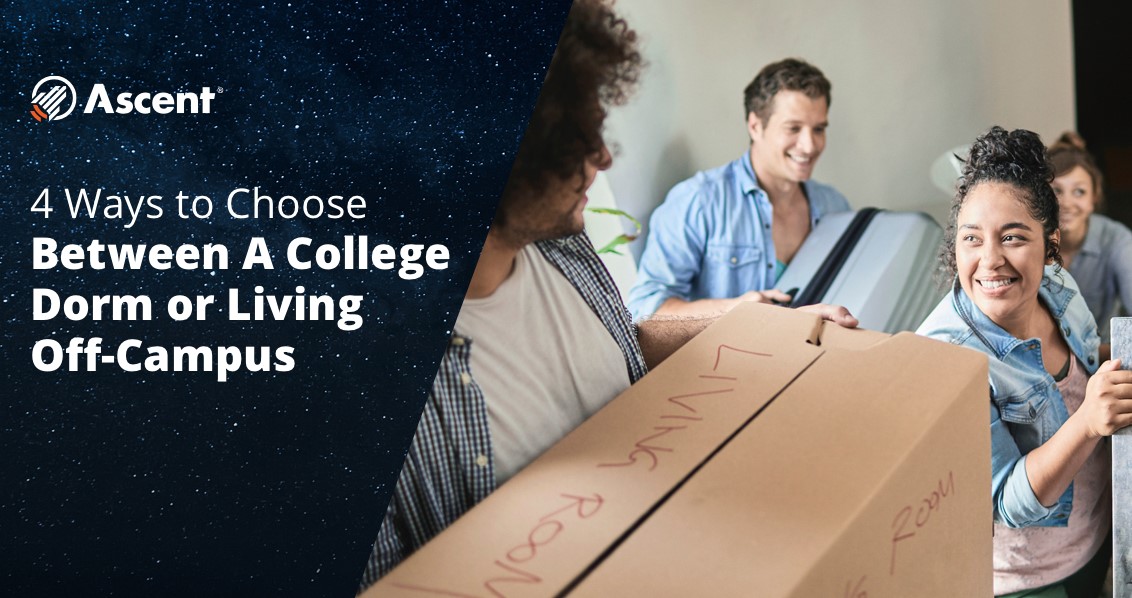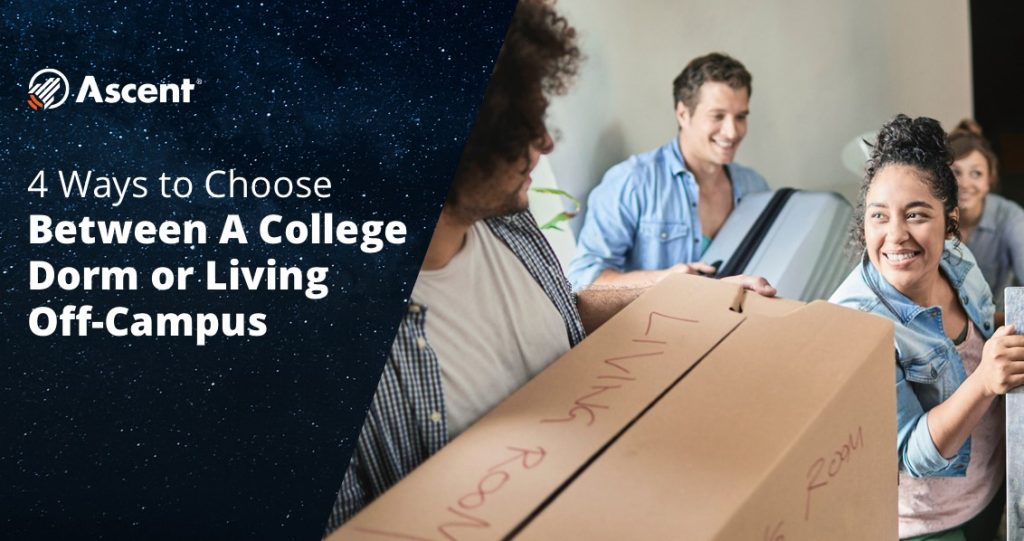 At Ascent, we provide free resources to help you throughout college, which are intended to be for informational purposes only and may include links to third-party websites (where security and privacy policies may differ from Ascent's). For our full disclaimer, please click here.
Heading to college marks the beginning of a new journey. It's often the first time students move out of their longtime family home and live on their own. This big shift gives students an increased sense of freedom, but it also comes with a set of unfamiliar challenges. Don't sweat it, we've put together four quick things to consider when choosing your future home away from home.
Location is Everything
Depending on the on-campus housing availability and housing opportunities near your college, there may be a variety of housing options available to you as a student. While some students can save cash and live at home with family, others will need to explore on-campus dorms or off-campus apartments. Just keep in mind your own habits before making a final decision. If you're someone who studies late in the library, make sure there's a safe, brightly lit path to get home. If you're someone who wakes up for class 5 minutes before it starts, consider living somewhere closer to campus. If you eat your meals on the go, consider living near a coffee stand or small convenience store so you always have a backup plan.
Making New Friends and Memories Along the Way
Living in an on-campus dorm is an easy way to meet classmates and take advantage of free events at your school. Most college dorms have Residential Advisors, or RAs, who serve to make dorm life a fun, bearable experience for all students (This may even mean a built-in therapist who will listen to you complain about your roommate). Some RAs even plan events for students who want to explore the local area without breaking the bank.
The single greatest thing about living in a dorm? Not having to worry about any amenities or furniture. It's the best option for students who want to "ease into" their newfound independence. Not to mention, that the movie nights, group activities, and icebreakers make for lasting college memories. If you're the new kid on the block, want an easy way to meet new people and get to know the ins and outs of your new school, living in an on-campus dorm might be for you.
The Good and the Bad
Chances are you'll be sharing a room — or a bunk — in an on-campus dorm, so privacy will probably be minimal. Depending on your roommates, the school culture, and your RA, this could mean an environment where finding a quiet time to study or catch up on last-minute assignments can be difficult. Among other things, you will be subject to dorm rules, like curfews and noise limits. This could make it difficult to practice an instrument, watch late-night movies, or enjoy your favorite midnight snacks. If you don't mind sharing your space and prefer to study in the library, on-campus dorm living may be a great option for you.
For those who want more privacy and independence, renting an off-campus apartment can be a dream come true. In an apartment, you can pick your roommates, or even move into a studio all by yourself. You may even find a room in a standalone house that can offer you more space and freedom. If you're someone that needs your own private zone, an apartment can offer truly independent living.
Understanding Your Budget
Though apartments offer potentially more freedom than dorms, the costs of living off-campus can quickly add up. Even if you find a great deal on rent, you'll have utilities, furniture, and food to pay for, which can often all be covered in a dorm. You might also need to consider any additional expenses like internet, cable, parking passes, gas, train/trolley cards, the list goes on. But don't be fooled, on-campus dorms are notorious for tacking on additional expenses some students don't need and will never use.
The reality is, on-campus and off-campus living come with increased responsibilities. On top of your studies, you now have bills to pay and groceries to buy — this is where your money management skills are put to the test. Just keep in mind your monthly budget and the must-have expenses you need to be a successful student throughout the academic year.
Where you choose to live can shape your college experience. It's important to live in an environment that facilitates your goals as a student while building friendships and networking opportunities that last beyond the books. Just remember to:
Find the best location for you and your study habits
Consider the social scene and community where you will be living
Weigh the pros and cons of an on-campus dorm versus living off-campus
Build a budget that includes the expenses you need to survive
For more personal finance tips and videos for students, check out AscentFunding.com/college-loans/for-students.