Notice a Funding Gap in Your Student Loans? Here's What NOT to Do When Trying to Close It 💸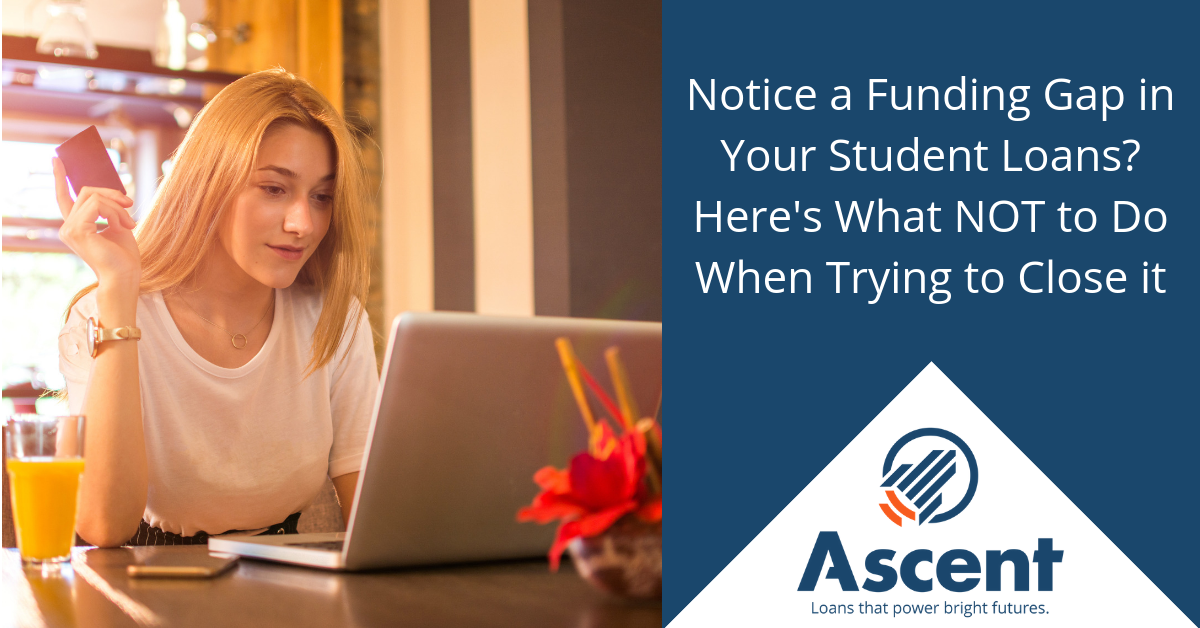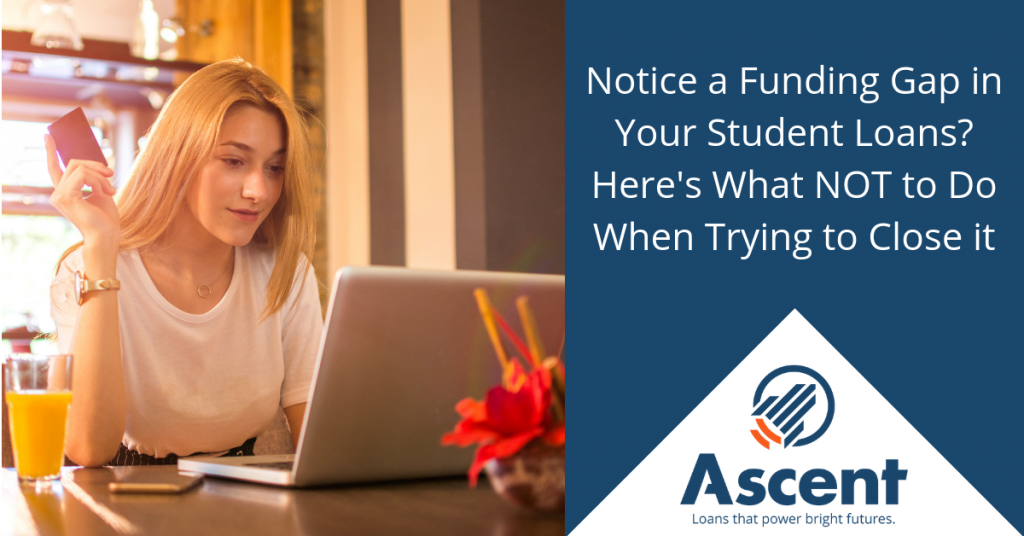 So, you've put your best foot forward when applying to your dream school and have been accepted. You've followed the tenets of financial literacy, applied for financial aid and saved up all you can for tuition costs. You may have taken on some subsidized federal student loans. But what if despite all of this, there is still a gap between the money funding you have and the funding you need?
This post will first look at what you should NOT do to try to close this gap. Then we'll suggest a couple of better solutions.
#1 Don't Take on Credit Card Debt
Credit card debt is typically high-interest bad debt that should be avoided unless absolutely necessary. While credit cards are a great financial tool when you pay them off every month—because they can help you build credit and earn rewards points—carrying a balance on them can come back to bite you.
Even if you have a card that is interest-free for a year, if you forget about this temporary promotion and carry a balance at the end of the interest-free year, you may be charged retroactively for all of the interest you've accrued over the last year. This can really sting!
Stick to low-interest loans when you need them and only use credit card debt as a last resort.
#2 Don't Overwork Yourself
While many students need to hold a job while in college and can balance work/student life just fine, overworking yourself can backfire. Spending all of your mental energy at the workplace can leave you drained when it comes time to enter the classroom, which can affect how you progress on your educational path.
If you need to work while in school, try to find a job that still gives you ample energy to study and progress academically. After all, your long-term earning potential will likely increase once you've earned your degree.
Similarly, you may need to adjust your class schedule to fit the demands of your work life. Evening and weekend courses are an option, as long as you give yourself some time to unwind. Do what you need to do to thrive but beware of burnout.
#3 Don't Give Up!
It may be discouraging to have come so far with your education, yet still be met with a funding gap. This is understandable. What is important is to realize that there are options out there for you to reach your educational goals, despite these challenges.
You may find it helpful to take a step back and look at your long-term goals. Where do you see yourself in five years? A funding gap doesn't have to get in the way of your educational dreams.
Instead of feeling resigned, look for solutions. Now that you know what NOT to do, let's look at some potential options:
What You Can Do
Bridging your funding gap doesn't have to be done alone. Your first step should be to contact the financial aid office at your school and let them know about your situation. They may be able to point you toward other sources of funding such as grants or scholarships.
Another option is to appeal your FAFSA award letter. If your life circumstances have changed since you first submitted it, you may be eligible for more funding. Keep in mind you'll likely need to submit additional documentation if this is the case.
Though it highly depends on your family and social network, some students are turning to crowdfund sites to bridge their student loan gaps. You may have friends and family that are willing to chip in to get you the money you need. While students are rarely advised to take this route, some have found success with it.
Finally, you can use private student loans to cover the gap left by your federal loans and other forms of financial aid. If you do not have someone to be your student loan cosigner, it may be helpful to learn how to get a student loan without a cosigner. Private loans from Ascent can also be used to pay for eligible living expenses.
Ascent Has You Covered
Whether you're looking for up-to-date information about the latest and greatest college finance tips, or if you need some assistance in covering your funding gap, Ascent is dedicated to helping students reach their education goals. Be sure to check back on our blog section to stay up to date with the best student loan information.
On behalf of everyone at Ascent, may you bridge the gaps that stand between you and your educational future!
Read More Tips
Ascent is committed to providing resources for those looking to embark on their college journey, as well as those that are already enrolled. From test prep tips to financial education, we are determined to provide students with the tools they need for success. To stay in touch with the latest in college tips and tricks, be sure to check back on our blog often!
Ascent Student Loans sponsors these blog posts and creates informational content that is of interest to prospective borrowers and our applicants.