7 Secrets to Getting Straight A's in College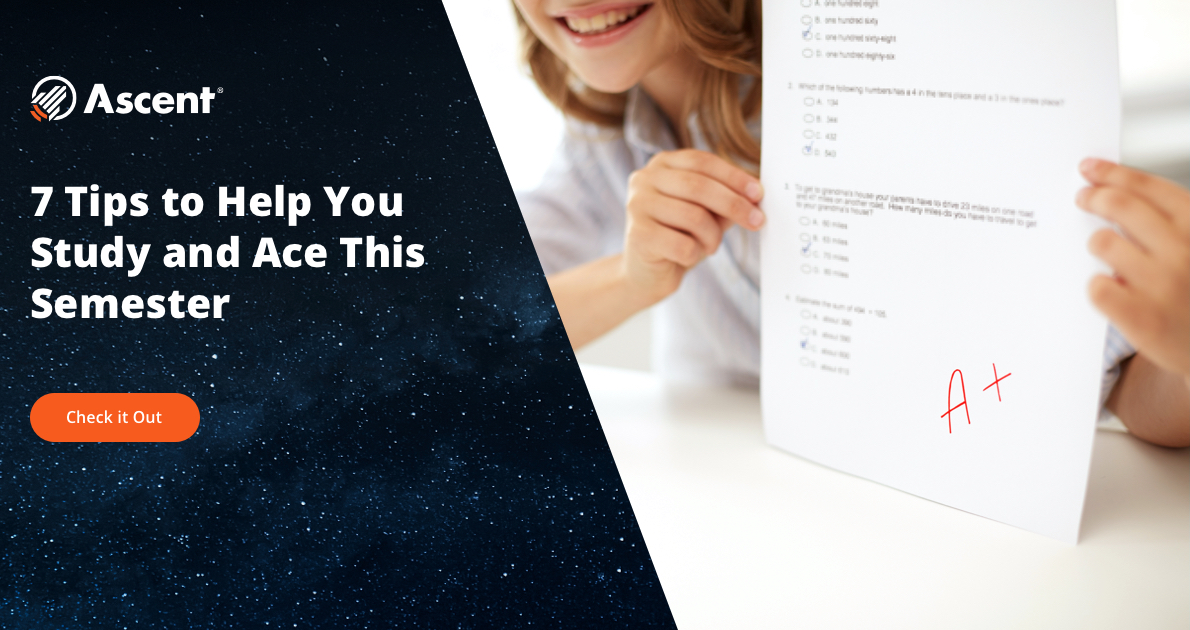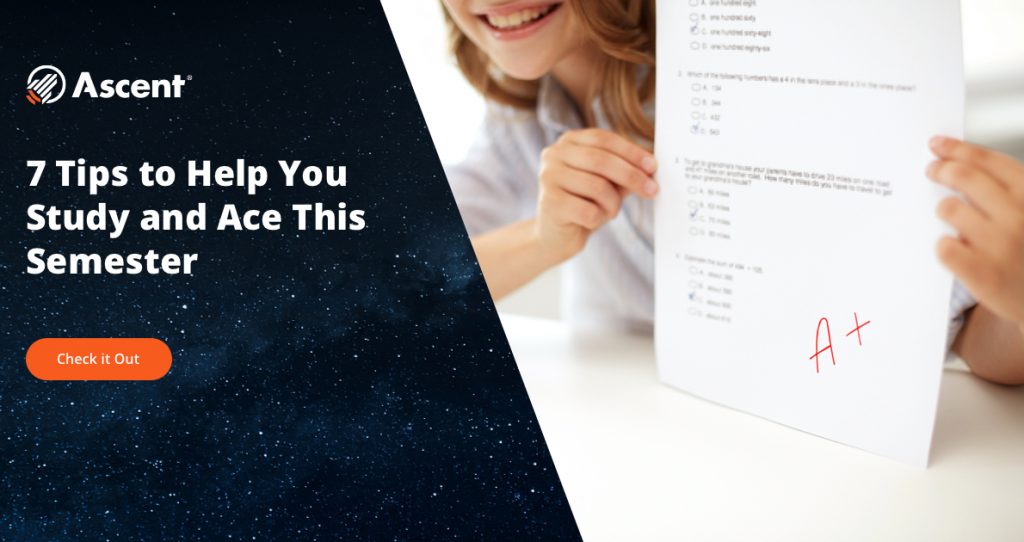 I'll be honest — it took me quite some to figure out how to effectively study for my college classes. It required a lot of self-motivation, discipline, and a few tears before I finally aced a semester and earned a 4.0 GPA for a semester of college.
To save you some time (and tears), here are 7 tips to help you study and put you on the path to straight A's next semester.
1. Pursue Your Passion
First things first, ask yourself: Is this the field that interests me the most? If you're studying for classes that you have no interest in, studying can perhaps feel long and pointless. However, when you're learning about something that you're passionate about, studying can actually become fun. Take the time to reflect on your passions and choose a major that suits your interests.
Pro Tip: Ascent's Bright Future's Engine empowers you to find the school and major that offers you the best return on your college investment.
2. Organize Your Class Schedule to Best Suit You
Are you more of an early bird or a night owl? Would you prefer to take back-to-back classes every day or have breaks in-between? Do you learn better during 50-minute classes three times a week or 2-hour lectures once a week? These are questions you need to ask yourself to recognize your learning preferences.
Personally, I enjoy waking up early, having breaks between classes, and 2-hour lectures once a week.  I don't mind having 8 AM classes and having my days stretched a little longer. However, if you are someone who wakes up later in the day, then having an 8 AM class might not be the best option. You may show up to class tired and sleepy (or not even at all) rather than awake and ready to learn.
Everyone is different, so build your ideal schedule according to your preferences and needs.
Pro Tip: If your schedule allows it, try to get Fridays off, so you have an extra day to focus on studying. Getting more work done during the week will give you more time to rest during the weekend.
3. Visit Your Professors' Office Hours
I used to avoid professor's office hours for so many reasons. I was nervous to talk to them and I was afraid of looking dumb; I didn't want them to assume I wasn't listening during class.
It wasn't until my sophomore year when I had the confidence to overcome those nervous feelings to boost my 70% grade in Business Calculus. After visiting my professor one time, I understood the material and even got advice to study for class more effectively. For the rest of the semester, I visited my professor at least once a week. I ended up with an A on my final and an overall grade of 89%! In the following semester, I visited all of my professors' office hours and ended the semester with an A in every class.
You can meet with your professor either online or in-person. I understand that visiting your professor can seem nerve-wracking and scary. Still, it is a valuable resource that many students don't use.
Letters of Recommendation from Professors: You will most likely need letters of recommendation for future internships, scholarships/grants, grad school, and jobs. Past professors can be a great resource for that, but only if they know you and your work. Attending office hours can help build that close relationship.
Beginner Tip: Visiting the Teacher's Assistant (TA) is a great way to build initial confidence. It can also be helpful to visit the TA if they are the ones grading your papers, lab reports, etc. Doing this will help you understand what is expected of you and how you're being graded.
Pro Tip: You can also attend office hours to double-check your grades. A professor accidentally gave me an F on a project instead of an A. Remember, they're human too and capable of making mistakes. Even if you don't need help with the material, you can go in to make sure you're getting the grades you deserve.
4. Buy a Planner
The first thing I do when I get a class syllabus is to write down all the critical dates in a planner. You can use either a paper planner or a digital planner, such as Google Calendar. Personally, I prefer a paper planner but the best option is whichever you'll actually use to remember important dates.
Pros of a Paper Planner:
Pros of a Digital Planner:
You can set reminders to help you remember important dates.
It's quick, easy, and portable.
Once you have all the due dates for assignments and exams in your planner, add other parts of your schedule such as work, internships, sports, club meetings, gym, etc. Doing this will help you remember when things are due and where you need to be. It can also help give you a better visualization of when you'll have time to study.
5. Build an Effective Study Schedule
Take a good look at your planner. Where do you have some extra time to study?
Be specific (and disciplined) with your study schedule by writing down which class you're studying, how long you plan to study, and what work you want to get done. I found I am more productive when I follow the Be reasonable, split your work into sections, and give yourself breaks. Below is an example of what my daily study schedule would look like:
Business Writing 10 AM – 11 AM: Draft 2 out of 6 pages of Assignment 1
Business Statistics 12 PM – 1:30 PM: Complete Practice Problems 1-12
Sustainability 2:00 PM – 3:00 PM: Review Chapters 1-3 and Take Quiz
Remember, studying isn't looking at your phone with your textbooks open in front of you (although I'm guilty of that sometimes too). Studying is trying your best to understand and retain course material. Review your notes, re-watch lecture videos when needed, complete practice problems, and create flashcards—whatever works best for you. Building a study schedule will help you break your workload into chunks and avoid last-minute cramming.
6. Understand How You Are Graded
The grading rubrics and exam study guides that your professor gives you will be your best friend. Understanding what is expected of you and how you are being graded will ensure that you can focus your efforts on getting as many points as possible. Pay special attention to formatting and content! Sometimes professors give you an exam study guide. This guide may help you understand exactly what will be on the exam.
Pro Tip: If your professor tells you how many questions will be on the exam, figure out how much time you'll have for each question to help you pace yourself. Also, some professors may include questions on topics that were part of the reading materials but not specifically covered in class.
 7. Set Yourself Up for Success the Day Before an Exam
Exams are definitely stressful.  However, if you've followed all the tips above, you hopefully shouldn't feel too overwhelmed beforehand with last-minute cramming and studying. Have all the materials you need for your exam—pen, pencil, laptop, scantron, etc. Make sure to get at least 8 hours of sleep the night before your test. A good night's sleep improves your memory! On the day of your exam, try not to have more than your usual intake (no more than two shots of espresso for me!). Eat a balanced breakfast so you can focus on your exam instead of your grumbling stomach. Lastly, make sure you turn off your phone—many professors will not hesitate on giving a student a score of zero on an exam, simply because their phone rang.
Be confident, relax, and believe in yourself. You got this!
Bonus Secrets to Getting Straight A's in College
Find a distraction-free area where you can focus on the material.
Connect with study buddies and form study groups.
Reward yourself when you complete assignments.
Don't skip class!
Avoid procrastination.
Balance your time, workload, and other priorities.
While getting straight A's is a great feeling, I don't recommend becoming obsessed with it. The college experience is vast and enriching, and you don't want to miss out by only focusing on your grades–trust me, it's not worth it. But if straight A's is something you're striving for, then following these 7 tips will help to build the skills needed to achieve that.
Read our blog to learn more about how Ascent is here to help you on your college journey.
Ascent Written, Native Advertising Disclosure
Ascent Funding, LLC ("Ascent") sponsors these blog posts and creates informational content that is of interest to prospective borrowers and our applicants. The information included in this blog post could include technical or other inaccuracies or typographical errors. It is solely your responsibility to evaluate the accuracy, completeness and usefulness of all opinions, advice, services, merchandise and other information provided herein. ASCENT IS NOT RESPONSIBLE FOR, AND EXPRESSLY DISCLAIMS ALL LIABILITY FOR, DAMAGES OF ANY KIND ARISING OUT OF USE, REFERENCE TO, OR RELIANCE ON ANY INFORMATION CONTAINED WITHIN THESE BLOG POSTS (INCLUDING THIRD-PARTY SITES). ASCENT OFFERS LINKS TO THIRD PARTY WEBSITES AND ARTICLES SOLELY FOR INFORMATIONAL PURPOSES. WHEN YOU CLICK ON THESE LINKS YOU WILL LEAVE THE ASCENT WEBSITE AND WILL BE REDIRECTED TO ANOTHER SITE. THESE SITES ARE NOT UNDER THE DIRECTION OR CONTROL OF ASCENT. WE ARE NOT AN AGENT FOR THESE THIRD PARTIES NOR DO WE ENDORSE OR GUARANTEE THEIR PRODUCTS OR THEIR WEBSITE CONTENT. ASCENT MAKES NO REPRESENTATIONS REGARDING THE SUITABILITY OR ACCURACY OF THE CONTENT IN SUCH SITES AND WE ARE NOT RESPONSIBLE FOR ANY OF THE CONTENT OF LINKED THIRD-PARTY WEBSITES.