5 Summer Activities to Strengthen Your Resume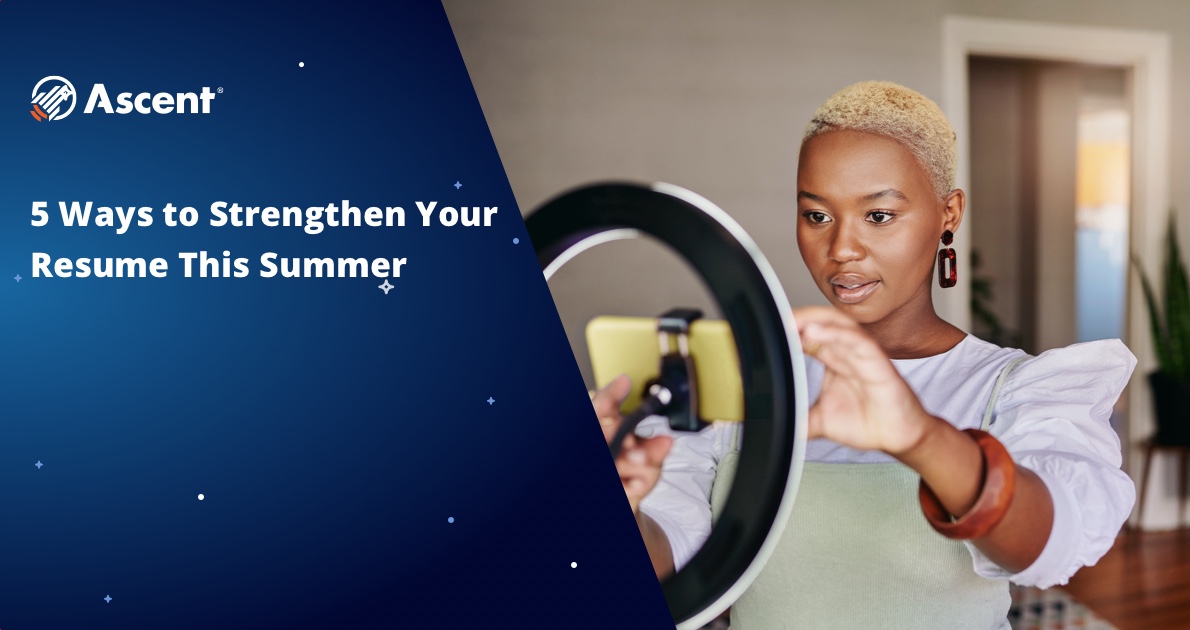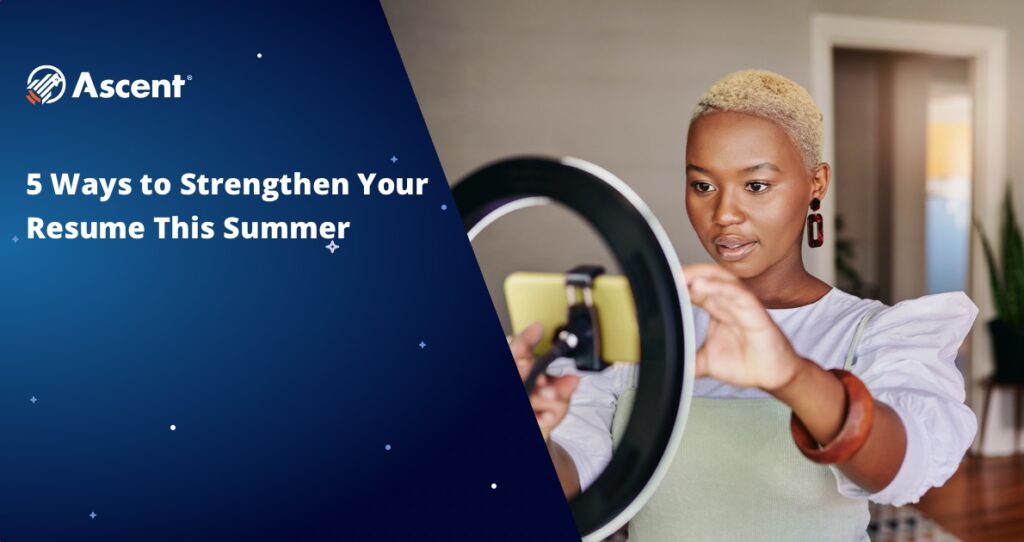 At Ascent, we provide free resources to help you throughout college, which are intended to be for informational purposes only and may include links to third-party websites (where security and privacy policies may differ from Ascent's). For our full disclaimer, please click here.
Summer is finally here! After all the hard work you put in this past year, you deserve some time to relax and wind down from school.
For me, I enjoyed a few days of relaxation before I was ready to jump into my next adventure. I like to use the summer break as a way to try out new things that I might be interested in.
If you're like me and looking for something to do this summer that's both fun and may help you gain experience and help you get your dream job, here are five summer activities to strengthen your resume.
Volunteering is one of the best ways to show your dedication to the local community. Lending a hand can also be a great way for you to network with people in your community, learn a new skill, or contribute to a cause that you're passionate about.  
According to Grow Ensemble, a Content Marketing Agency for Social Enterprises, volunteering can also help prepare you to enter a new industry or inspire a new business idea.
If you don't know where to start looking for volunteer opportunities, you're not alone! Looking for non-profit organizations in your community can be a great way for you to gain volunteer experience. In addition, places such as your local food banks, animal shelters, hospitals, homeless shelters, etc., may offer volunteering opportunities that you can take part in.  
You may also use websites such as Volunteermatch.org to browse different opportunities offered in your local area.  
Activity #2 – Getting a Certification
Another way you can become productive over the summer is to hone in on your skills and interests! Through training platforms such as LinkedIn Learning and Udemy, you have access to courses like coding, marketing, and even project management. Some of these courses may also lead to a certification that you could highlight on your resume.
Some of the free certifications that you can get include:
Whether you finish a course on a Saturday afternoon or take a few weeks to study the material, each skill you gain will be a great addition to your resume. 
Activity #3 – Starting a Side Hustle
Are you the type of person who likes challenges and creating things from the ground up? Then this activity may be perfect for you. Starting a side hustle is not just a good way for you to make some money this summer, but it's also a great way for you to be creative, share your passion with others, and expand your network.  
According to a survey by Bankrate, roughly 40% of 22-38 year-olds use a talent or skill that is in demand to make money on the side as an additional source of income. Finding a good side hustle that you enjoy can be a bit overwhelming, so here are some suggestions:
Set up an Etsy shop or online business

Start a YouTube channel creating content that you're passionate about

Tutor other students online

Code and create websites for small businesses
Activity #4 – Entering Contests and Competitions
If you have a particular skill or passion for something, don't be afraid to showcase it to the world. There are tons of award opportunities and giveaways you can enter this summer if you enjoy a good competition. 
Some contests and competitions that you can participate in include:
Competitions are a great way for you and your skills to stand out among your peers. Even if you don't win,  it's a great opportunity to share your experience on your resume. This summer, don't miss out on Ascent's 50 Days Summer Scholarship Giveaway on Instagram – it's so easy to enter! 
Activity #5 – Getting a Part-Time Job
If you'd rather go the traditional route of improving your resume, getting a part-time job may be perfect for you. 
According to Fastweb, getting a summer job can help you "successfully get another job." This is because many employers tend to ask about past work experiences during an interview, so having a part-time job can lead you one step closer to finding your dream job.  
If you don't know where to start, exploring websites such as  LinkedIn, Indeed, and Zip Recruiter may be a great place to begin your search. 
While it's important to take steps toward being more productive during your break, don't forget it's still summer. Spend some time with your family and friends and enjoy your break without putting too much pressure on yourself. 
For even more tips on personal finance and student life, check out our blog below: