7 Ways to Volunteer as A College Student During the Holiday Season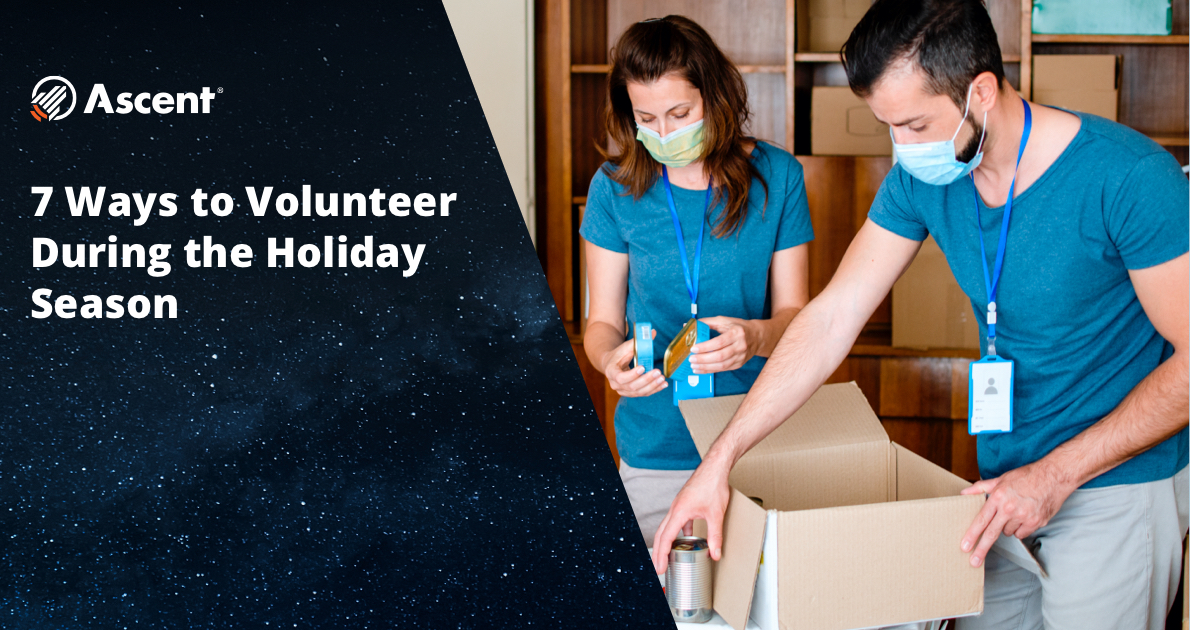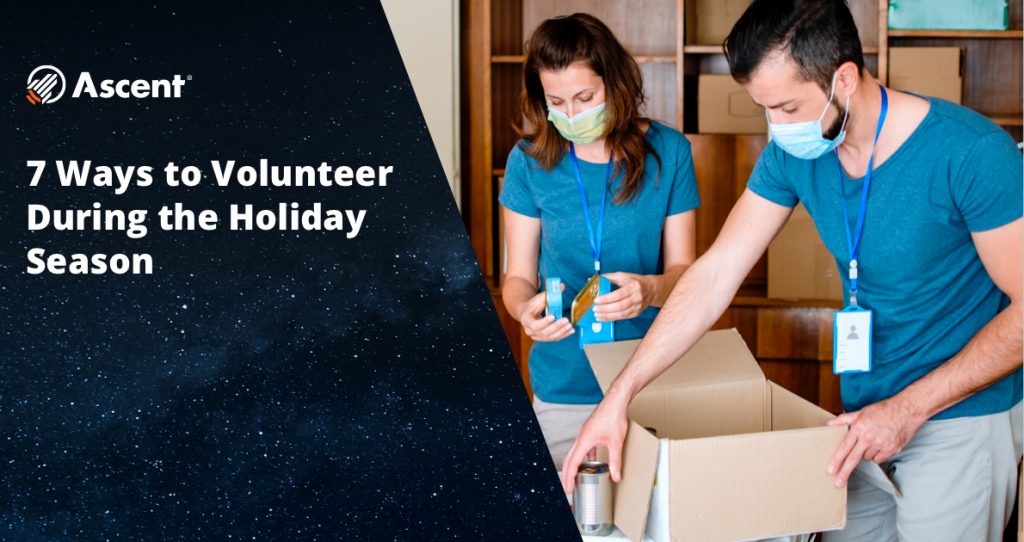 The holiday season is just around the corner – are you searching for a way to give back? Volunteering can be easy and fun if you find the right opportunities.
Volunteering in college is a great way to support your local community while gaining experience (and boosting your resume) in the process. According to a study by the Corporation for National and Community Service, employers are 82% more likely to choose someone with volunteering experience over other candidates.
But, remember, safety first! Before signing up or applying for any volunteer position, be sure to check out their guidelines and best practices during the pandemic. Once you've done your research, here are seven ways you can safely engage with and support your community.
Virtual Volunteering in College
Even though health and safety concerns may impact the volunteering opportunities near you, it shouldn't stop you from giving back. Check out these virtual volunteering options if you're looking to give back from home.
Calling all English majors! Bookshare is an online library of books for people with reading disabilities such as dyslexia, cerebral palsy, or visual impairments, and it has several remote volunteering options.
You can start volunteering in college by adding books to their online library, from the comfort of your home! If you have a scanner and OCR software (which you can download online with a free trial), you can scan books that may not already be available on the website, and help expand the library of books!
Don't have a scanner? You can proofread scanned files from other volunteers and help to format them.
Sign up to be an Academic Coach with UPchieve and with just an internet connection, you can start helping high school students from anywhere. Whether you're sitting at your desk or in bed, this free platform connects low-income high school students in the US with live, volunteer coaches any time they need it. Work directly with students in a virtual classroom to mentor them in math, science, college counseling to help them improve their grades and boost their chances of achieving their goals.
As a virtual coach, you'll be able to customize your availability, so your schedule is what you make it. Just go about your daily life and UPchieve will send you a text when a student needs your help. All you need to sign up is your name, email, and LinkedIn profile – it's that easy!
Show off those bilingual skills by volunteering in college for Translators Without Borders! The program translates medical texts, crisis responses, and other essential documents that others may need help translating. If you don't speak another language, there are other volunteer opportunities such as graphic design, fundraising, and specific projects volunteers can participate in.
In-Person Volunteering in College
While there are countless remote volunteering opportunities that are more than worthwhile, sometimes virtual opportunities just can't replace the real experience of helping your community. If you're looking for a more hands-on volunteering position and feel that you're able to do so safely, here are a few options.
Become a poll worker.
With less than one month to go until the presidential election, poll workers are needed more than ever. According to the U.S. Election Assistance Commission, "most poll workers have traditionally been over the age of 61, making them especially vulnerable to complications if they contract COVID-19." Younger volunteers can do their part by helping out at the polls for the upcoming election to ensure that everyone who wants to vote can actually have the opportunity.
To be eligible for poll worker positions you must be registered to vote, be of minimum voting age in your state, and live in the state or county where you want to serve. Not sure if you're registered to vote? Read through our 2020 Guide to Voting in College for more helpful info!
What would you do as a poll worker? Volunteers help to set up polling locations with equipment and signs, answer general election questions on-site at polling locations, check in voters, and show voters how to use voting machines and/or collect mail-in ballots.
Support your local food bank.
Food pantries and meal-delivery programs provide critical service across the country every day. During times of high unemployment – such as in the current pandemic – local food banks need your help. Find your local food bank with Feeding America and ask how you can help. The current jobs for volunteers include sorting shelves, delivering meals, fundraising, and helping increase awareness.
Whether you carve some time out of your schedule to give blood or sign up to be a volunteer for the American Red Cross, the program's need for help is constant and evolving as they navigate this ongoing health crisis.
The most urgent needs for the Red Cross are volunteers to support blood drives and shelter services. Do a little research and find out what your local chapter is looking for, which might include a few volunteer from home opportunities. The Red Cross also runs a college internship program where interns are involved in critical day-to-day projects for the non-profit organization.
Volunteer at your local homeless shelter or soup kitchen.
While some facilities might not be fully open to the public during COVID-19, it can't hurt to check if your local homeless shelter or soup kitchen is taking onsite volunteers as we head into the holiday season.
Homeless shelters are in constant need of volunteers, especially during the holiday season. Whether it's through meal assistance or, something as simple as lending an ear to someone who may be suffering, there is always plenty of work to do.
Soup kitchens are usually looking for onsite volunteers to help set up and clean up, cook, and provide people a warm atmosphere that allows the homeless to have a Thanksgiving meal they can enjoy.
When volunteering in college, either virtually or in-person, it's always a good idea to support your community, especially now. Gain insightful experiences while directly helping others that need it most and remember everyone can make a positive impact in the world.
Financial Wellness Disclosure
Ascent offers free financial wellness resources to help students and parents make more informed decisions to help pay for college and beyond, but are not meant to be taken as financial advice (use a qualified financial advisor for that). We offer financial wellness resources to provide helpful, accurate resources to students and parents, but it may not apply directly to your individual situation. Before choosing any financial product, read all information, including terms and conditions from the financial service provider.
Ascent Written, Native Advertising Disclosure
Ascent Funding, LLC ("Ascent") sponsors these blog posts and creates informational content that is of interest to prospective borrowers and our applicants. The information included in this blog post could include technical or other inaccuracies or typographical errors. It is solely your responsibility to evaluate the accuracy, completeness and usefulness of all opinions, advice, services, merchandise and other information provided herein. ASCENT IS NOT RESPONSIBLE FOR, AND EXPRESSLY DISCLAIMS ALL LIABILITY FOR, DAMAGES OF ANY KIND ARISING OUT OF USE, REFERENCE TO, OR RELIANCE ON ANY INFORMATION CONTAINED WITHIN THESE BLOG POSTS (INCLUDING THIRD-PARTY SITES). ASCENT OFFERS LINKS TO THIRD PARTY WEBSITES AND ARTICLES SOLELY FOR INFORMATIONAL PURPOSES. WHEN YOU CLICK ON THESE LINKS YOU WILL LEAVE THE ASCENT WEBSITE AND WILL BE REDIRECTED TO ANOTHER SITE. THESE SITES ARE NOT UNDER THE DIRECTION OR CONTROL OF ASCENT. WE ARE NOT AN AGENT FOR THESE THIRD PARTIES NOR DO WE ENDORSE OR GUARANTEE THEIR PRODUCTS OR THEIR WEBSITE CONTENT. ASCENT MAKES NO REPRESENTATIONS REGARDING THE SUITABILITY OR ACCURACY OF THE CONTENT IN SUCH SITES AND WE ARE NOT RESPONSIBLE FOR ANY OF THE CONTENT OF LINKED THIRD-PARTY WEBSITES.