How to Decide Which College is Right for You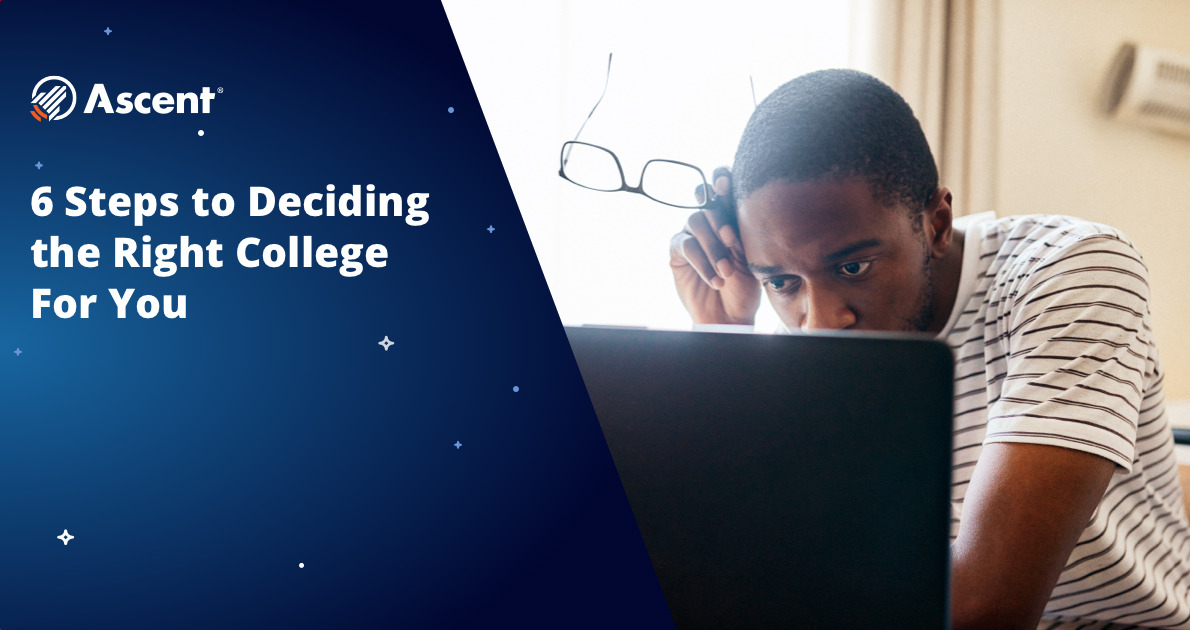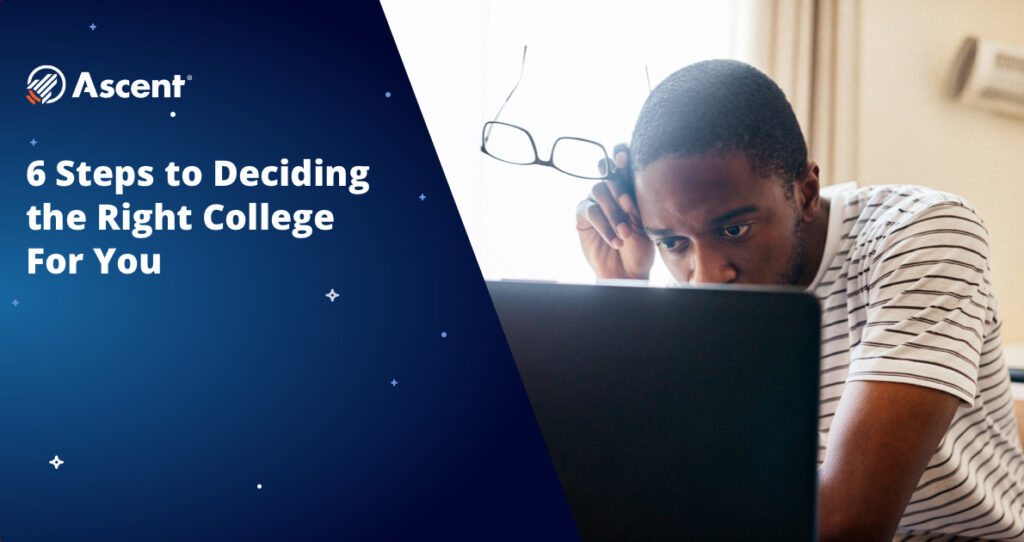 As current and former students, we provide free resources to help you throughout your education, which may include links to third-party websites (where security and privacy policies may differ from Ascent's). For our full disclaimer, please click here.
Congratulations! You're ready to make a big decision about the next chapter in your life – choosing which college or university to attend. Comparing different options for college can be very exciting… and overwhelming sometimes too. We've got some tips to help you decide which college is right for you. 
Step #1: Lay Out All of Your Options 
Getting your first acceptance letter or email is an exciting experience not just for you, but for your family too. As soon as those acceptance letters from different colleges start piling up, the thought of having to choose just one to spend the next four years can be nerve-wracking.
The first thing you should do is to organize all of those letters to help you more easily sort through the different colleges. You can use tools such as Microsoft Excel or Google Sheets to list all of your college acceptances and their respective acceptance deadlines. By sorting your options early, you can eliminate certain colleges as you go through the next steps of determining which college is right for you.
Step #2: Narrow Down Your List of Majors
Before thinking about location and all the fun experiences that college may bring, it is important to remember why you are there in the first place.  Figuring out a major that speaks to you most can give you a better idea of which college is the right fit.  
Whether you're planning on going into business, journalism, or one of the STEM fields, narrowing down your major should be a big factor in choosing where to go to college. You can even look into specific programs that a college offers to determine which school has the best degree in the particular field.  
Here's how you can research these programs: 
Check the major's website and read on their programs and accolades

Look on the news and academic journals if the college's program has been noted for an achievement

Find out what resources the college can offer for your particular major
If you are conflicted about choosing one particular major, don't worry it's happened to all of us.  Check out our blog on the 3 Steps to Help You Decide on a College Major.
Step #3: Think About Location
When picking a college to attend, one of the biggest factors is location. Whether you prefer city living, the beach, or a quieter suburban area, a few questions you may ask yourself are:
Do I want a fast-paced environment or a more relaxed and laid-back lifestyle?

Do I prefer to go somewhere with a lot of sunshine, or do I like the changing weather/seasons? 

How far away from home am I comfortable going?
Another factor about a location that many students tend to forget is the availability of career opportunities. If you're interested in the tech field, you might consider going to a college where that industry is prominent in the area.  As a bonus, there would also be more internships available when you go to an area where your specific industry of interest is prominent. Some of the best tech cities that come to mind are San Francisco and Austin. Once you answer these questions, you may have a better idea of which location might be the best for you. 
Tip #4: How Much Can I Afford?
After narrowing down your preferred location, the next thing you might want to do is to figure out your finances.
Depending on where you choose to go, whether in state or out-of-state,  all of the expenses associated with going away to college can really add up. But with proper planning, you can ensure your decision will help you find a job after you graduate with as little debt as possible.  
Some things you want to consider include:
Enter Ascent's Shining Stars Scholarship
What is the estimated average salary you can expect to make in your first year out of college with your chosen major? 
We believe college is an investment for you and your family. That's why we want to help you evaluate the return on that investment by comparing your future salary by your overall cost of attendance for in-state and out-of-state colleges with our Bright Futures™ Engine.
Ascent also offers flexible undergraduate cosigned student loans and non-cosigned student loans if you're considering taking out private student loans to pay for college.
Tip #5: Consider Campus Culture and X-Factor 
Attending college in a big city can give you a different experience than going to school in a rural town. Some cities may have deep-rooted traditions in sports or holidays, while other places might have more access to different varieties of food and culture.
Some things to consider about the campus culture:
What kind of activities are available to students outside of campus?

Is

Greek life

a big part of student life? 

Is the college commuter-based? Do students typically live on campus or drive to school?

What kind of dining options are available on campus and beyond?

Are there opportunities to volunteer in the local community?

How active is the University with social and political issues?
These are just some factors that give the school its "feel" in terms of student life, but at the end of the day, it ultimately comes down to what you prefer. To find out more information about campus culture, you can always visit the school's website, go on a campus virtual tour, explore college review sites such as Niche, or talk to a current student to see from their perspective what the university has to offer.
Tip #6: Trust Your Gut 
Last but not least, college is your decision to make.
After researching which college might be right for you, trust your gut and go with that decision. Your college experience will be what you make out of it. 
Going with your gut feeling after discussing with your parents or friends might be the best way to choose a college or university (your future home away from home). After all, you are the one who will be pursuing your education and dreams over the next four years. 
If you have decided on a college and are stuck between choosing an on-campus dorm or getting an apartment with friends, check out our blog below.