How Much Student Loan Debt is Too Much? 5 Ways to Avoid Overborrowing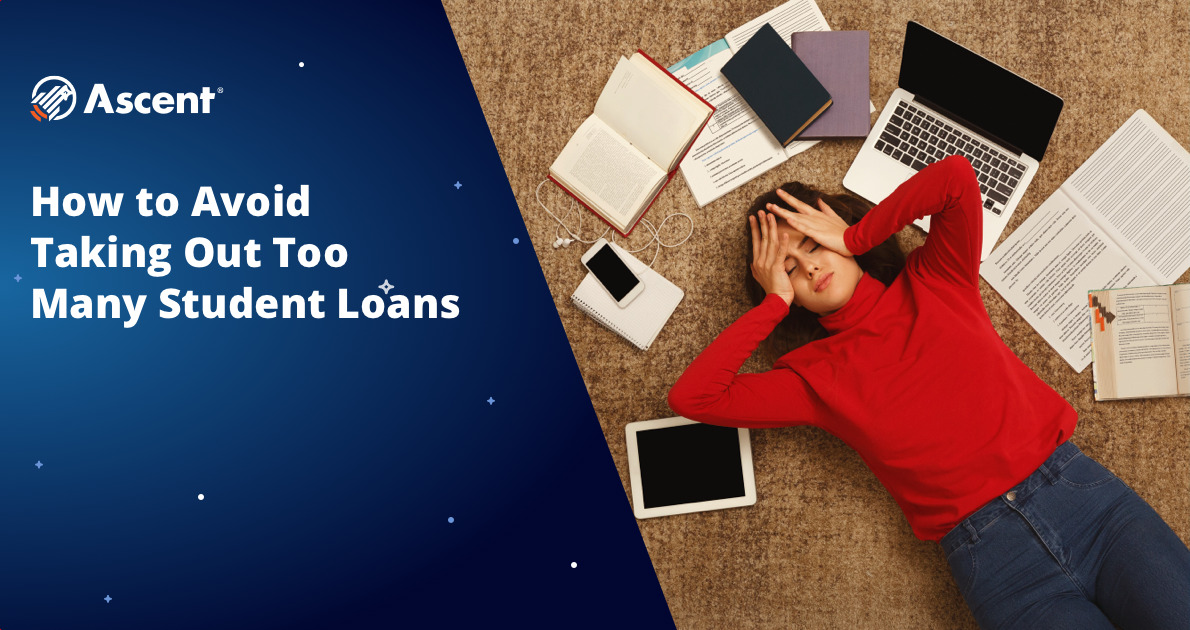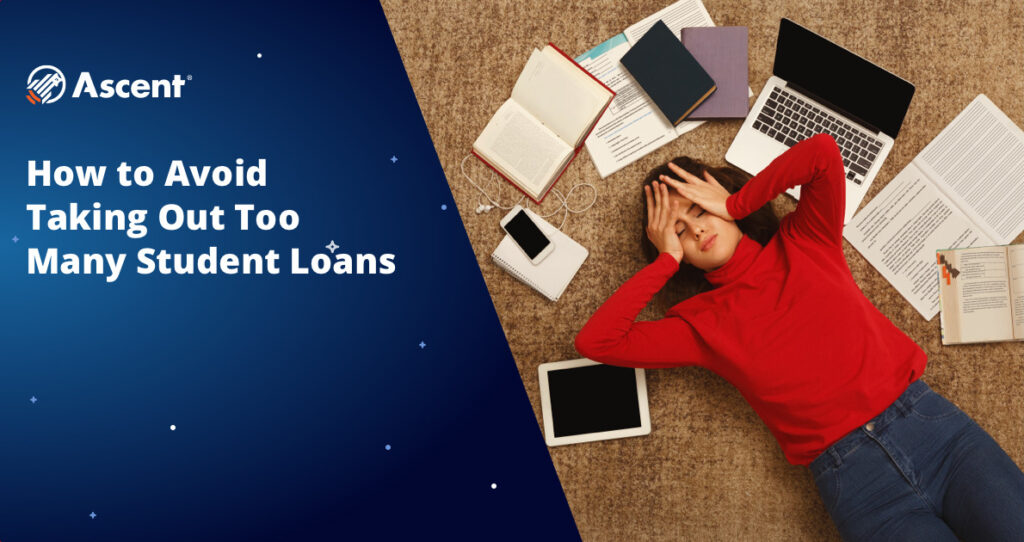 According to a Nerdwallet study, more than half of students who took on student loans to pay for college say they borrowed too much student loan debt compared to the value of their education. 
Now more than ever, it's critical for students and their families to understand the cost of college. By weighing all your options available for financial aid, including scholarships, grants, and student loans, and having a clear understanding of your budget, you and your family can avoid costly overborrowing when choosing student loans.
Below are five college budgeting tips to help you work on your financial wellness and avoid taking out too much in student loans. 
1. Understand Your School and Living Costs
In a 2018 survey, Ascent found that nearly 60% of students are responsible for covering 50% or more of the overall cost of their degree, including paying for living expenses, books, and any other costs not covered by scholarships, grants, family, etc. 
If you are one of the many students responsible for covering the majority of your college expenses, it's understandable that you might feel it's better to be safe than sorry and may consider taking on student loans to fill the gap in your expenses. 
Still, by not building a budget and understanding all your future expenses, you could end up overborrowing student loans.
To help ensure that you borrow the right amount of student loans for college, many schools provide a net cost calculator on their website, which factors in room and board, books, and tuition. In fact, almost every school is required to include a net price calculator on their site to help students and families understand the cost of attending. Keep in mind these calculators don't typically reflect your total cost of living, so there may be other expenses that you'll want to factor in yourself, such as medical, transportation, or other monthly bills.
Spend some time making a list of expenses that your school wouldn't know, but you may need to factor into your budget, like dining out, travel/parking, cell phone, cable, internet, and groceries. 
Be sure to add all these future bills to your school and living expenses budget. This will give you a close estimate of how much money you should budget for school and how much money you may need to borrow if there's a gap in your expenses.
2. Exhaust Other Aid Options First
As we share in our Student Loans 101 guide, there are several options for financial aid besides loans, including college scholarships, grants, and fellowships. Fully exploring these options and applying for as many as possible before you take out a loan can help make sure you aren't overborrowing student loans.
Once you've applied for scholarships, federal student aid, and have exhausted all your other financial options, including what you and your parents can cover out-of-pocket, you can see what you're able to fully cover. If there is still a gap between your expected expenses and your available budget, you may want to consider applying for a private student loan. 
Private student loans are a way to bridge the gap between other forms of financial aid and your true college expenses. If you need help determining which loan amount is right for you, it may be helpful to learn about different loan options and how to get a student loan without a cosigner or with one.
Don't forget that you can reapply for federal student loans by completing the FAFSA® every year. Never stop looking for free and low-cost options to help fund your education. Visit the link below for more FAFSA tips.
3. Beware of Lifestyle Inflation
A CNBC survey shows many students borrow more than they need to cover inflated lifestyle costs. This means they're using student loans for unnecessary purchases beyond their means, such as expensive cars, overpriced clothes, and new phones even when their current ones still work. Sometimes the money is spent on lifestyle expenses, such as meals out or even vacations.
Treating a loan for college – which provides a return on investment – as a means to buy unnecessary items can be a costly mistake and, in some cases, may even violate the terms of the loan.
A few ways to avoid lifestyle inflation, even if that money in the bank is tempting, include:
Avoiding

purchasing a new car with your student loan money;

consider

Mom's handed-down minivan

or a "junker" that will last while you're in school

 

Cooking and hanging out with friends

at

home rather

than out 

Carpooling with a friend or classmate to reduce gas expenses 

Buying only clothes you need and can afford

Using your cell phone until it becomes unusable, then buying a refurbished or last-gen model instead of a new one
To help you decide what's worth spending loan money on and what isn't, check out our tips on how to budget as a student.
4. Know the Risks of Spending Loan Money
When you pay for something with loan money, it costs more than paying with cash would. This is due to the accrued interest that adds up. 
Similar to credit card interest, you will ultimately pay more for anything you buy with a student loan. This is because you pay interest on every penny you borrow for student loans. 
For example, say you spend $15 on pizza each week, or $60 total per month. While that may not look like much, when paid for with student loan money, you're actually paying $60 per month plus interest for that pizza. 
But, you still have to eat. Many private student loans with a cosigner and non-cosigned student loans, including loans from Ascent, assist with eligible living expenses such as housing, textbooks, and school supplies so that you can stay focused on your studies. 
Once you have a good grasp of your college costs and determine which of your purchases are absolutely necessary, you can more accurately determine how much money you may need to borrow. 
5. Plan for Life After Graduation
When evaluating how much college debt is reasonable, make sure you consider how long it may take to find a job after graduation, and how much that job is expected to pay.
In general, an individual's student loan debt needs to be less than their starting salary in order for them to pay off their loans comfortably. Some jobs offer tuition reimbursement or tuition assistance, which may help if you plan to continue your education after becoming employed.
In some cases, it can be challenging to avoid overborrowing when working toward a degree, especially if you plan to pursue a postgraduate degree. Life may take a turn, and you could end up taking on additional debts or being faced with unexpected expenses.
Ascent is here to help you learn what financial wellness is all about, while you are in school and beyond, to help you navigate tough financial situations and pursue your dreams.
FAQs About How to Avoid Overborrowing Student Loans
How much student debt is too much?
According to FastWeb, ideally, your amount of student loan debt should be less than what you expect to earn your first year after graduation, typically your starting salary. If the amount you plan to borrow is equal to or more than your starting salary, it may be more challenging to pay your loans back after leaving school. 
The amount of student loan debt you can afford to take on will depend on your expected expenses, income, budgeting skills, and lifestyle after graduation, as well as any other debts you may have acquired while in school. If you can make even a minimum payment while in school every month, this can help chip away at your total loan amount.
If I took out too much in student loans, can I return some?
Rules about returning overborrowed student loans will vary depending on which lender you choose. 
If you borrowed money from the federal government, you have 120 days to send back any funds you don't need without paying fees or interest. You might be able to return the money later (depending on your lender), but you may be responsible for any interest that accrues on it. 
When it comes to private student loans, requirements vary by lender. If you overborrow and want to repay the extra immediately, you will need to read your loan terms or contact your lender to see if this is possible.
What can I do with the money I overborrowed?
Your loan agreement should tell you how you can (and can't) spend your loan money, even if you took on too much student debt. Some lenders allow you to spend it however you want, while others send the money directly to your school and only allow you to apply it toward school-related costs. 
Still, have questions? Watch this video on overborrowing student loans for more information: