What to Do if You're Having Trouble Finding a Cosigner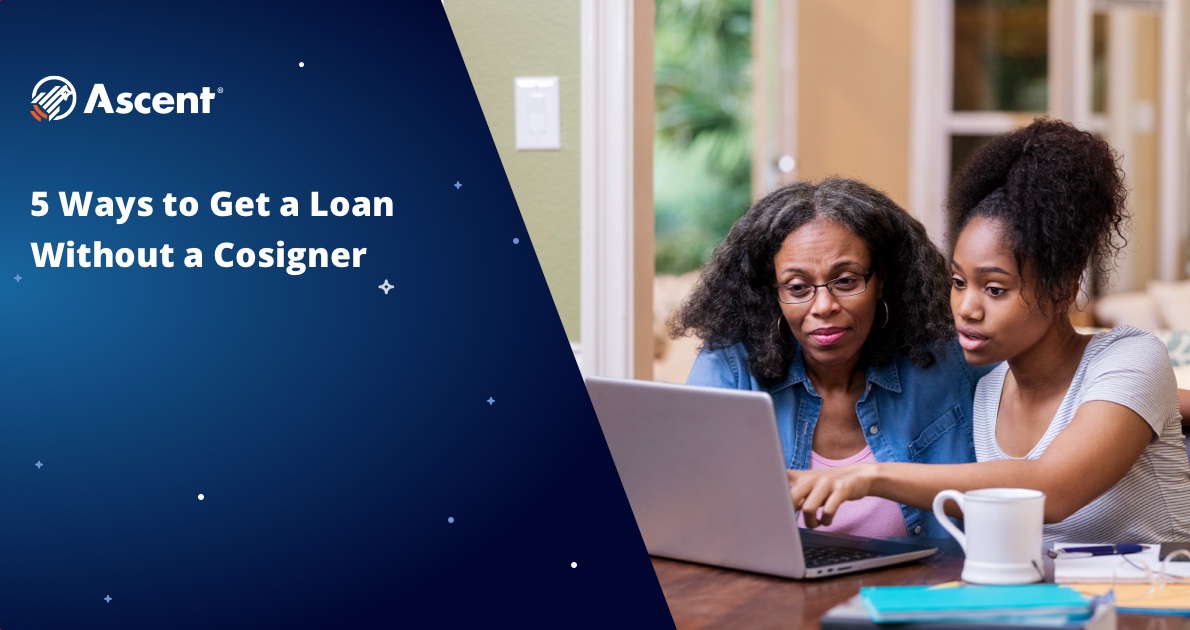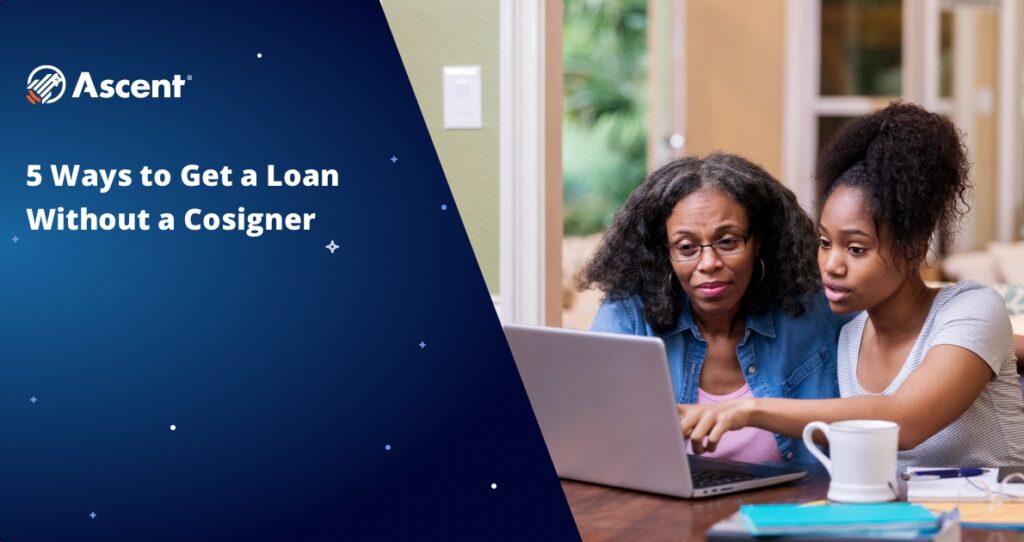 While it's sometimes suggested that having a cosigner may strengthen your student loan application, some students can't find a cosigner to provide support for their student loans.
Do you need a cosigner for student loans? If the answer is yes, but you're struggling to find one, the good news is there may be options for you. Here we'll explore five ways you can get money to pay for school without a cosigner.
What is a cosigner, and why do I need one?
A cosigner shares equal responsibility for your loan. They are liable to make payments to the lender on your behalf if you can't. Because of this, cosigners tend to be people you trust, like family or close friends. 
You may need to find a cosigner if your credit history, income, or other financial factors do not qualify you to receive a student loan on your own, or are impacting your fixed or variable rates. In these situations, applying with a cosigner who has a stronger financial background may help your chances of getting approved for a student loan with a lower interest rate. A lender will typically take your credit history and your cosigners' credit history into account when evaluating your application for a student loan with a cosigner.
Why Finding a Cosigner Can Be a Challenge
Finding a cosigner is not always easy, even if you have a strong network of people who would like to help you pay for college. 
Cosigners need to meet specific credit-related eligibility requirements, including sufficient income. If your prospective cosigner meets the lender's financial requirements, there is still an inherent risk in them taking on this obligation. Even if you make your payments in-full and on-time, your student loan will show up as a line of credit on their credit history, which can impact their short-term financial options. 
In addition to the financial considerations, there are emotional pros and cons to cosigning a student loan. Some potential cosigners may worry about mixing business with friendship or family, or in worst cases, the toll it would take on your relationship if you were to default on your student loan payments.
What should I do if I can't find a cosigner for a student loan?
Let's look at a few options for what to do if you can't find a cosigner.
1. Federal Student Aid
As we cover in Student Loans 101, the FAFSA® should be your starting point when it comes to getting the funding you need, even if you're an international student or DACA recipient.
The Department of Education can create an aid package for nearly any U.S. citizen or permanent resident, potentially including scholarships, grants, and loans. 
In most cases, a cosigner is not required for a federal student loan. Considering the typically low rates and deferred payment options that federal student loans might offer, this can prove to be a great option. 
2. Apply for Scholarships and Grants
Exploring available grants and scholarships is another great option to help you cover your school-related expenses. 
Scholarships and grants are two types of financial aid that you don't have to pay back; essentially free money to help pay for educational costs. Scholarships and grants can come from a variety of sources, including governments, colleges, and private organizations or donors.
Scholarships are often based on specific criteria, such as maintaining a specific GPA or accomplishing a milestone. Grants, on the other hand, are usually need-based, and may be awarded depending on your financial situation. Application requirements will vary by source and school, so be sure to research your options to see which scholarships or grants might be the best fit for you. 
There are many resources available for students looking for scholarship opportunities, including CollegeXpress and Scholly. Ascent also offers scholarship opportunities throughout the year to students 18+, including DACA recipients. 
When in doubt, start with your school's financial aid office to see if they can help point you in the right direction.
3. Expand Your List of Potential Cosigners
Many students turn to their parents for support and may be discouraged if it doesn't work out. Don't give up—friends or other family members who meet eligibility requirements can be good options when applying for private student loans with a cosigner.
If you're wondering where you can find a cosigner, remember: a cosigner should be someone who would be proud to cheer you on at graduation. This list of people might include:
Grandparents and other relatives

Family friends

Mentors

Former teachers or professors (particularly if you're a graduate student)

Members of your college's alumni association
Avoid looking for a cosigner through online databases that connect you with a cosigner for a fee — they can be unreliable and may be illegitimate. 
When you're determining how to get someone to cosign for you, explain to them that you are committed to success in both your education and loan repayment. 
Depending on the loan program, you may also be able to mention that the lender may release your cosigner after certain conditions are met.
4. Figure Out a Way to Borrow Less
It can be tempting to take out a student loan that covers tuition, fees, supplies, and living costs. For some, this may seem like the only option.
If you can't find a cosigner and were denied the loan you originally applied for, consider working with your lender to see if they will let you borrow less than your original amount without adding a cosigner to your application. Making a bigger down payment on your loan may also improve your loan-to-value ratio and make your application more attractive to lenders. 
To determine how much you truly need to borrow, ask yourself a few questions:
Can I attend a

less expensive school

?

If I want a bachelor's degree, can I reduce my costs by attending community college for general education courses first?

Could I arrange my classes so I can

work before or after school

?

Can I attend classes part-time? 

Note:

This may cost less per semester and allow you to have a job, but it will take longer to graduate and may cost more overall. Schools often raise prices yearly.

Could I budget better

? What expenses can I cut out?

Are there ways to reduce my living expenses? (Additional roommates, moving in with relatives, etc.) 

Do I need an undergraduate or graduate degree

to pursue my career path, or could a technical certification or

coding bootcamp

provide the skills and training I need?
Once you've established if you can borrow less, you can always go back to the lender and see if you qualify for a lower loan amount or with better rates.
5. Look Into Non-Cosigned Private Student Loans
There are certain lenders and loan types that don't require a cosigner at all.
However, the rates for non-cosigned loans can depend on a variety of factors, such as your credit, school, program, and GPA. The rates are often—though not always—higher than cosigned loans.
Just like with a cosigned loan, you may be eligible to have up to 100% of your tuition and eligible living expenses covered while you pursue your education.
Ascent's Non-Cosigned Credit-Based and Non-Cosigned Outcomes-Based Loans may provide opportunities for college undergraduate students who couldn't find a cosigner.
Stay the Course
Just because you can't find a cosigner doesn't mean you can't achieve your financial and career goals. Take the time to explore your options, and you'll find there are a variety of paths that might work for you. 
Ascent is invested in your academic success by offering benefits that go beyond a student loan. From student scholarships to financial wellness resources for the whole family, Ascent is here to help every step of the way.
Check your potential rates and terms with Ascent for free, without affecting your credit score.