4 Ways to Get a Loan Without a Cosigner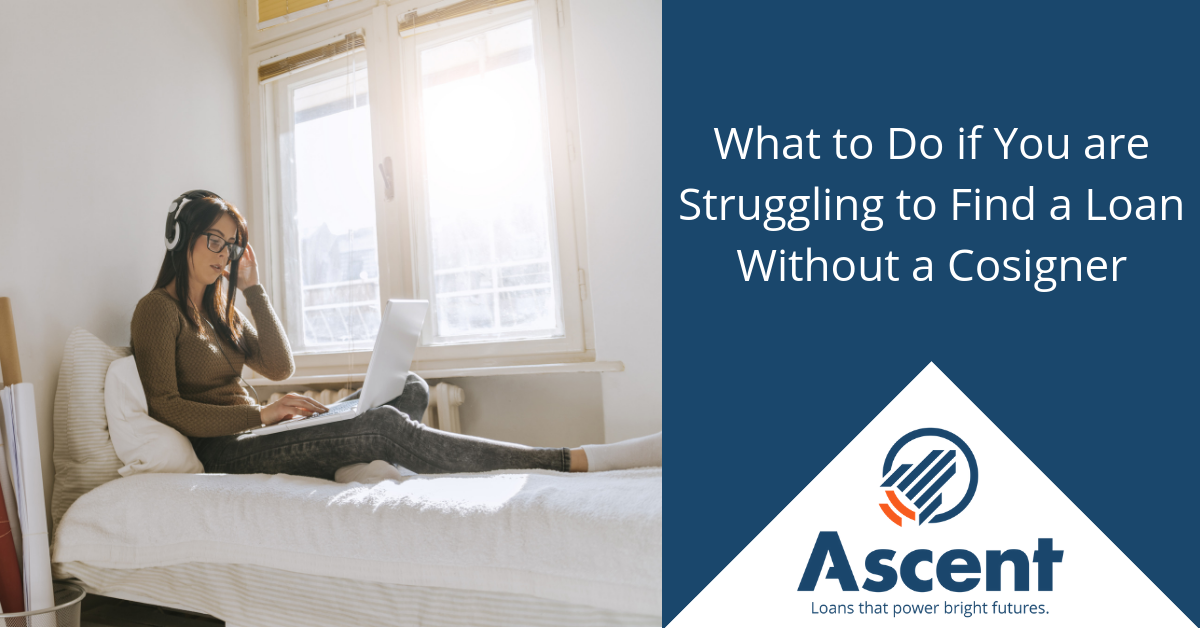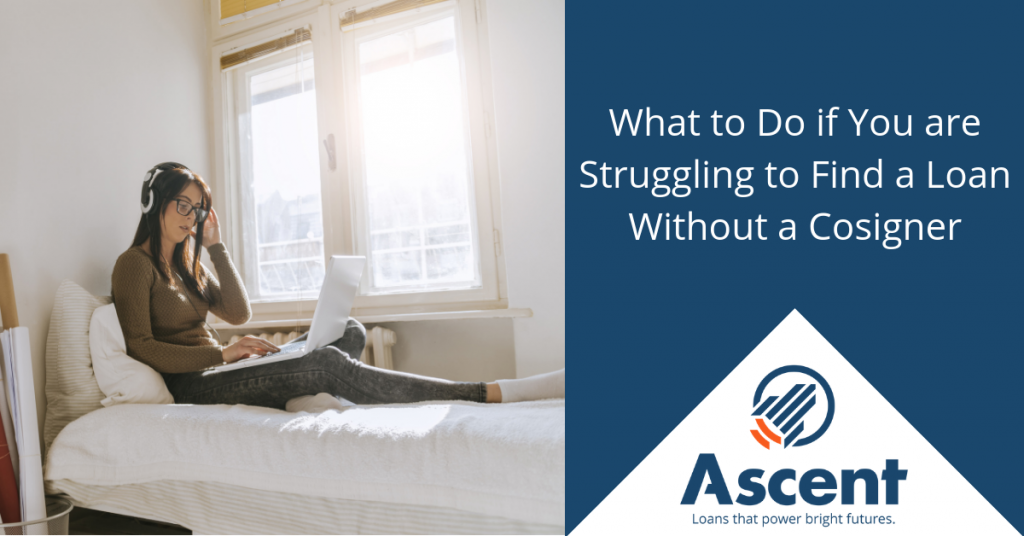 At Ascent, we provide free resources to help you throughout college, which are intended to be for informational purposes only and may include links to third-party websites (where security and privacy policies may differ from Ascent's). For our full disclaimer, please click here.
Stressed that you can't get approved for a loan on your own? While it's sometimes suggested having a cosigner strengthens your application, not everyone has access to a cosigner for support with their student loan funding.
If you're in this situation, the good news is there may be options for you. Here are four ways to get the money you need to pay for school without a cosigner.
What is a Cosigner?
A cosigner is a person assuming a part of the responsibility for your loan. He or she is liable to make payments to the bank on your behalf, in case you aren't able to. Cosigners tend to be people you trust – family, close friends, etc. A cosigner with a strong financial background can help you to secure a loan with better interest rates. Their credit history offsets your history, and a lender will take into account both when deciding to approve a loan.
Remember: If you're able to add a cosigner, take the decision seriously. Failing to make payments on your loan will negatively affect the credit for both you and your cosigner.
Finding a Cosigner Can Be a Challenge
Cosigners need to meet specific credit-related eligibility requirements, including sufficient income levels. In addition, to the credit hurdles, some prospective cosigners may be hesitant to risk their credit for your student loan. International students may face the challenge of finding a US citizen who'll apply when it comes to finding a cosigner.
With that, let's look at some alternative pathways to consider for you to get the student loan funding you need:
Option #1: Federal Student Loans
In most cases, a cosigner is not required to get a federal student loan. Considering the relatively low rates and deferred payment options that federal student loans can offer, this can prove to be a great option. As we cover in Student Loans 101, the FAFSA should be your starting point when it comes to getting the funding you need.
In addition, be sure to explore any available grants or scholarships to limit costs. Your school's financial aid office can get you pointed in the right direction.
Option #2: Look Elsewhere for a Cosigner
Many students turn to their parents for support and may be discouraged if it doesn't work out. Don't give up — friends or other relatives that meet eligibility requirements can be a good option when applying for private student loans with a cosigner.
A cosigner should be someone who would be proud to cheer you on at graduation. Avoid looking for a cosigner through online databases that connect you with a cosigner for a fee — they can be unreliable and may be illegitimate. When you find someone, who is open to being your cosigner, explain to them that you are committed to success with your education and loan repayment. Depending on the loan program, you may be able to mention that the lender will release your cosigner after certain conditions are met.
Option #3: Try Borrowing Less 
While lenders might have denied the loan you originally applied for, they might let you borrow less without adding a cosigner to your application. Making a bigger down payment on your loan can also improve your loan-to-value ratio and make it more attractive to lenders.
Option #4: Look Into Private Student Loans
Finally, there are student loan funding options that don't require a cosigner. Private student loans with no cosigner provide opportunities for college undergraduate juniors and seniors who do not have a cosigner.
Just like with a cosigned loan, you can get up to 100% of your tuition and eligible living expenses covered as you complete your educational journey. Eligibility for loans such as these depends on a variety of factors, such as creditworthiness, school, program, and your GPA.
Stay the Course
Just because you may not be able to find a cosigner doesn't mean you can't reach your educational goals. By utilizing these options, you can forge your own path when it comes to your college experience. Take the time to explore your options and think outside of the box, and you'll find there are many that are willing to assist you along the way.
Ascent is dedicated to providing resources for aspiring graduates, in and out of the classroom. Not only do we provide student loan funding for those in need, but we're also committed to offering the latest financial wellness tips , so you can stay informed throughout college and beyond.